The Los Angeles Chargers defeated the Denver Broncos, 23-9, in Week 17 of the 2018 NFL season.
PFF's ReFocused series this season features immediate takeaways and a key to the victory from two Senior Analysts who graded the performance, watching every player on every play of the game. For more data and analysis from the game, utilize our Premium Stats 2.0 dashboard to expand your knowledge on the key players, signature stats and much more.

FINAL SCORE
Los Angeles Chargers 23, Denver Broncos 9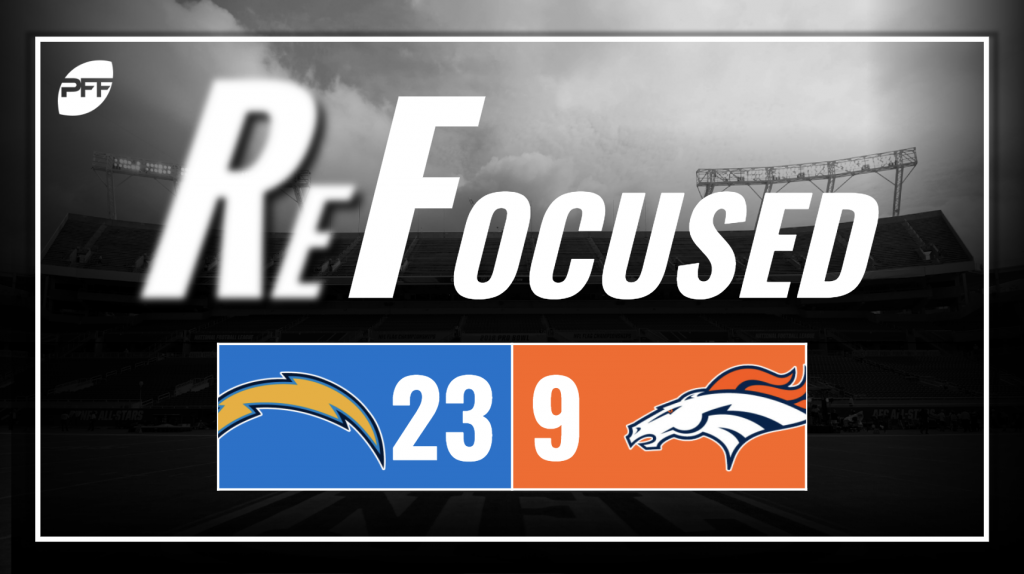 Four completions, a dropped pass, a batted pass, one incompletion negated by a defensive hold and only a pair of off-target throws from Chargers quarterback Phillip Rivers in the opening quarter in Denver. However, both of those misfires came when Rivers egregiously misread the Broncos' coverage for a pair of interceptions. Rivers' nicest first-half throw came with defensive back Will Parks bearing down as he lofted a perfectly placed corner route that fell through the arms of wide receiver Travis Benjamin.

The Chargers chose a dink-and-dunk approach early with Von Miller, Bradley Chubb and Co. leaking into the backfield with regularity. The decision came at the expense of the running game with running back Melvin Gordon only receiving five carries for 19 yards in the first half before leaving in the fourth with what appeared to be a sprained ankle. One of the main beneficiaries of this strategy was wide receiver Mike Williams. He scored an 87.5 offensive grade in Week 15 against the Chiefs with three total touchdowns serving as his breakout performance. Here, the former Clemson wideout collected 5-of-6 targets for 65 yards and his — team-leading — 10th receiving TD.
Adrian Phillips really stood out for this Chargers' defense and seemed to be all over the field all afternoon. He led the team in tackles and had multiple solo stops to shut down the Broncos offense. He was also tight in coverage all night long, only allowing a couple of catches and making tackles on them before any damage after the catch could be done.
The elite edge rushing duo of Melvin Ingram and Joey Bosa had a bit of a quiet game by their standards but still found ways to affect the Broncos' offense. Bosa had a sack and the two of them combined for multiple pressures, often at key moments in drives.

The Broncos' secondary received a pair of late Christmas gifts in the first quarter from Rivers. Badly misreading coverages on an out to Tyrell Williams and on a corner route to Antonio Gates led to two Denver interceptions.
Miller put together another excellent performance along the edge of the Broncos' defense, finding ways to terrorize Chargers' quarterbacks with multiple pressures and a strip-sack of backup Geno Smith that was negated by penalty.
The Broncos' passing offense didn't really ever get going in this one, but it wasn't through any fault of Case Keenum. While he was far from perfect, he made plenty of good throws that moved the chains. But it was dropped pass after dropped pass by his receivers that really hurt him. If even half of those are caught, it might've changed the game. Keenum might have his limitations, but he wasn't the problem on Sunday.
The Broncos' offensive line had a rough showing today, as they all stood out in negative ways. The Broncos running back duo of Royce Freeman and Devontae Booker were constantly hit right around the line of scrimmage, never getting a chance to get going. Meanwhile, Keenum was under pressure on what seemed like almost every other dropback. That's an issue they'll need to remedy this offseason if they want to improve next year.
Keys to the Game
Los Angeles
The keys to this game occurred on the other side of the ball, but, most importantly, the Chargers found a way to pull out the victory.
Denver
Denver dropped too many passes to keep up in this one, along with some turnovers at key moments. That and an ineffective offensive line were the biggest reasons for this loss.