The Detroit Lions defeated the Green Bay Packers, 31-0, in Week 17 of the 2018 NFL season.
PFF's ReFocused series this season features immediate takeaways and a key to the victory from two Senior Analysts who graded the performance, watching every player on every play of the game. For more data and analysis from the game, utilize our Premium Stats 2.0 dashboard to expand your knowledge on the key players, signature stats and much more.

FINAL SCORE
Detroit Lions 31, Green Bay Packers 0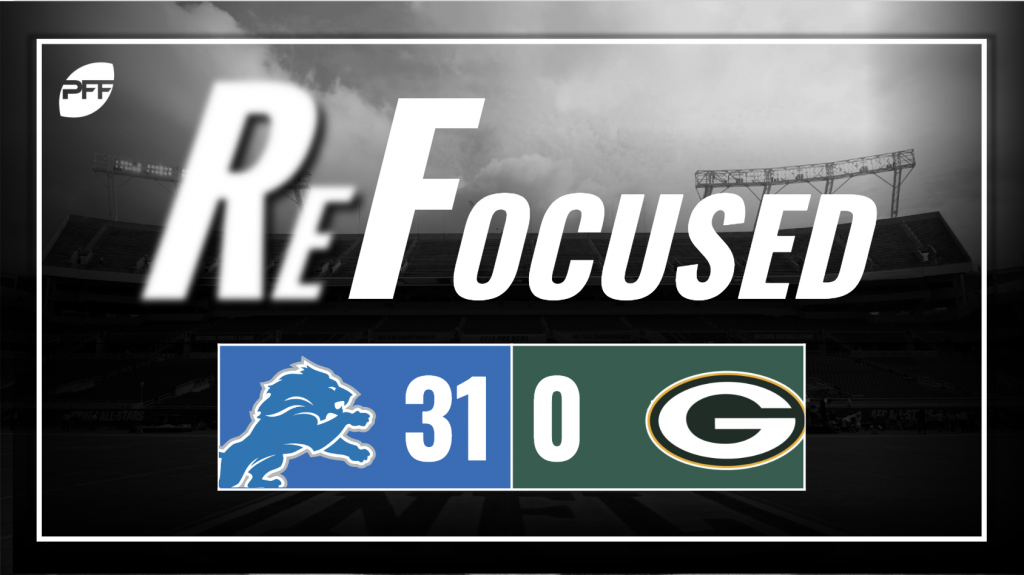 It wasn't the most challenging day at the office for Matthew Stafford, but he showed good accuracy on in- and out-breaking routes, while never really needing to uncork his arm. He took what a dispirited Packers defense gave him. It ends a season the likes of which we've come to expect from Stafford; some exceptionally good, some maddeningly bad, but generally never really consistent enough to overcome a supporting cast that is not amongst the best in the NFL.
With Zach Zenner resuming his role of late season feature back, he again displayed that he has the ability to get it done (against a pre-season-esque Packers defense). He was decisive with his running and did a particularly good job of picking up yards through contact to turn the down and distance into a more favorable spot.
Outside of one needless penalty, it was a nice day for former first-round pick Jarrad Davis, who was extremely active around the line of scrimmage and in rushing the passer. He stunted from a variety of positions to gaps the Packers were too slow to plug up. Davis hasn't always lived up to the draft billing and there remains plenty of questions as to whether he ever will, but this is a good note to end his 2018 season on.
It almost seemed too easy for Darius Slay early on, but he did get beat later on only for errant throws or bad hands to save his day. When it was all said and done, his last play of note to break up a stop and go route on fourth down was a demonstration of the Lions' dominance over an out-thought and out-fought Packers.

There wasn't much to write home about on the Packers' defense, but Dean Lowry, with a couple of batted passes and some good work especially against the Lions' power runs, can hold his head up high. At his size, you'd expect him to control tight ends in the run game, and he did that early on and often.
When the grades for this come out, don't be surprised to see a lot of Packers defensive backs scoring the lowest marks. A step slow in coverage (particularly as the game went on) and with some horrible tackling, this was a big part of why the scoreline kept creeping up and up. With so many young guys there, it's to be expected somewhat, but this is a defense that looks in need of a revamp in personnel.
It wasn't an inevitable situation for DeShone Kizer to be thrown into, as he replaced the concussed Aaron Rodgers and was often running for his life behind a bruised and battered offensive line. While it wasn't completely bad, he still exhibited some of the worrying signs that saw Cleveland move on from him, with Kizer picked off once and almost picked off on another ball when he was throwing during contact. At times, he displayed the knack of knowing when to give up on a play, but this has to be a more consistent theme if he is be a starter in the NFL.
It's never a great day for an offense when you fail to score, but at least Bryan Bulaga had himself a good (albeit far from perfect) game against a stunting Lions front. His work in the run game was generally solid, especially on the back side of plays, while he held up better than any lineman on the field in pass protection.
Keys to the Game
Detroit
They played hard, they played smart, and they played like the game meant something. Against such lackluster opposition, that was always going to be enough.
Green Bay
From early on, the Packers looked like they were ready for the season to end, and they never matched the intensity of a Lions side who played like they had something on the line.