The Baltimore Ravens defeated the Cleveland Browns, 26-24, in Week 17 of the 2018 NFL season.
PFF's ReFocused series this season features immediate takeaways and a key to the victory from two Senior Analysts who graded the performance, watching every player on every play of the game. For more data and analysis from the game, utilize our Premium Stats 2.0 dashboard to expand your knowledge on the key players, signature stats and much more.

FINAL SCORE
Baltimore Ravens 26, Cleveland Browns 24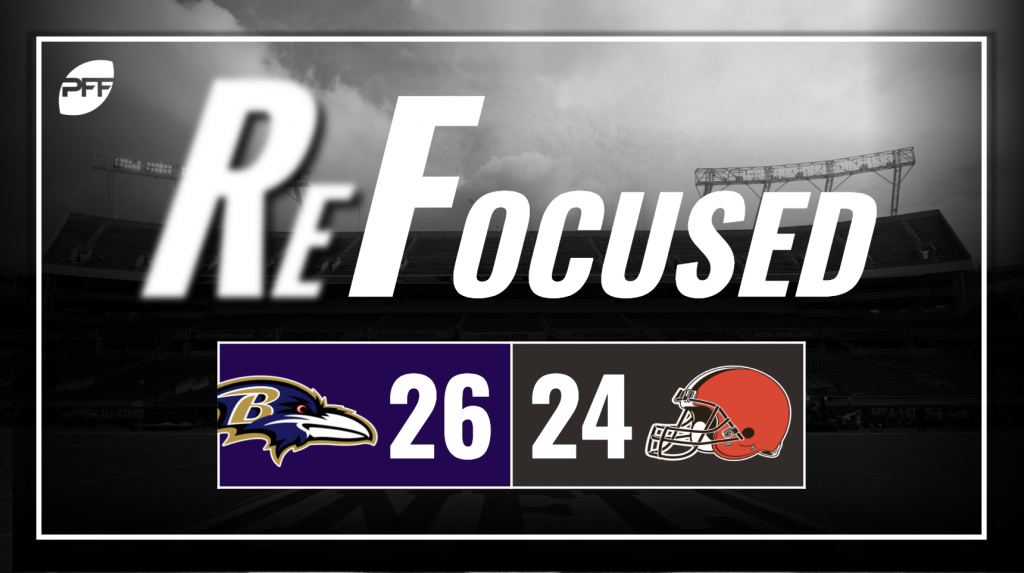 Jimmy Smith was quite easily the player of the game. He allowed one catch on seven targets, had a pass breakup and picked off two others.
While Smith was excellent, teammate Marlon Humphrey was not his usual dominant self. He gave up over 120 yards in coverage from multiple targets in the contest.
Kenneth Dixon was a man possessed on the ground. He broke multiple tackles and over 50 yards after contact on his 12 carries.
Lamar Jackson continues to be deadly with his legs, but his ball security issues almost cost them. His fumble at the goalline and errant pitch late in the game almost decided this one.

It was an up-and-down day at the office for Baker Mayfield. He alternated gorgeous throws down the field with some easy misses. Most egregiously, Mayfield's out route behind Jarvis Landry on the last drive could have put them into field goal range.
The offensive line held up for the most part in pass protection, but it was clear they weren't going to be opening up many holes on the ground. The few times Cleveland did try to run, they got manhandled up front.
It was a day for many on the Browns' defense to forget, but none more so than Damarious Randall. The Browns safety missed multiple tackles throughout the game.
Randall wasn't alone in missing tackles though in this one. The Browns' defense more than 10 in total on the day.
Keys to the Game
Baltimore
Smith is your player of the game after a long overdue dominant performance from their number one corner.
Cleveland
What Baker did against one of the league's best defenses was incredibly impressive. It was more than enough for the win if his defense could have held up their end of the bargain.