The Philadelphia Eagles defeated the Houston Texans, 32-30, in Week 16 of the 2018 NFL season.
PFF's ReFocused series this season features immediate takeaways and a key to the victory from two Senior Analysts who graded the performance, watching every player on every play of the game. For more data and analysis from the game, utilize our Premium Stats 2.0 dashboard to expand your knowledge on the key players, signature stats and much more.

FINAL SCORE
Philadelphia Eagles 32, Houston Texans 30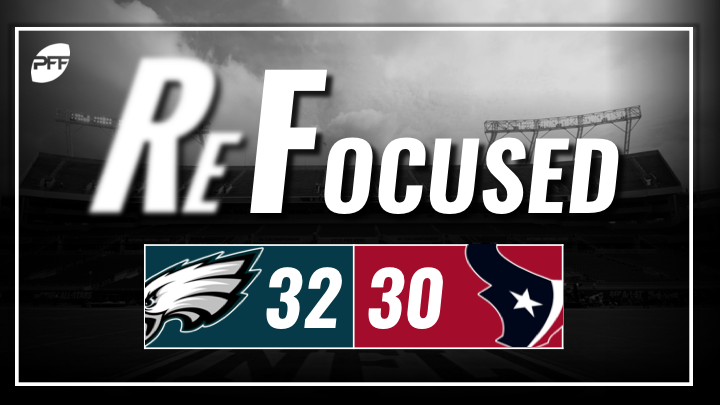 Deshaun Watson put on a show, rallying the Texans from a two-score deficit, but it wasn't enough to maintain control of the number two seed in the AFC. Watson was at his sack-escaping, big-play best in the fourth quarter especially. Even when the Eagles got to him it wasn't game over, shrugging off three sack attempts on one play alone and putting up a passer rating north of 100 when under pressure.
DeAndre Hopkins was bothered by injury late in the game, but as always, he came through for the Texans. He didn't manage a score today, but he had a productive game, including a spectacular catch on a low back-shoulder throw on the Texans' go-ahead drive.
With Jason Peters only lasting three snaps into this game in his attempt to play through injury, Jadeveon Clowney was presented with a favorable matchup against Hal Vaitai, and he took full advantage. His strip sack didn't come against Vaitai, but plenty of his pressures and pass-rush wins did, and he was a menace against the run to boot in his most dominant display of the season.
It was an up and down game for the Texans' starting safeties. Justin Reid and Tyrann Mathieu both surrendered touchdowns, a big one in Mathieu's case. However, they also shared their fair share of defensive stops against the run and the pass, with Mathieu adding pass breakups & a route cutoff in coverage.

Nick Foles was just shy of 500 yards passing, and he made huge plays throughout the game, none better than his perfect rainbow to Nelson Agholor for an 83-yard score over Tyrann Mathieu. Foles had his issues short and over the middle, but he lit up the Texans' secondary with throws deep outside the numbers.
Right tackle Lane Johnson has rebounded in the last two weeks after a tough performance against the Cowboys in Dallas. He surrendered zero pressures against the Rams last week and gave up little more today, playing a key role in keeping J.J. Watt quiet and out of Nick Foles' face.
Chris Long continues to add value as a pass rusher, turning in his third multi-sack game of the season as the beneficiary of disruption by other defenders. Long finished fourth on the team in total pressures, but when the likes of Michael Bennett, Fletcher Cox and Brandon Graham disrupted and flushed Watson out of the pocket, it was Long who capitalized twice, taking full advantage with a strip sack on his first at the start of the fourth quarter.
Brandon Graham was a consistently disruptive force in the pocket for Deshaun Watson, but he could do nothing more than spill Watson outside the pocket or disrupt him to setup sack opportunities for his teammates. Graham had a number of clean beats on the Texans' left tackle Julie'n Davenport, but Watson largely had Graham's disruption pre-scouted to evade it, limiting Graham to hurries (lots of them) and keeping him mostly off the stat sheets.
Keys to the Game
Houston: The Houston secondary struggled at times, and that allowed Nick Foles to continue to pick up right where he left off a season ago.
Philadelphia: When it counts, the Sproles and Foles connection delivers. They got off to the hot start, and when it counted, Foles re-emerged after being knocked down to keep the Eagles alive into Week 17.