The Pittsburgh Steelers defeated the New England Patriots, 17-10, in Week 15 of the 2018 NFL season.
PFF's ReFocused series this season features immediate takeaways and a key to the victory from two Senior Analysts who graded the performance, watching every player on every play of the game. For more data and analysis from the game, utilize our Premium Stats 2.0 dashboard to expand your knowledge on the key players, signature stats and much more.

FINAL SCORE
Pittsburgh Steelers 17, New England Patriots 10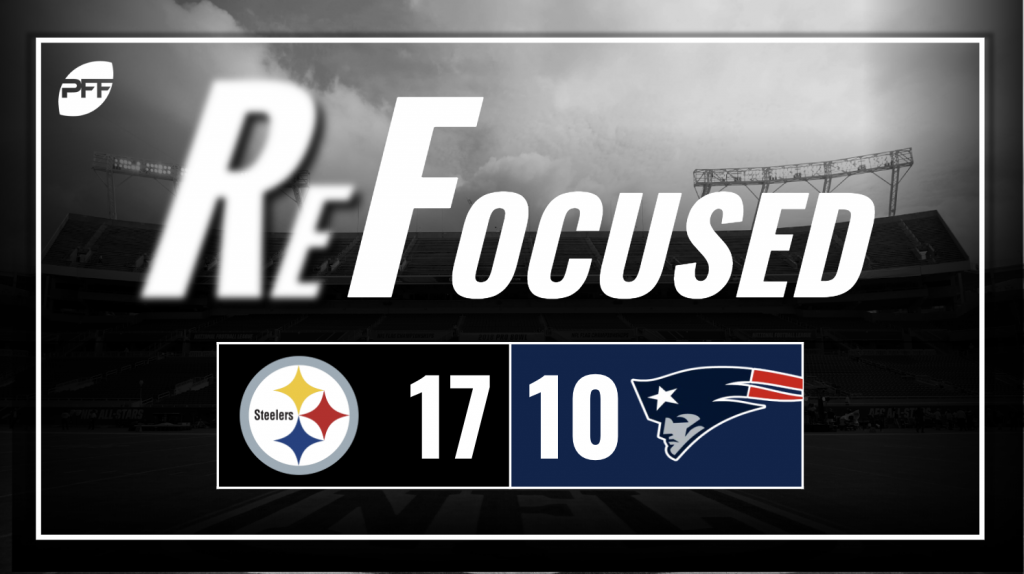 Ben Roethlisberger was frequently in shotgun, and the Steelers executed a pass-heavy gameplan against the Patriots' defense. Roethlisberger left some plays on the field with inaccurate throws in the first half but still threw two touchdown passes. Rookie James Washington caught a deep pass against Jason McCourty down the right sideline from Roethlisberger, showing off his form that saw him drafted from Oklahoma State. Washington added another big play against McCourty when he fought through contact to force a missed tackle and picked up 24 yards.
Jaylen Samuels picked up first downs on the ground and through the air on the Steelers' first drive, including catching a slant route against Devin McCourty from a wide receiver position. Samuels went on to have the most productive game of his career. Vance McDonald scored a first-quarter touchdown on an in-breaking whip route against Patrick Chung down in the low red zone. Antonio Brown caught a seam route against Jason McCourty, who found himself in a bad spot almost immediately following the release by the wide receiver.
The Steelers' defense held off a Tom Brady comeback and had a solid game plan going into the game. They took Gronkowski out of the passing attack, often doubling him and limiting him to only two catches.
The defensive front of the Steelers had sporadic pressure throughout the game, but T.J. Watt recorded a sack. The unit forced Brady off of his spot on a few occasions, one of which resulted in an interception. Pittsburgh also did well to get off the field on third down, holding the Pats to 3/10 conversion rate.

Duron Harmon hauled in an overthrown Roethlisberger pass to JuJu Smith-Schuster for a second-quarter interception. Harmon added another fortunate interception when he caught the deflection from a pass broken up by Stephon Gilmore.
Kyle Van Noy got a sack on Roethlisberger with a well-timed A-gap blitz from his linebacker position. Lawrence Guy beat Matt Feiler outside for a pressure that forced an intentional grounding penalty, which stalled a Steelers' red-zone drive.
Brady and the Patriots fell just short of a comeback attempt. Brady finished 25-of-36 for 279 yards but threw a poor interception early in the fourth quarter. Julian Edelman was Brady's favorite target, catching seven passes for 90 yards on 11 targets.
New England found success running the ball, as rookie running back Sony Michel carried the ball 13 times for 59 yards, and the Patriots ran for 96 yards on 19 carries as a team. Tight end Rob Gronkowski wasn't as much a part of the passing game as the Patriots would have liked. He was limited to only two catches for 21 yards.
Keys to the Game
Pittsburgh
The Steelers' offense frequently used empty formations and kept four or five wide receivers on the field often in order to spread out the Patriots' defense. The Steelers also used wide receiver Ryan Switzer as a running back and running back Samuels as a wide receiver.
New England
The Steelers' defense took away Gronkowski and stopped Brady short of a comeback which resulted in a much-needed win against an AFC foe.