The Indianapolis Colts defeated the Dallas Cowboys, 23-0, in Week 15 of the 2018 NFL season.
PFF's ReFocused series this season features immediate takeaways and a key to the victory from two Senior Analysts who graded the performance, watching every player on every play of the game. For more data and analysis from the game, utilize our Premium Stats 2.0 dashboard to expand your knowledge on the key players, signature stats and much more.

FINAL SCORE
Indianapolis Colts 23, Dallas Cowboys 0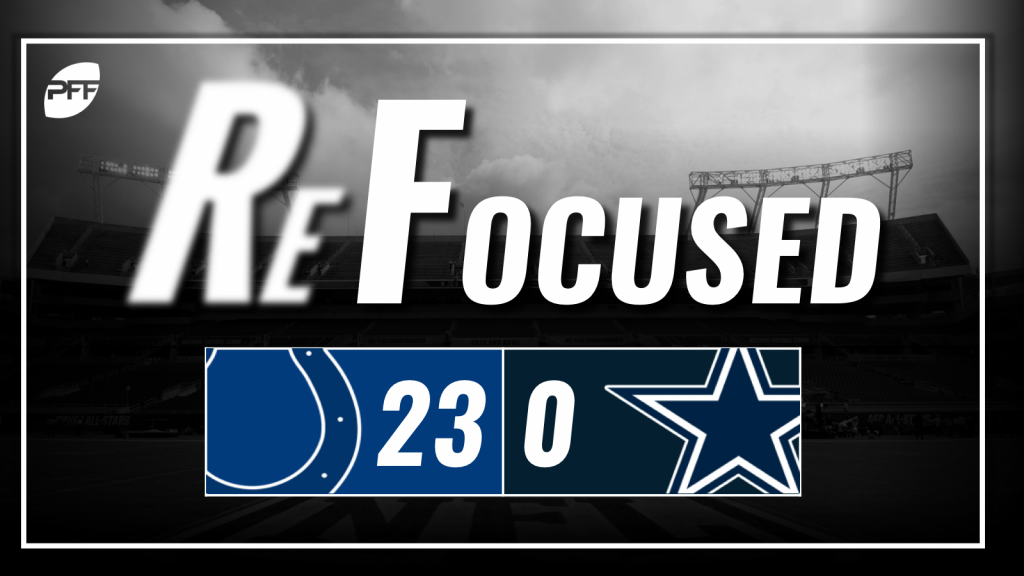 With the Colts in ball control mode for most of the second half, this wasn't a game that required the best of Andrew Luck, but the Colts QB was composed throughout and most importantly moved the chains when the team needed him to as they built an unassailable lead.
If there was one area of concern, it was in pass protection where former first-round picks Quenton Nelson and Ryan Kelly had a number of bad plays. Nelson's worst play was when he was lucky to escape a holding penalty when Tyrone Crawford ran through him, and it's something that can't become a habit after an extremely impressive debut season.
He's not a player that gets a lot of press, but Denico Autry is a guy that just keeps making plays. It may have been a Cowboys offensive line battling injuries, but he caused them no end of problems, including earning a big yellow flag on a key fourth-down play.
Autry isn't the only defensive linemen to earn plaudits, as Margus Hunt continues to show his 2017 season was no fluke. Since landing in Indy, he has started to look every bit the impact player Cincinnati initially drafted him to be with strong work in the run and pass game.

A late penalty and some tackling issues made this a day to forget for Jeff Heath, who remains perhaps the weakest link in a secondary unit that has surpassed expectations.
The strength of this Dallas defense has arguably been its linebacker unit, and the feeling had to be that getting Sean Lee back could only strengthen them. But for whatever reason, and with Lee only playing seven snaps, they couldn't replicate the form we've become accustomed to for them, as the Colts employed more traps in the run game than you're used to seeing.
Injuries can make most things look bad, and that was the case with a Cowboys offensive line that is struggling with health and to help their skill players. Center Joe Looney was perhaps the biggest liability in this game, particularly with his pass blocking, where the games the Colts were playing up front created situations he just couldn't cope with.
It's tough to say if the Cowboys could have made a game of this with better play under the quarterback spot, but there's no doubt it would have been a lot closer. Dak Prescott had one of his weaker showings of the year, struggling with accuracy especially on intermediate and downfield throws.
Keys to the Game
Indianapolis
The Colts' defense won the critical plays on the critical downs, bending at times but never breaking as they shut the Cowboys out impressively.
Dallas
Defensively, the Cowboys couldn't get off the field quick enough, with the variety of attack in the Colts' running game catching them off guard.