The Oakland Raiders defeated the  Pittsburgh Steelers, 24-21, in Week 14 of the 2018 NFL season.
PFF's ReFocused series this season features immediate takeaways and a key to the victory from two Senior Analysts who graded the performance, watching every player on every play of the game. For more data and analysis from the game, utilize our Premium Stats 2.0 dashboard to expand your knowledge on the key players, signature stats and much more.

FINAL SCORE
Oakland Raiders 24, Pittsburgh Steelers 21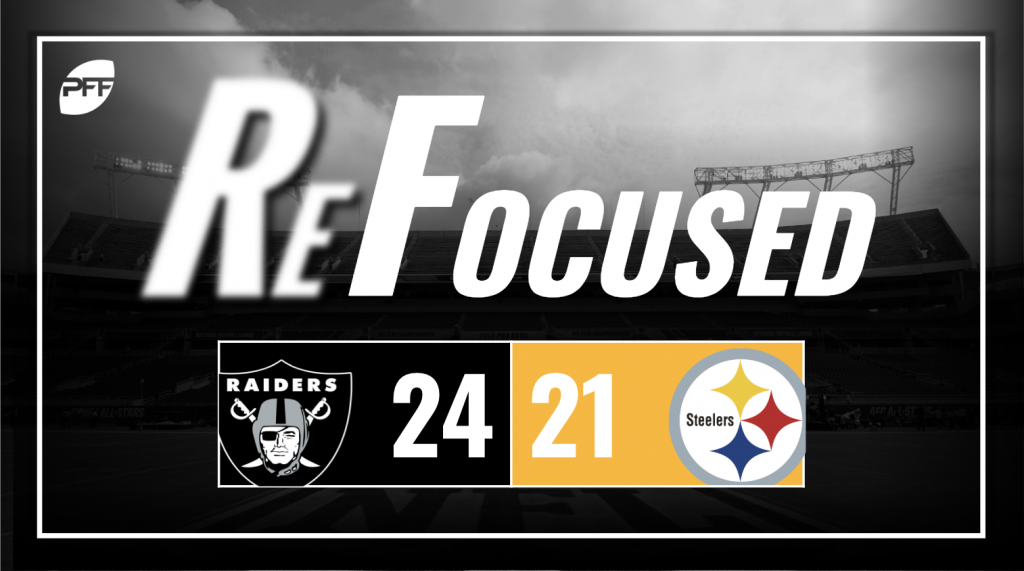 Raiders cornerback Gareon Conley made some plays in the Raiders secondary while covering Pittsburgh's JuJu Smith Schuster. Of course, Schuster beat Conley a time or two, as well, including a double move that led to Conley getting called for a holding penalty
Raiders rookie edge defender Arden Key was a force rushing the passer using his long frame to turn the corner.
Outside of the unforced fumble that slipped out of Derek Carr's hand while trying to throw, he had an excellent day throwing the ball for the second consecutive week. He completed 83 percent of his targeted throws, including a few deep passes and two touchdowns. 
Jared Cook didn't find the end zone, so his touchdown streak ended at three games, but he topped the 100-yard receiving mark for the second consecutive week. It marked the first time he's had back-to-back 100-yard receiving games since his 2011 season with the Tennessee Titans.

Schuster was the best player on the field. He made great catch after great catch and put the Steelers in a position to tie the game on a great run on a lateral on Pittsburgh's last offensive play of the game.
Ben Roethlisberger was effective when he was playing. Once he went down, Joshua Dobbs made some plays with his legs, but the Steelers offense went conservative and did not do much during Big Ben's absence.
The Pittsburgh front seven played very well in run defense to really shut the Raiders' run game down. They allowed just 2.2 yards per carry on 24 designed runs and didn't allow a run longer than nine yards.
It was a bit of a yo-yo day for Morgan Burnett in his limited playing time. He matched up against Cook on several occasions, giving up a couple first downs. His best and worst plays both came on the final drive though. He gave up a deep seam route to Seth Roberts to put Oakland into scoring position but bounced back with a big pass breakup to force a fourth down. Unfortunately for them, Oakland scored the next play anyway.
Keys to the Game
Oakland
The Raiders' offense came alive in the fourth quarter to finish off back-to-back touchdown drives, largely due to Carr's performance throwing the ball downfield.
Pittsburgh
Schuster was fantastic, and had Big Ben not went down, the Steelers probably win the game.