The New York Giants defeated the Washington Redskins, 40-16, in Week 14 of the 2018 NFL season.
PFF's ReFocused series this season features immediate takeaways and a key to the victory from two Senior Analysts who graded the performance, watching every player on every play of the game. For more data and analysis from the game, utilize our Premium Stats 2.0 dashboard to expand your knowledge on the key players, signature stats and much more.

FINAL SCORE
New York Giants 40, Washington Redskins 16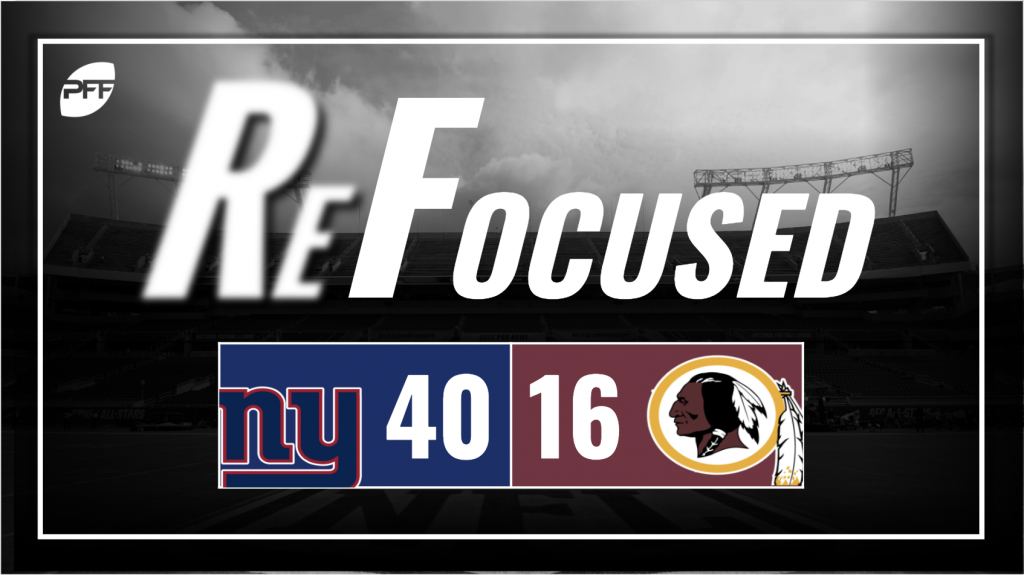 The Giants' offense was extremely efficient and moved the ball really well throughout the first three quarters. The offensive line got vertical movement up front, giving Saquan Barkley plenty of room and clear reads to pick up a season-high 170 rushing yards on just 14 carries.
New York's defensive front shut down Adrian Peterson and the rushing attack, which was Washington's only hope of moving the ball today. Washington running backs averaged just 2.6 yards per carry, and that includes a 12-yard run on third-and-23 from Chris Thompson.
It hasn't been a great season for Giants linebacker Alec Ogletree, but he was one of the Giants' best defenders today, making plays in both coverage and run defense.
It wasn't a perfect outing from Eli Manning, who threw a quick out pass that should have been intercepted inside the five-yard line. However, it still was one of his better performances of the season, as he completed two-thirds of his targetted passes.

It was a predictably ugly day for Mark Sanchez, who managed just 38 passing yards and threw two interceptions on 19 dropbacks. While one of those interceptions deflected off his receiver's hands, one of a number of drops by Washington pass catchers on the day, Sanchez escaped having a second pick-six added to the stat sheet by getting the pass batted at the line of scrimmage.
Josh Johnson came in late to lead a few productive garbage-time drives to help Washington avoid being shutout, but very little went well for the Redskins' offense in this game. Peterson and the ground game was shut down. Washington pass-catchers dropped several passes on the few well-thrown passes from Sanchez. Perhaps the only silver lining was the pass protection, as Washington's offensive line provided ample time to throw throughout the game and a decent chunk of the pressure generated by the Giants came either late or at the fault of the quarterback.
The Washingon defensive line struggled to anchor against double teams and gave up far too much ground in the run game on several occasions, leading to easy first down pickups and a couple big runs.
Da'Ron Payne and Ryan Kerrigan both had sacks on the day, but outside of the duo, Washington did not rush the passer very effectively. Manning was only pressured on a small portion of his dropbacks, and some of those were unblocked pressures.
Keys to the Game
New York
Looking far better than they did at the beginning of the season, the Giants' offense put together one of their most complete performances of the year to blow out their division rival.
Washington
It would've taken a near-flawless effort from this Sanchez-led team to get a victory, and what happened was decidedly not that.