The  Miami Dolphins defeated the New England Patriots, 34-33, in Week 14 of the 2018 NFL season.
PFF's ReFocused series this season features immediate takeaways and a key to the victory from two Senior Analysts who graded the performance, watching every player on every play of the game. For more data and analysis from the game, utilize our Premium Stats 2.0 dashboard to expand your knowledge on the key players, signature stats and much more.

FINAL SCORE
Miami Dolphins 34, New England Patriots 33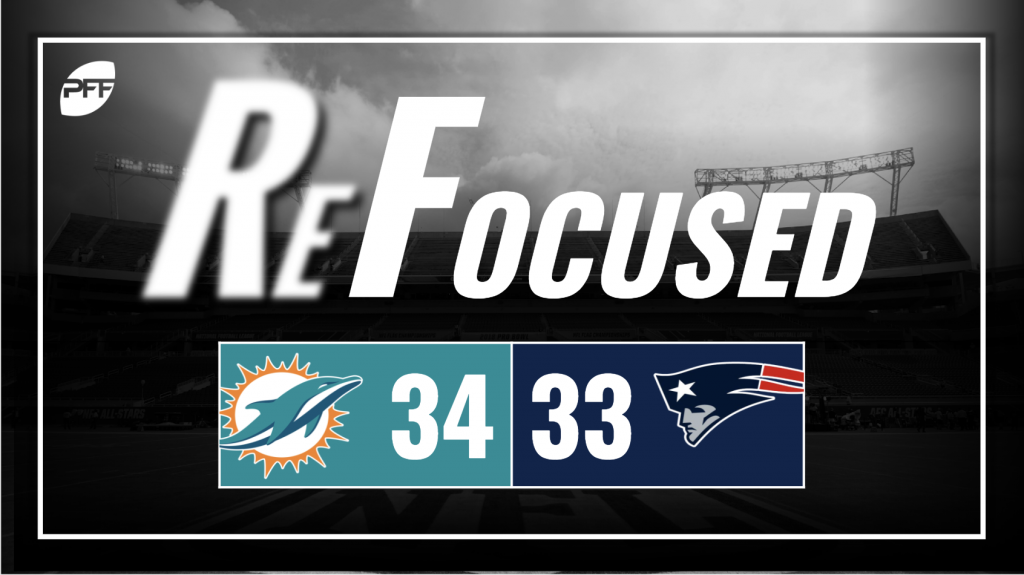 After a slow start, the light bulb turned on for Robert Quinn and he realized he was simply too tall for the gargantuan Trent Brown. This may have been a bit of a comedown after his big week against Buffalo, but the past two weeks offer evidence of the former Rams man getting back to his best.
Is Minkah Fitzpatrick hitting a rookie wall? He has largely been solid his rookie year, but this was not one of his better games. Still, he flashed his potential with a late pass breakup on a Josh Gordon targeted slant that was huge in keeping the Dolphins within reach.
A decent day for Ryan Tannehill made all the better by his return from what looked like an injury to create panic amongst the Dolphins fanbase. His best throw came on a deep crossing route to Kenny Stills, but it was noticeable that he had trouble getting to grips after the first half, as the Patriots disguised their rushers significantly more.
One of the things we learned today was that Jason McCourty just wasn't up to covering Stills. The former Saints receiver had himself a big day, as he surpassed the 100-yard mark and grabbed a touchdown, with most of his good work coming against McCourty.

You won't find many better throws than the strike that led to a Cordarrelle Patterson touchdown. But on the other side, you won't find a much worse decision Tom Brady has made this year when he was saved from an interception by a Dolphins pass breakup in the second quarter. Those were the extremes of a performance that was not Brady at his best, highlighted by showing a lack of game management when taking a sack at the end of the first half that cost his team three points.
He might not make much of a safety tracking down running backs, but catching the ball there are few who can rival the sheer dominance of Rob Gronkowski. He was a huge weapon throughout, with his touchdown grab turning a potential pick into six points.
After struggling to get much pressure initially, the Patriots used a lot of smoke and mirrors to perplex Tannehill, conceding that their pass rushers lack the chops to get the better of the Dolphins offensive line. This remains a concern for the team as we edge closer to the playoffs, and there were no signs in this game of someone stepping up into the role of quarterback tormentor in chief.
It was in the run game where Kyle Van Noy largely stood out, a much-needed turn given the bad day Elandon Roberts had. Both Van Noy and Dont'a Hightower have an ability to create problems at the line of scrimmage, and it's a pivotal part of the defense.
Keys to the Game
Miami
Ultimately, the Dolphins won this game because they never gave up and toughened up on defense in the second half, ensuring they were always just one play away from coming away with the W.
New England
Bad kicking and bad game management saw the Patriots blow a game they really should have won. This feels more like a wake-up call than something to alarm, but you simply can't make the volume of mistakes New England made and be surprised when you lose a game.