The Indianapolis Colts defeated the Houston Texans, 24-21, in Week 14 of the 2018 NFL season.
PFF's ReFocused series this season features immediate takeaways and a key to the victory from two Senior Analysts who graded the performance, watching every player on every play of the game. For more data and analysis from the game, utilize our Premium Stats 2.0 dashboard to expand your knowledge on the key players, signature stats and much more.

FINAL SCORE
Indianapolis Colts 24, Houston Texans 21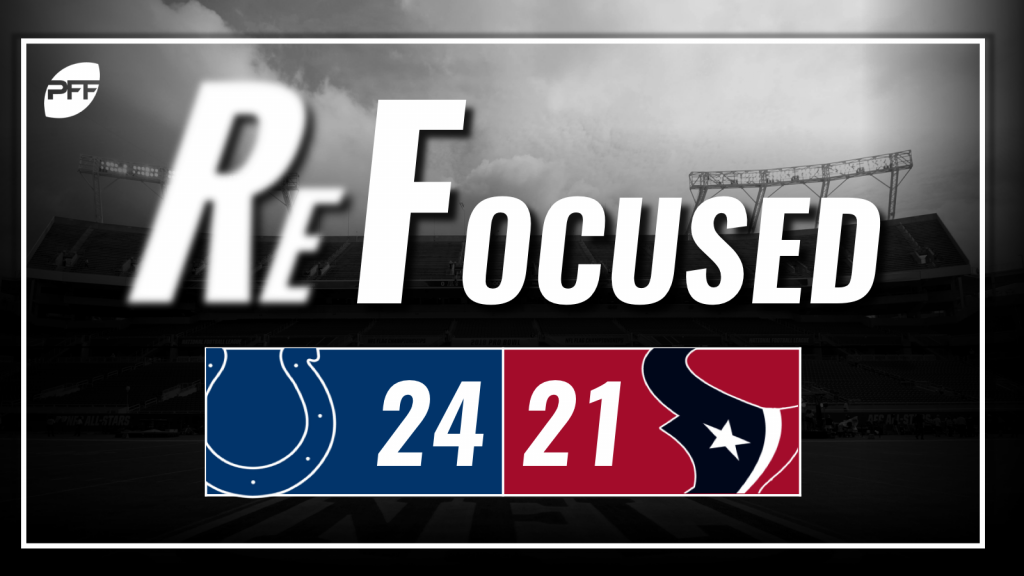 Quarterback Andrew Luck had a solid outing, as he passed for 399 yards and also had two touchdown passes. While Luck also threw an interception, it came on a drop after he threw a catchable pass. Furthermore, Luck made multiple big-time throws on the day as he torched the Houston secondary.
Luck was especially lethal when throwing to T.Y. Hilton, who had an incredible day as he caught nine of his 12 targets for 199 receiving yards. Hilton did the bulk of his damage on deep passes, where he caught all four of his passes of 20-plus yards downfield.
Edge defender Al-Quadin Muhammad had a solid game against the Texans, as he proved to be the Colts' most disruptive defender. While he recorded just one tackle on the day, he was consistently getting into the backfield and putting pressure on Deshaun Watson.
Strong safety Clayton Geathers was all over the field against the Texans. Geathers recorded nine total tackles on the day, including multiple ones that limited the Texans receivers to few or no yards after the catch.

Quarterback Deshaun Watson had a below average day. While he did not turn the ball over, he failed to make big plays and was rather inaccurate throwing downfield. Watson may have put up some solid box score numbers, but most of his production came on underneath passes.
The Colts managed to keep DeAndre Hopkins in check today, as the star wide receiver caught just four passes for 36 yards, including a touchdown reception late in the fourth quarter.
While he recorded just two tackles and had no sacks, edge defender Jadeveon Clowney had a solid day against Indianapolis. Clowney was Houston's most disruptive defender, as he kept generating pressure on Andrew Luck and he also made plays against the run by beating blocks and forcing cuts by the running backs.
Indianapolis' game plan revolved around slowing down J.J. Watt, and while Watt did have a sack, overall, the Colts did a good job. This did not involve just the offensive line, the Colts used running backs and Luck's quick release as well to lessen Watt's impact.
Keys to the Game
Indianapolis: Andrew Luck was unstoppable today as he carved up the Texans secondary and connected with T.Y. Hilton on multiple deep passes.
Houston: Unlike in some of the previous weeks, the Texans' defense was unable to make big plays, as the Colts offense did a good job of slowing down the Houston front seven.