The Tampa Bay Buccaneers defeated the Carolina Panthers, 24-17, in Week 13 of the 2018 NFL season.
PFF's ReFocused series this season features immediate takeaways and a key to the victory from two Senior Analysts who graded the performance, watching every player on every play of the game. For more data and analysis from the game, utilize our Premium Stats 2.0 dashboard to expand your knowledge on the key players, signature stats and much more.

FINAL SCORE
Tampa Bay Buccaneers 24, Carolina Panthers 17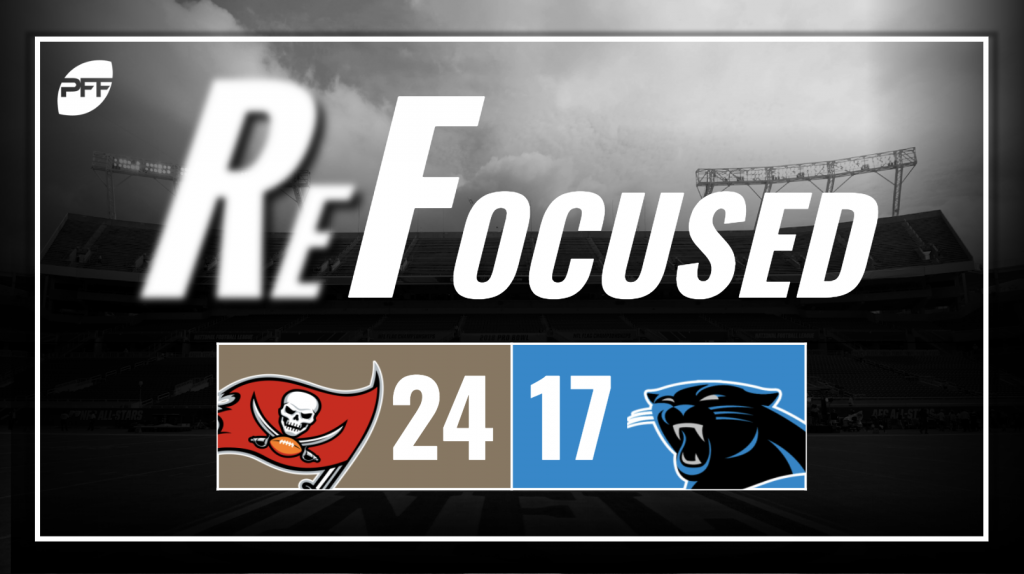 Jameis Winston had a solid day for the Buccaneers on Sunday. He was fairly efficient and accurate through the air even though he did not hit many deep passes. Winston also had an impact scrambling with the football. The biggest thing for Winston was that he only had one turnover-worthy play, which has been his Achilles heel throughout his career.
It was a tough day on the edge for tackle Donovan Smith. He was beaten at a high rate by rotational defender Efe Obada, who was only in for a handful of snaps. Smith struggled both in pass protection and in the run game.
The Buccaneers' secondary was excellently highlighted by the play of cornerback Javien Elliott, as he intercepted one of Cam Newton's wayward passes and made six tackles, including two stops in coverage. Andrew Adams was the beneficiary of some good luck, as he was the recipient of the other three interceptions.
Defensive interior Gerald McCoy was dominant on the defensive line, as he racked up several pressures including two hits. He lined up all up and down the line and wreaked havoc on whomever he was facing. Edge defender Carl Nassib also added several pressures to the stat sheet, as Newton was under duress for much of the afternoon.

It was a rough day at the office for the former MVP and No. 1 overall draft pick, as Newton threw four interceptions, some while getting hit but others while forcing passes into tight coverage. Newton had been statistically playing well in the contest, but he wasn't playing up to his MVP season high.
The weapons for Newton did their part, as Christain McCaffrey continued his torrid streak, DJ Moore made the most of his opportunities as did Curtis Samuel. CMC averaged almost 11 yards per carry while hauling in eight of his nine targets, while Moore and Samuel gained four first downs each on their catches,
Luke Kuechly was his usual All-Pro self against the Buccaneers on Sunday afternoon. He was effective in both run defense by making stops and disrupting. He also made plays in underneath zone coverage and was one of the best Panthers on the field.
Fellow linebacker Shaq Thompson also showed up and had a solid game for the Panthers. Thompson was most effective in run defense but also made positive contributions in both coverage and while rushing the passer. Thompson mad the most of his limited snaps to make about as much of an impact as he could.
Keys to the Game
Tampa Bay
The Buccaneers finally had a game where turnovers were not an issue at the quarterback position. Winston took care of the football well, and Newton simply did not. 
Carolina
Newton's four interceptions were too much to overcome, as the Panthers needed to attempt multiple hail marys at the end of the game to try and tie it up.