The New England Patriots defeated the Minnesota Vikings, 24-10, in Week 13 of the 2018 NFL season.
PFF's ReFocused series this season features immediate takeaways and a key to the victory from two Senior Analysts who graded the performance, watching every player on every play of the game. For more data and analysis from the game, utilize our Premium Stats 2.0 dashboard to expand your knowledge on the key players, signature stats and much more.

FINAL SCORE
New England Patriots 24, Minnesota Vikings 10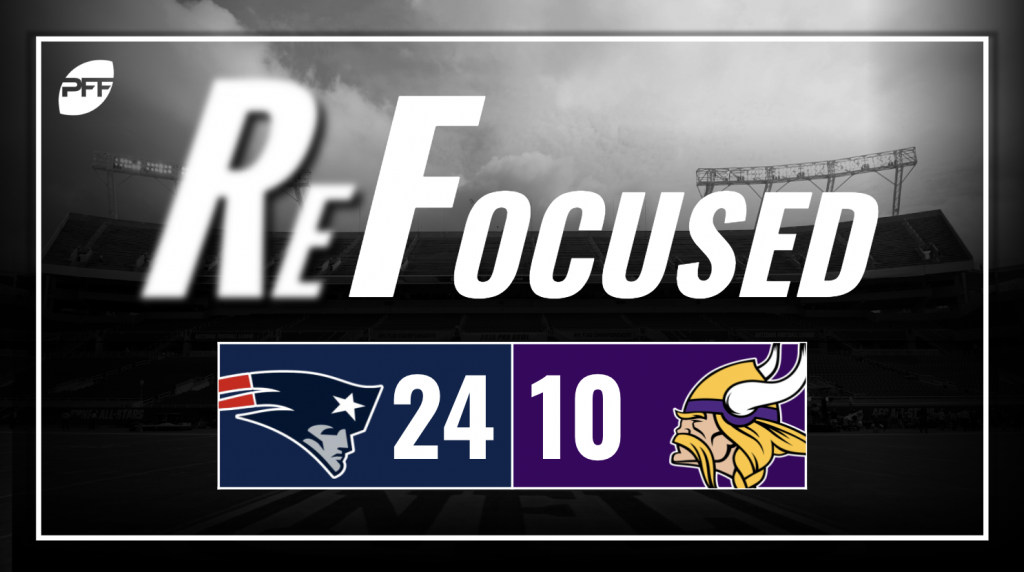 The Patriots obviously saw something in the Vikings' underneath coverage that they wanted to attack. It seemed like the only times Tom Brady wasn't immediately snapping off a quick throw to the flat, he was waiting on a screen to set up. His average depth of target was 4.4 yards downfield.
Rob Gronkowski's ineffectiveness continues to be an underrated storyline for the Patriots this season. He struggled to separate all day and only hauled in three of his four targets for 26 yards.
Stephon Gilmore and Jason McCourty were their normal stingy selves Sunday. The duo allowed very few yards in coverage across 10-plus plus targets on the day. 
Lawrence Guy continues to make a case for being the best run-defending lineman in the NFL this year. He made two stops in the run game and altered a handful of others.

Holding the Pats to 24 points and forcing Brady to turn the ball over is no small task. The defense certainly held up their end of the bargain in this one.
Part of it was how quickly Brady was getting rid of the ball, but the Vikings pass-rush rarely got home. 
While much of the Vikings' offensive line struggled, rookie Brian O'Neill had one of his best games as a pro.
The Patriots' defense bracketed Adam Thielen for much of the game, but on the few times he shook double coverage, Thielen didn't do a great job of helping himself out. He had two catchable balls clang off his hands, one on a crucial third down early in the game.
Keys to the Game
New England
The Patriots' secondary came to play in this one and dominated one of the best receiving duos in the NFL.
Minnesota
Kirk Cousins simply couldn't get anything going down the field. He was 0-6 on deep passes and the offense couldn't consistently move the chains without big plays.