The Miami Dolphins defeated the Buffalo Bills, 21-17, in Week 13 of the 2018 NFL season.
PFF's ReFocused series this season features immediate takeaways and a key to the victory from two Senior Analysts who graded the performance, watching every player on every play of the game. For more data and analysis from the game, utilize our Premium Stats 2.0 dashboard to expand your knowledge on the key players, signature stats and much more.

FINAL SCORE
Miami Dolphins 21, Buffalo Bills 17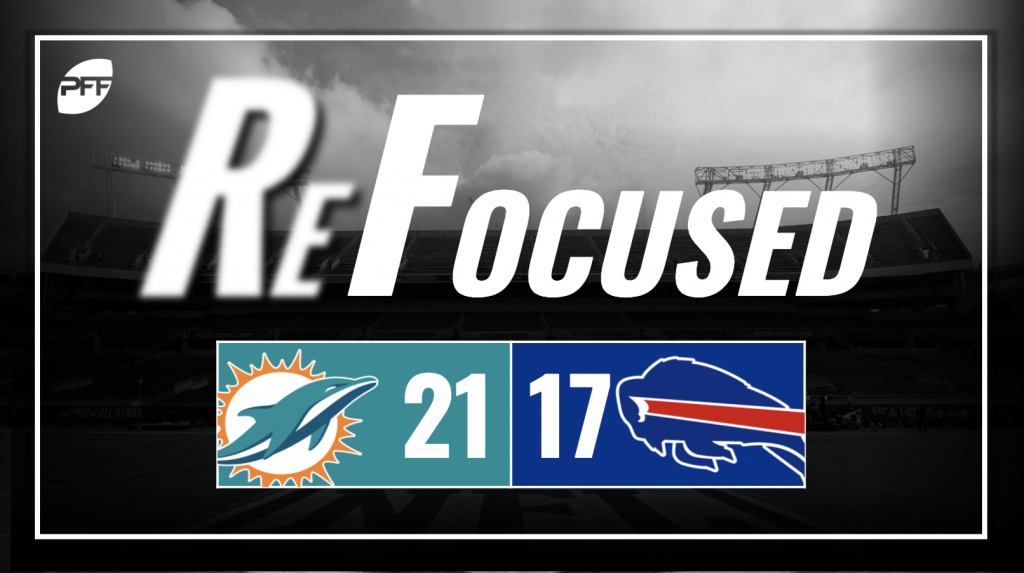 The Dolphins won this game, but Ryan Tannehill didn't do them any favors. He didn't complete any deep throws and threw an interception on one of them. He was missing receivers and really only had a couple of nice throws to the middle of the field, and the game-winning touchdown wasn't a great throw. A positive for Tannehill was that he looked pretty good under pressure, as two of his touchdown tosses were with a man in his face.
The ageless Frank Gore continues to operate as the main back, but Kenyan Drake looked much better in this one. He broke a bunch of tackles and gained a majority of his yards after first contact. He also adds more of a receiving threat, showing that on his touchdown catch in the game.
Cameron Wake and Robert Quinn are simply in another class to Buffalo tackles Dion Dawkins and Jordan Mills. The Dolphins only ended up with one sack because of Josh Allen's escapability, but they pressured him all day. Wake threatened Mills consistently with both inside and outside moves, finding a ton of success against the Bills right tackle. Quinn, on the other hand, made the highlight reel play with a strip-sack that forced Buffalo onto the edge of field goal range, a kick they subsequently missed. Miami doesn't collapse the pocket as effectively on the interior these days, but their edge rushers remain a constant threat.
Kiko Alonso has never recaptured the form of early in his career, and his second stint in Miami has not helped him rediscover it. His instincts reading plays don't appear to be quite at the same level, highlighted by a busted coverage that allowed a big gain to wide open fullback after play action. He can still make plays in the run game, particularly when he's kept clean, but the skills that made him such a useful modern linebacker appear to have deserted him.

Allen's off-script performance highlighted his unique talent. He consistently ripped off long runs when he saw a small crease and generated some big plays down the field on scramble drills. Allen thrives when the play breaks down, but he'll need to learn the nuances of passing schemes to emerge a truly legitimate franchise quarterback. 
Relying on Kelvin Benjamin has never consistently paid off for offensive coordinators. He was generally poor again against the Dolphins, struggling to generate separation off the line of scrimmage and failing to win in contested situations. 
Jordan Phillips had himself a great revenge game. Despite playing limited snaps, he looked like the best Bills defender on the day. He was solid against the run, making a couple of huge stops that helped get the defense off the field. 
Micah Hyde made a couple of big stops in the run game and was even better in coverage. His interception was fantastic, as he effectively baited Tannehill into the throw down the sidelines, then covered the ground and picked it off to give the Bills' offense a chance.
Keys to the Game
Miami
The Dolphins' offense made enough plays, while their defense managed to force some turnovers and come up big in stopping Allen when it mattered most.
Buffalo
The vast majority of Buffalo's offensive production centered around busted plays, scramble drills and Allen keepers. Although the numbers aren't incredible, the Dolphins' defensive line made the Bills' scoring unit one dimensional.