The Kansas City Chiefs defeated the Oakland Raiders, 40-33, in Week 13 of the 2018 NFL season.
PFF's ReFocused series this season features immediate takeaways and a key to the victory from two Senior Analysts who graded the performance, watching every player on every play of the game. For more data and analysis from the game, utilize our Premium Stats 2.0 dashboard to expand your knowledge on the key players, signature stats and much more.

FINAL SCORE
Kansas City Chiefs 40, Oakland Raiders 33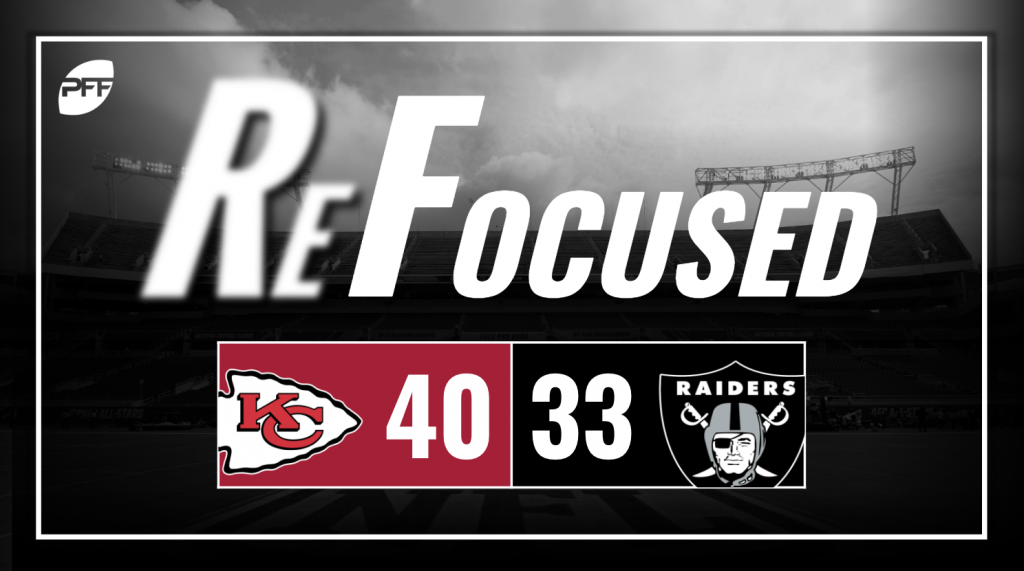 Dee Ford collected a first-quarter sack going around right tackle Brandon Parker. Ford also beat Parker outside for a strip-sack early in the third quarter, but the Raiders were able to fall on the ball.
Chris Jones had a productive game as a pass-rusher and picked up a late fourth-quarter sack of Derek Carr on a stunt.
Patrick Mahomes threw for 295 yards and four touchdowns, leading the Chiefs to their 10th win. The offense had a balanced attack, rushing the ball 30 times for 174 yards with Mahomes accounting for 52 on the ground.
Running back Spencer Ware had to carry the majority of the workload since the release of running back Kareem Hunt. Ware rushed for 47 yards on 14 carries. Travis Kelce was an animal in the passing game, hauling in 12 catches for 168 yards and two touchdowns on 13 targets.

Carr and the Raiders' offense had an uninspiring performance against what has statistically been one of the lower-ranked defenses in the league for the first half. Carr threw three touchdowns, but the Raiders didn't start to really move the ball until they were behind by a few scores.
Jared Cook continues to be the best offensive weapon in the Raiders' set of skill players and racked up a productive game with 100 yards and one touchdown. Rookie Marcell Ateman caught a back-shoulder pass for a touchdown in the fourth quarter.
It was a tough day for the Oakland defense, something that can be said a lot for them this season. They allowed 469 yards and 40 points. It went downhill for the defense after their first series, where linebacker Tahir Whitehead stripped Kelce of the ball.
The Raiders' defense didn't any meaningful pressure on Mahomes but hit him a number of times on designed rollouts. The unit didn't fare much better on the ground, either, allowing 5.8 yards per carry.
Keys to the Game
Kansas City
The Mahomes firework show was too much for the Raiders' defense to handle, and no amount of Carr's fourth-quarter heroics could match Mahomes' play.
Oakland
The Raiders' defense forced a turnover on the Chiefs first offensive play, but the Raiders' offense wasn't able to score any points after getting the ball on their own side of the field. Three different Raiders running backs lost fumbles on the day.