The Cleveland Browns defeated the Cincinnati Bengals, 35-20, in Week 12 of the 2018 NFL season.
PFF's ReFocused series this season features immediate takeaways and a key to the victory from two Senior Analysts who graded the performance, watching every player on every play of the game. For more data and analysis from the game, utilize our Premium Stats 2.0 dashboard to expand your knowledge on the key players, signature stats and much more.

FINAL SCORE
Cleveland Browns 35, Cincinnati Bengals 20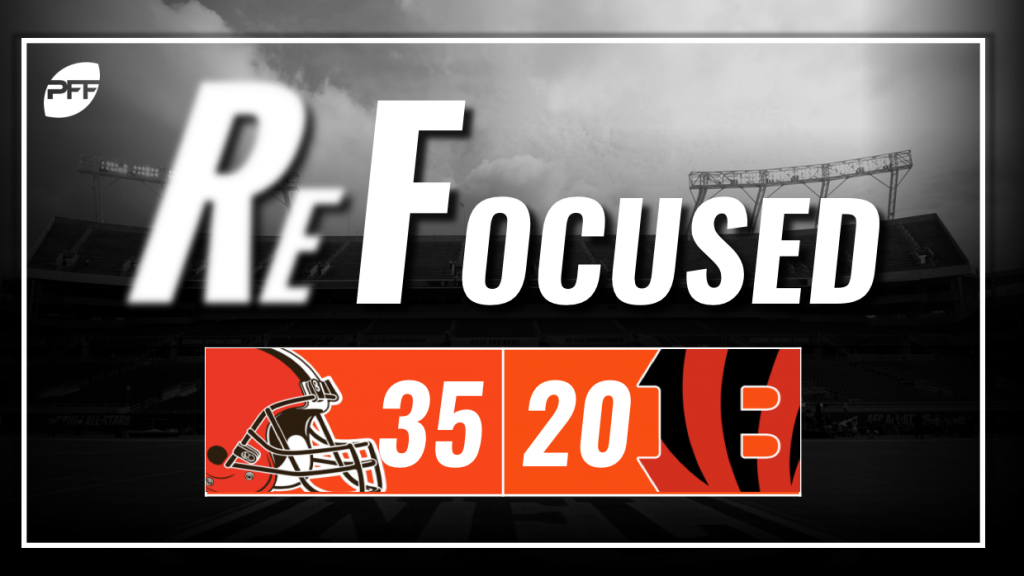 With a three-touchdown lead after the first two quarters, Cleveland didn't throw as much in the second half, but Baker Mayfield had an outstanding first half to lead the Browns to four touchdowns on their first four possessions. Mayfield had the first four-touchdown game of his career, completing 73 percent of his passes along the way.
Nick Chubb has been effective just as a runner this season, and he was again, but his best play of the day came via an incredible catch from a wheel route, where he had to secure the ball with Brandon Wilson draped all over him.
Edge defender Myles Garrett put on a clinic to make life frustratingly difficult for Cincinnati's quarterbacks. Garrett racked up far more than a handful of pressures to go along with one sack.
A few receptions in coverage should not take away from work put forth by linebacker Joe Schobert. Leading Cleveland in tackles on the day, Schobert put himself in the middle of the action all afternoon and was able to pressure Jeff Driskel twice during the final drive. 

The offense was already handicapped without star receiver A.J. Green; then they lost quarterback Andy Dalton to a hand injury late in the second half. In came Jeff Driskel, who submitted a solid effort. He was able to connect with receiver Tyler Boyd on a 28-yard touchdown to close out his second drive and also sneaked into the end zone to bring his team within 15 points.
Left tackle Jake Fisher was also forced to leave this game early, but that didn't hinder Tyler Boyd from putting together a line of seven receptions on eight targets for 85 yards, and the 28-yard touchdown catch from Driskel. His day would've been all the more impressive if not for an illegal shift that negated a 46-yard pickup where he out-jumped both Joe Schobert and Damarious Randall. 
Cincinnati yielded 84 rushing yards to Nick Chubb on the day, but it took him 28 carries to get there. They actually defended the run pretty well, with their biggest stops coming on run stunts.
Vontaze Burfict was the biggest liability on defense. He allowed several catches in coverage and was far too physical against receivers. He got called for two penalties in coverage and probably got away with a third.
Keys to the Game
Cleveland: Cleveland got out to a hot start, sustaining long drives throughout the first half with an efficient passing game and timely first downs.
Cincinnati: This game quickly got away from Cincinnati, and the loss of Dalton only compounded the issue.