The Denver Broncos defeated the Los Angeles Chargers, 23-22, in Week 11 of the 2018 NFL season.
PFF's ReFocused series this season features immediate takeaways and a key to the victory from two Senior Analysts who graded the performance, watching every player on every play of the game. For more data and analysis from the game, utilize our Premium Stats 2.0 dashboard to expand your knowledge on the key players, signature stats and much more.

FINAL SCORE
Denver Broncos 23, Los Angeles Chargers 22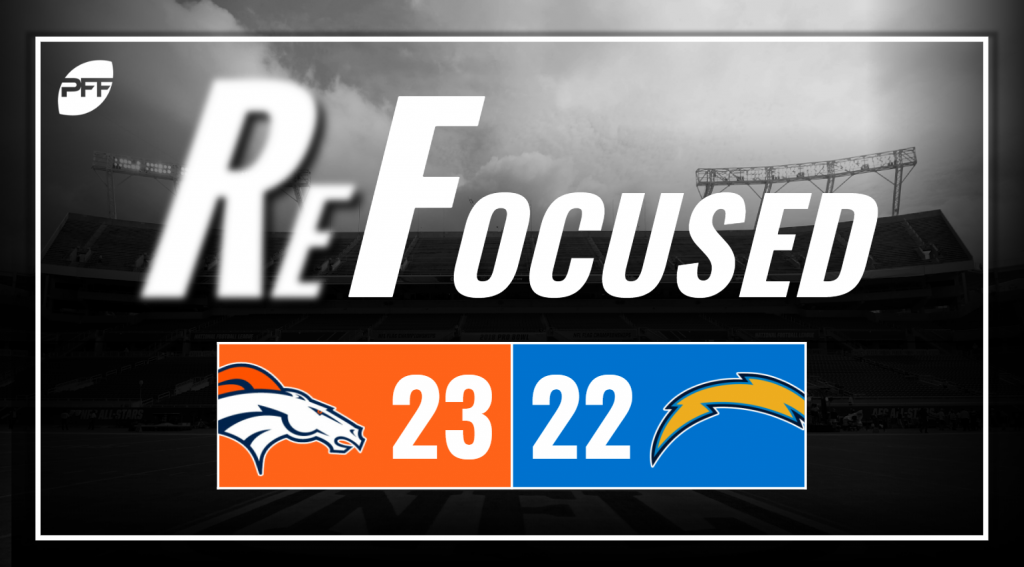 Bradley Chubb got a hit on Philip Rivers when he came free on a stunt in the first quarter. Chubb beat Russell Okung inside for a sack on Rivers in the second quarter. Adam Gotsis collected a second-quarter sack of Rivers off of a bull-rush of guard Dan Feeney.
Von Miller beat Chargers right tackle Sam Tevi with two early outside rushes and beat him for a sack outside in the second quarter. Miller also intercepted a Rivers wide receiver screen pass.
Case Keenum led the Broncos to a game-winning drive after being mostly average until that point. Keenum connected with Courtland Sutton on a 30-yard gain with 20 seconds left, which put them in position for a game-winning field goal. The Broncos quarterback ended up going 19-of-32 for 205 yards on the day.
Sutton came up big in clutch spots for the Broncos' offense and hauled in three passes for 78 yards on six targets. Sutton wasn't the only rookie to have an impactful day, as running backs Phillip Lindsay and Royce Freeman combined for 102 yards on 18 carries.

Rivers didn't have a clean day at the office and had his first multiple-interception game of the season, throwing two passes to Broncos' defenders in addition to his two touchdown passes. The Chargers' offense was plagued by a series of mistakes on their last drive, as Melvin Gordon ran a different play than the rest of his offense on one play, and Rivers woefully underthrew a wide receiver screen pass. The Broncos drove down and kicked a game-winning field goal following the drive.
Gordon did most of his damage in the passing game instead of as a rusher. Gordon had a sub-par day as a runner again highlighted by his mental error on the Chargers' last drive.
Joey Bosa recorded a quarterback hit and notched some pressures in his first game of the season returning from injury, but the Chargers' defensive unit couldn't stop Keenum and the Broncos on their game-winning drive. There were some breakdowns in coverage in the secondary, as Keenum completed passes of 38 and 30 yards on that final drive.
The defensive front recorded four hits against Denver but was unable to notch any sacks on top of allowing 5.7 yards per rush on the ground leading to a below average performance for the unit. The secondary played well until the Broncos' final possession and held Keenum to under 150 pass yards to that point.
Keys to the Game
Denver
Keenum was held to under 150 pass yards going into the Broncos' final possession, but then he came up big, completing two throws over 30 yards that put the Broncos in position for the game winner.
Los Angeles
Rivers' two interceptions and a slightly down and off-kilter performance from the Chargers' offense let the Broncos stay around and eventually pull out the win.