The Chicago Bears defeated the Detroit Lions, 34-22, in Week 10 of the 2018 NFL season.
PFF's ReFocused series this season features immediate takeaways and a key to the victory from two Senior Analysts who graded the performance, watching every player on every play of the game. For more data and analysis from the game, utilize our Premium Stats 2.0 dashboard to expand your knowledge on the key players, signature stats and much more.

FINAL SCORE
Chicago Bears 34, Detroit Lions 22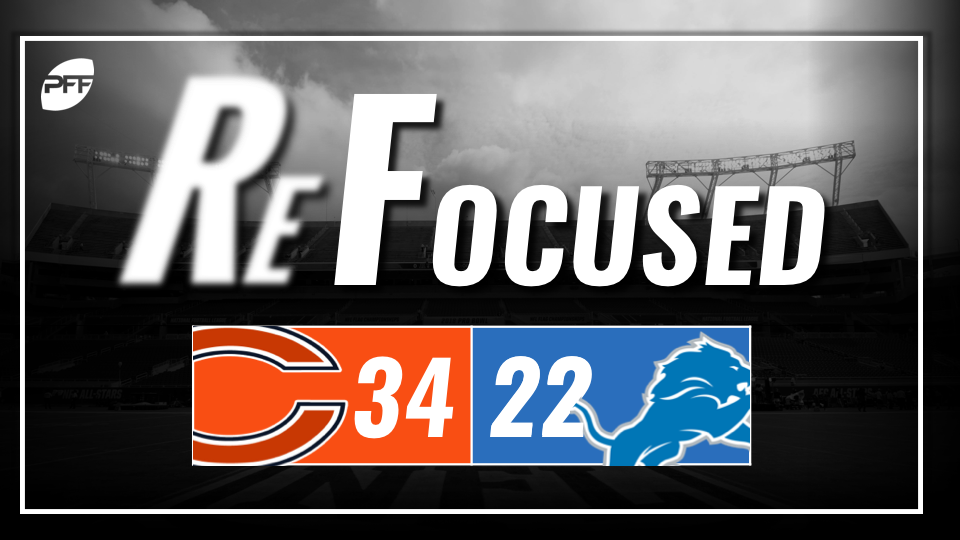 While Matthew Stafford completed some nice passes this afternoon, his day wasn't without fault, as he seemed to misread a number of coverages, but that can easily be attributed to his constantly collapsing pocket.
Lions wide receiver Kenny Golladay made a couple of nice catches this afternoon, but as a whole, the Lions failed to find a rhythm on offense.
It's difficult to find many positives with the play of Detriot's pass defense. Mitchell Trubisky routinely had all day in the pocket, and the coverage on the backend was rarely in a position to make receptions tough for Chicago's receivers. All in all, it was another rough day for a pass defense that has struggled all season.
If run defense is your thing, Damon Harrison and A'Shawn Robinson anchored a strong effort up front for the Lions and held to hold Bears' running backs to 1.9 yards per carry on 19 attempts.

Chicago's offense could do little wrong in the first half and found the end zone in each of their first four possessions. Mitchell Trubisky turned in one of his best performances of the season. The second-year quarterback was efficient underneath, finding open receivers with accurate throws, but also had several well-placed throws downfield.
Perhaps most importantly, Trubisky avoided the killer mistakes that have troubled him for much of the year. On the receiving end of Trubisky's big game came a season-best effort from Allen Robinson, who hauled in six passes for 133 yards and two touchdowns.
As usual, Khalil Mack was fantastic in the pass-rush and made life extremely unpleasant for Matthew Stafford. As a whole, the Bears defensive front gave Stafford little time in the pocket, which made it difficult for him to make key throws when he needed to.
Bears cornerback Prince Amukamara put on a great performance, as he forced fumbles and played very well in pass defense.
Keys to the Game
Detroit: Stafford was given very little time in the pocket, and the Bears secondary made it even harder for him to get the job done.
Chicago: Chicago's pass offense was firing on all cylinders, and the Lions couldn't find an answer for it.