The Oakland Raiders defeated the Seattle Seahawks on Thursday evening, 30-19 continuing the fourth full week of preseason action in the NFL.
PFF's ReFocused series this season features immediate takeaways and a key to the victory from two Senior Analysts who graded the performance, watching every player, on every play of the game. For more data and analysis from the game, utilize our Premium Stats 2.0 dashboard to expand your knowledge on the key players, signature stats and much more.

FINAL SCORE
Oakland Raiders 30, Seattle Seahawks 19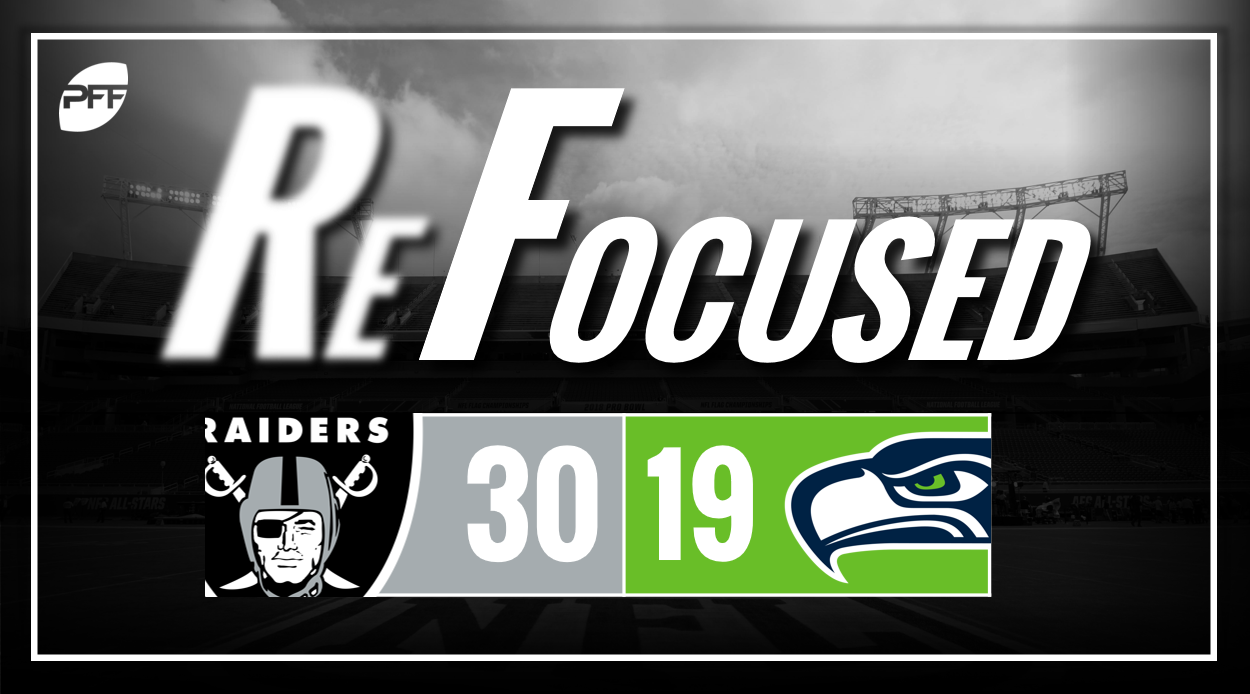 Analyst Takeaways

Keon Hatcher had himself a great game, hauling in eight passes for 128 yards and three touchdowns. He showed great awareness on his first touchdown catch to realize he was never officially down and sprinted in untouched for the score.
Connor Cook didn't get many opportunities, but he did show very nice touch on a deep ball down the left sideline in the fourth quarter to Johnny Holton, but the receiver couldn't haul it in. Cook finished with 36 yards passing and a touchdown.
Tank Carradine got after the quarterback early and often for Oakland. On the Seahawks first passing play of the game, he was able to put a nice inside move on Ethan Pocic to pressure Austin Davis. He also notched the Raiders' only sack of the night.
Jason Cabinda led the Raiders defense with 10 tackles, and he didn't slow down as the game went on either. He made arguably his best play of the night late in the fourth quarter, sniffing out a screen pass, beating an offensive lineman running out to block him, and stopping the play for a two-yard loss.

Austin Davis was quite impressive for Seattle, as his 113.3 passer rating showed. His best throw of the night came on his 81-yard touchdown pass to Damore'ea Stringfellow in the second quarter, in which he perfectly placed the ball over the cornerback's fingertips, right in stride to his receiver for the score.
Alex McGough wasn't quite as efficient as Davis was, but he made some nice plays, especially on the ground late in the game. On the Seahawks last drive, he was able to string together a couple of nice throws, as well as a few scrambles to set his team up for a final score.
The Seahawks secondary struggled to cover and tackle all game, as they allowed E.J. Manuel toss the ball all over the field for 255 yards and a passer rating of 154.5. Tre Flowers, in particular, was victimized a few times in coverage.
Seattle's front seven was much more stout, as they were difficult to block for Oakland all night long in the run game. The Raiders leading rusher was Chris Warren, who averaged only 3.5 yards a carry and never broke a run longer than 14 yards.
KEY TO THE GAME
Oakland: Hatcher was the offensive star of the night for the Raiders. He caught a touchdown pass in the first, second and fourth quarter, as he terrorized Seattle all game long.
Seattle: Seattle's passing game was clicking, as they threw for over 300 yards, and didn't turn the ball over once. Unfortunately for them, they weren't able to convert this yardage into scoring opportunities as often as they would have liked.