The Philadelphia Eagles defeated the New York Jets on Thursday evening, 10-9 continuing the fourth full week of preseason action in the NFL.
PFF's ReFocused series this season features immediate takeaways and a key to the victory from two Senior Analysts who graded the performance, watching every player, on every play of the game. For more data and analysis from the game, utilize our Premium Stats 2.0 dashboard to expand your knowledge on the key players, signature stats and much more.

FINAL SCORE
Philadelphia Eagles 10, New York Jets 9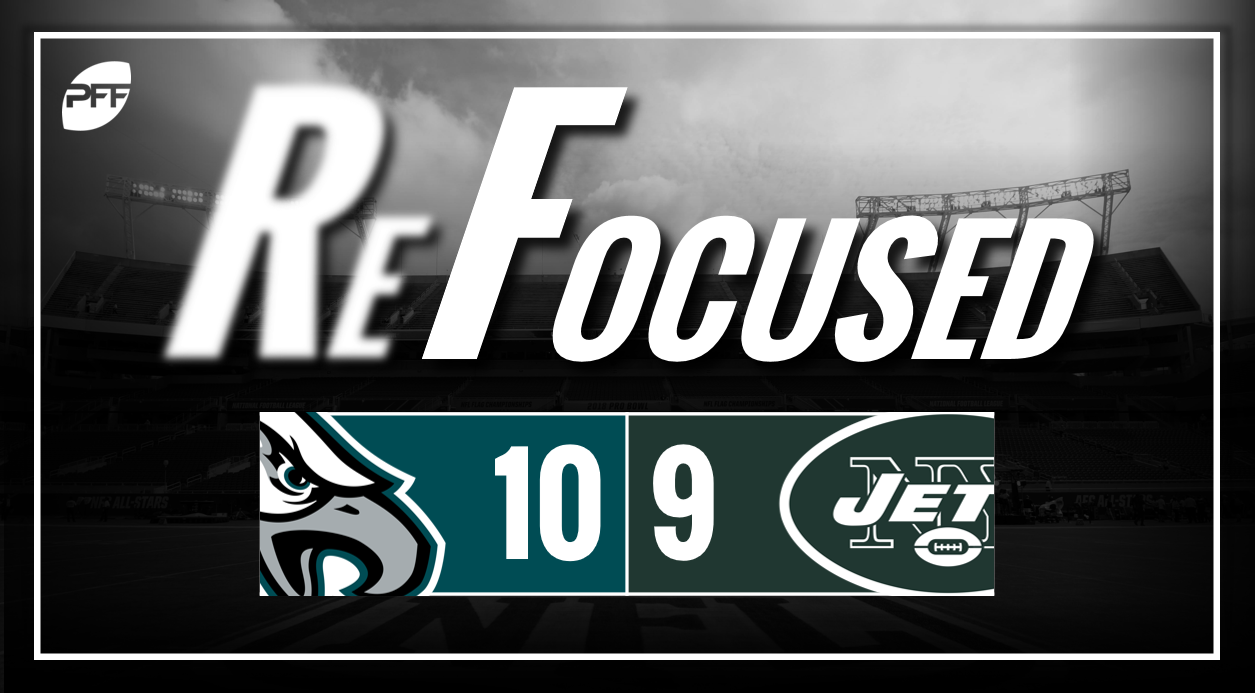 Analyst Takeaways

Veteran quarterback Josh McCown played well, though, he was victimized by drops. His receivers dropped a few big passes early in the game.
The bright spot for Jets offense was running back Thomas Rawls. Rawls had just a few opportunities, but he posted a nice 14-yard run, spinning out of a tackle attempt and nearly scoring on the play.
David Bass looked dominant at times against the Philadelphia offensive line, showing a quick burst and a nice set of pass-rushing moves that helped him beat his man consistently. Other than the late burst by Matt Jones, the Jets defense played stalwart run defense, holding Josh Adams, who saw most of the action in the first half, to only 27 yards on 13 carries. The linebacking corps played a big part in that, led by Neville Hewitt.

Christian Hackenberg struggled with accuracy and ball security all night, mostly missing passes high. One of his two interceptions was directly caused by an overthrow, and he also lost a fumble on a scramble. Matt Jones looked good running the ball in the fourth quarter, showing a nice burst and ability to make defenders miss. He caught the game-winning touchdown pass from Joe Callahan, stretching just inside the pylon to seal the game
The Eagles defensive line was a force in this matchup. Steven Means and Josh Sweat were both effective rushing the passer, creating problems for the Jets in the second half. Interior defensive linemen Bruce Hector and Elijah Qualls did a great job stuffing the run all night.
Defensive backs Jeremy Reaves and Chandon Sullivan made plays all over the field. Reaves and Sullivan each recorded pass breakups, while Sullivan added a nice interception on an underthrown go route.
KEY TO THE GAME
New York: The Jets offense struggled tonight. The offensive line struggled in the run game and the receivers had too many dropped passes.
Philadelphia: Jones and Callahan led the game-winning drive, methodically driving down the field with chunk runs and accurate throws.