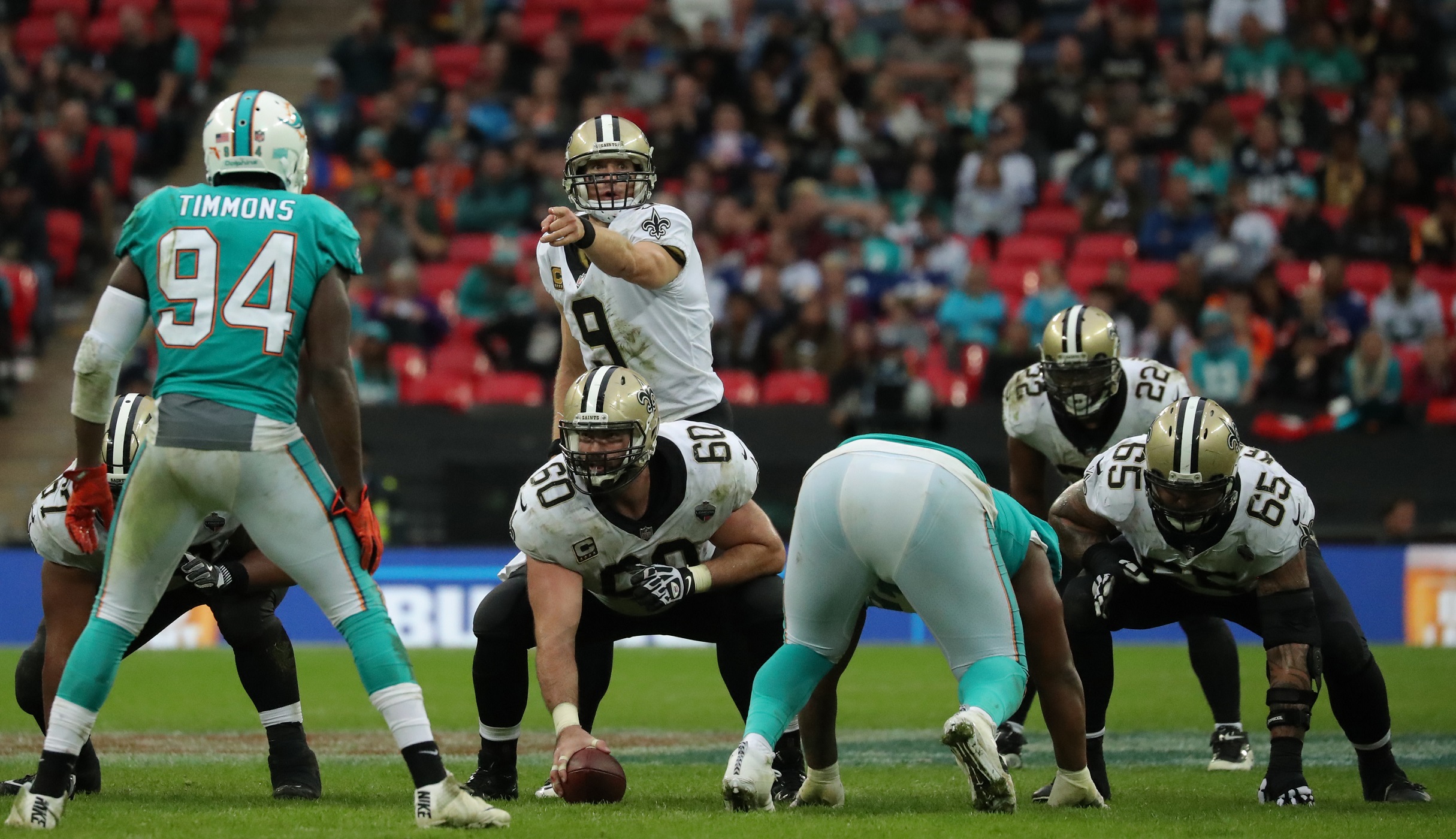 LONDON, ENGLAND - OCTOBER 01: New Orleans Saints quarterback Drew Brees (9) directs play during the NFL match between the Miami Dolphins and the New Orleans Saints at Wembley Stadium on October 1, 2017 in London, United Kingdom. (Photo by Mitchell Gunn/Getty Images)
In the second game in London in as many weeks, the New Orleans Saints managed to stave off a scoreless first half against the Miami Dolphins with a Wil Lutz 43-yard field goal as time expired in the second quarter. The two offenses sputtered in the first half before Lutz' field goal and were close to notching the NFL's first scoreless half since 2011.
In the second half, the Saints offense showed a bit more life, as WR Michael Thomas caught a touchdown pass from QB Drew Brees. Rooke RB Alvin Kamara added another score on a shovel pass from Brees in addition to another Lutz field goal, as the Saints defense blanked the Jay Cutler-led Dolphins offense en route to the 20-0 victory. With that, we give you our PFF exclusive takeaways from the contest for each team.

Top 5 Grades:
CB Marshon Lattimore, 88.0 overall grade
CB Ken Crawley, 85.9 overall grade
Edge Cameron Jordan, 79.8 overall grade
QB Drew Brees, 78.2 overall grade
DI Sheldon Rankins, 77.8 overall grade
Performances of Note:
QB Drew Brees, 78.2 overall grade
Not the swashbuckling display that Brees produced on his first visit to Wembley in 2008 but Brees looked sharp on the opening drive and did just enough for the Saints throughout the game to see them through. Solid as ever on the short stuff Brees went 4-of-6 for 96 yards on passes aimed 10 or more yards downfield, taking the big play when needed.
A solid game for Ramczyk was somewhat derailed when he was badly beaten outside by Charles Harris on a hit in the first play of the fourth quarter. The hit led to wholesale changes on the Saints' offensive line with Zach Strief injured by Harris taking Brees down. A subpar fourth quarter followed for Ramczyk who switched sides to allow Senio Kelemete into the game at LG thus, souring a decent performance prior.
The raw coverage number of four catches allowed on four targets for 41 yards may not look stellar, but Lattimore was a strong presence on the field for the Saints playing physically at the line of scrimmage and beyond to disrupt the Dolphins' passing game. His two biggest impact plays both led to fumbles, first wrenching the ball from Kenny Stills' grasp on a screen and then covering DeVante Parker up on a screen early in the fourther quarter to prevent Jay Cutler throwing on an RPO which led to a forced fumble on a sack by Cam Jordan.
CB Ken Crawley, 85.9 overall grade
A double dose of positivity at corner for the Saints with Crawley backing up his recent performances with another scrappy display making Miami's receivers fight for every catch and yard into his coverage. Crawley picked up his first interception of the season and broke up a pass for the second straight week. The Saints' D has markedly improved with Crawley in the lineup, the second-year corner has allowed a passer rating of just 31.3 on the 18 passes into his coverage in the last two weeks.

Top 5 Grades:
S Reshad Jones, 81.4 overall grade
WR DeVante Parker, 81.4 overall grade
T Laremy Tunsil, 81.3 overall grade
LB Lawrence Timmons, 80.7 overall grade
Edge Charles Harris, 80.5 overall grade
Performances of Note:
After a shaky start to the season at left tackle, Tunsil was one of the Dolphins' better performers against the Saints, benefitting somewhat from only seeing Cam Jordan on his side of the field once all game but holding up well regardless. Tunsil impressed in run and pass alike surrendering only one hurry (in garbage time) and creating running room with some strong blocks on Sheldon Rankins in particular.
QB Jay Cutler, 50.5 overall grade
Cutler was pressured on 50.0 percent of his dropbacks against the Saints and more often than not he wilted under that pressure. Sacked four times he threw his lone interception on one of his dropbacks under pressure and put up a passer rating of only 43.1 under pressure.
Harris played a season-high 35 snaps and rushed the passer on 23 of those 35 snaps, playing to his strengths in the process. Harris notched a season-high three pressures. He grabbed two hurries as he had in each of his first two games but also grabbed his first hit in the NFL, which ultimately took Zach Strief out of the game, also drawing a hold from fellow rookie Ryan Ramczyk midway through the second quarter.
Seeing his first action with the Dolphins, Timmons led the team with four defensive stops doing his best work coming down hill against the run and rushing the passer (two hurries). The former-Steelers missed a tackle on Alvin Kamara in space in the first quarter but there after was in more comfortable surroundings making the plays around the box to keep the Dolphins in the game even if they never looked like capitalising and jumping back into the contest.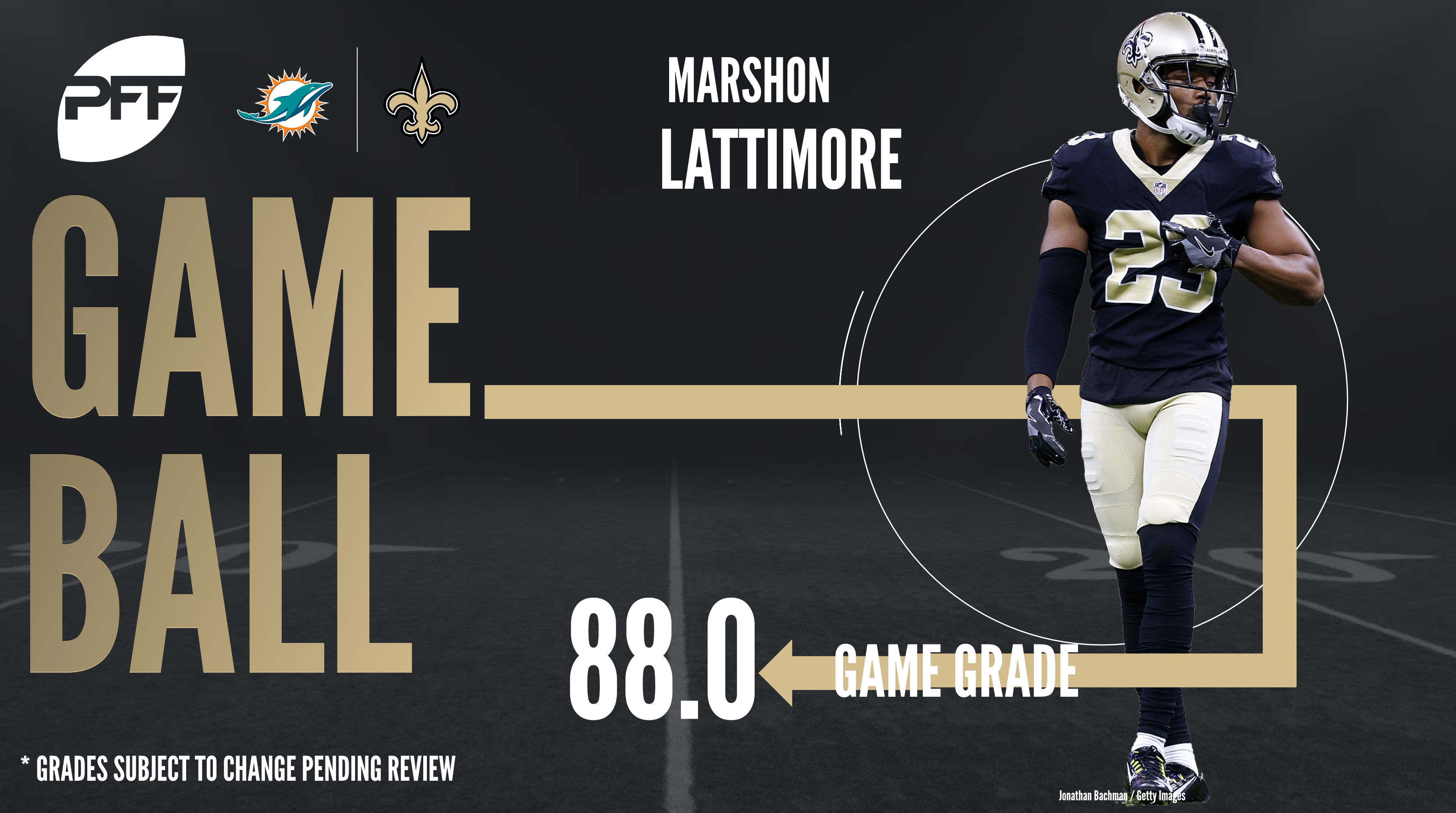 *Grades are subject to change upon review