The Saints managed to get a couple field goals in the first half, but the Vikings had control of the scoreboard. QB Sam Bradford threw two touchdowns to WR Stefon Diggs, one to put the Vikings far ahead just before halftime.
In the second half, the Saints would add two more field goals and a touchdown from QB Drew Brees to TE Coby Fleener, but they would go on to lose to Minnesota 29-19. With that, we give you our PFF exclusive takeaways from the contest for each team.

Top 5 Grades:
WR Stefon Diggs, 88.9 overall grade
QB Sam Bradford, 87.4 overall grade
S Harrison Smith, 86.8 overall grade
WR Adam Thielen, 86.8 overall grade
T Riley Reiff, 83.1 overall grade
Performances of Note:
The offensive line gave Bradford time all night and he consistently delivered. He was nearly flawless throughout the game, in particular on intermediate and downfield passes, where he completed nine of 10 attempts for 234 yards and two scores.
Diggs was essentially uncoverable, as he repeatedly got loose deep into the Saints' secondary. He snagged seven of eight throws sent his way for 133 yards and two scores, and Bradford's passer rating of 154.7 when throwing to Diggs was the second-highest of any receiver this week.
Danielle Hunter picked right up where he left off last season, which was as a force on the defensive edge for the Vikings. The question was not whether Hunter could produce for Minnesota but rather if he could do it when given a starter's share of snaps. Hunter answered those questions by amounting three pressures on 33 pass rushing snaps. Hunter also held his own in run defense with a 77.0 run defense grade on 16 run defense snaps
Smith, the Vikings' All-Pro safety, started this season the same way he has played his entire career, a solid, dependable playmaker. Smith had the Vikings' highest defensive grade of the night, excelling in both run defense and in coverage. Smith was targeted three times, allowing two catches for 17 yards (only five of which were after the catch) and added in a pass defensed for an 84.1 coverage grade. In run defense he was disruptive, recording one stop and finished with an 86.4 run defense grade

Top 5 Grades:
QB Drew Brees, 85.1 overall grade
LB Alex Anzalone, 81.4 overall grade
EDGE Cameron Jordan, 81.0 overall grade
TE Coby Fleener, 81.0 overall grade
DI Tyeler Davidson, 79.8 overall grade
Performances of Note:
QB Drew Brees, 85.1 overall grade
Despite the lack of scoring, Brees had a solid day moving the ball up and down the field. When kept clean in the pocket, Brees was 24-30 for 280 yards with a 116.7 passer rating, but he struggled under pressure, going only 3-7 for 11 yards and a 50.3 passer rating. The biggest issue with Brees and the Saints offense was the lack of production in the redzone, where they did not score a touchdown until two minutes to go in the fourth quarter when they were already down three scores. Brees did have a well placed pass that would have gone for a touchdown if not for a Brandon Coleman drop late in the third quarter and finished off the game with a well placed laser to Coby Fleener in the front of the endzone.
Fleener was one of the few offensive highlights for the Saints in their opener. Fleener caught the two of Brees' best throws of the night, a post in between two defenders in the second quarter and the lone touchdown of the game with CB Trae Waynes all over him. Fleener finished the game with five receptions on six targets (with no drops) for 54 yards and a touchdown. When Brees targeted Fleener, his passer rating was 143.8.
While he did take an illegal hands penalty, Anzalone was one of the few bright spots on the Saints defense. He was especially strong in coverage, as he allowed just two receptions on four throws into his coverage for a total of just seven yards, including a pass defensed.
Jordan was his usual self, as he was productive in all three phases. He notched a sack and three total pressures to go with two run stops and a coverage stop.
PFF Game Ball: Sam Bradford, QB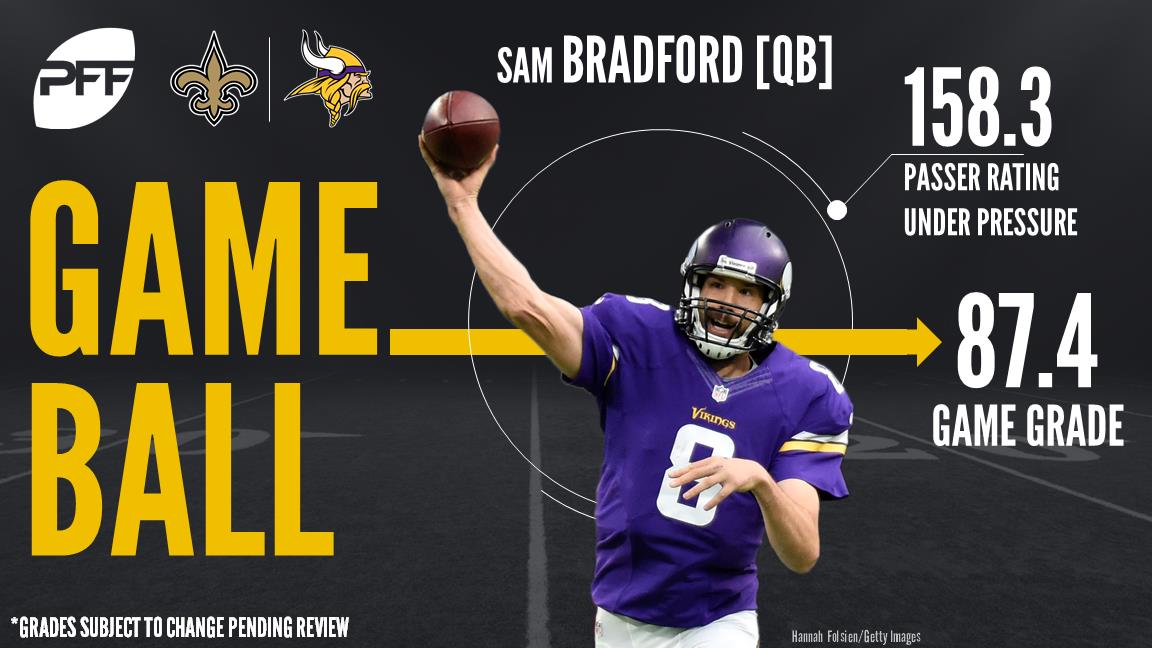 *Grades are subject to change upon review