In a tale of two halves, the Atlanta Falcons and QB Matt Ryan threw a touchdown pass early and HB Tevin Coleman found the end zone on a run to put the Falcons up early as they kept the Miami Dolphins off the scoreboard in the first half. The two headed to the halftime break with Atlanta up 17-0.
However, the second half would prove to be a different story as Miami would keep Atlanta off of the scoreboard on the strength of a strong opening drive in the third quarter and two QB Jay Cutler second half touchdown passes. Adding in two Cody Parkey field goals, the Dolphins came all the way back from a 17-0 first half deficit to come away with the 20-17 victory. With that, we give you our PFF exclusive takeaways from the contest for each team.

Top 5 Grades:
HB Jay Ajayi, 91.0 overall grade
Edge Cameron Wake, 88.6 overall grade
RT Ja'Waun James, 82.0 overall grade
LB Lawrence Timmons, 81.5 overall grade
WR Kenny Stills, 80.3 overall grade
Performances of Note:
Make no mistake about this, the Dolphins won this game on the back of their ground game. Cutler struggled throughout, completing just four passes the entire games further 10 yards in the air and none in the 'going-deep' category (20-plus yards in the air). He can thank a Grady Jarrett roughing the passer call that he only walked away with one poor interception (that practically took points off the board), and Jay Ayaji that his team picked up the win.
A big time performance from a team that really needed it. If the line gave Ajayi a hole, he victimised Atlanta at the second level. And if they didn't he more often than not made something happen anyway with 96 of his yards coming after contact. He is without doubt the foundation of this offense and the Falcons defense simply was not physical enough to slow him down.
Isn't Wake supposed to be slowing down at his tender age of 35? Tell that to Ryan Schraeder who was mercilessly worked over with the full compliment of what Wake is capable of. He ended the day with two sacks and five hurries with five more recorded wins as he worked over the returning right tackle with an array of speed and power moves (two of his pressures coming on bull rushes).
Maybe if the ball doesn't land in the arms of Reshad Jones, people aren't talking about Tankersley after the game. But the grade wouldn't change as the rookie third-rounder continues to make a mark after being forced into action earlier than most anticipated. Three games and now three pass break ups for a player who may have been the 16th cornerback off the board, but who we (patting ourselves on the back prematurely) figured should go a lot earlier.
Top 5 Grades:
S Keanu Neal, 86.1 overall grade
QB Matt Ryan, 85.3 overall grade
RG Wes Schweitzer, 83.3 overall grade
HB Devonta Freeman, 82.9 overall grade
DT Dontari Poe, 82.1 overall grade
Performances of Note:
A funny old world. There was little wrong with the pick that Matt Ryan threw, but he now has six picks on the year and four of them have incredibly come via dropped or deflected balls. This was his most assured performance of the year even if he still hasn't hit the heights of last year. He completed seven balls further than 10 yards in the air on 11 attempts and didn't throw any turnover worthy balls. This could be pivotal if the offense is to regain some of it's 2016 explosion, but right now counts for very little after two defeats on the bounce.
A good news story on offense struggling to put it all together. Schweitzer looked like it's biggest liability in Week 1, but he's got better with each performance and now looks entrenched as the teams starting right guard. Spending a lot of time against Ndamukong Suh you figured this might be a game where his recent improvements got exposed, but not only did he hold up but he earned the highest grade of his young career. Schweitzer kept a clean sheet in pass protection on 36 snaps in pass protection.
Did the Falcons rush Beasley back too soon from injury? The sack specialist failed to record a pressure against Ja'Waun James and looked short of his normal explosiveness on stunts where he does so much damage. Incredibly he rushed the passer 20 times, a number that feels far too high given the lack of impact he had.
S Keanu Neal, 86.1 overall grade
While two missed tackles are two too many, Neal did make a number of key plays included two tackles for stops in coverage on third down, and showing some good down the field coverage to prevent Julius Thomas working back on a go route. Year 2 has been a bit more spotty than Year 1 was to start with, but there has to be hope this is him rediscovering the form that made him a contender for Rookie of the Year.
PFF Game Ball: Jay Ajayi, HB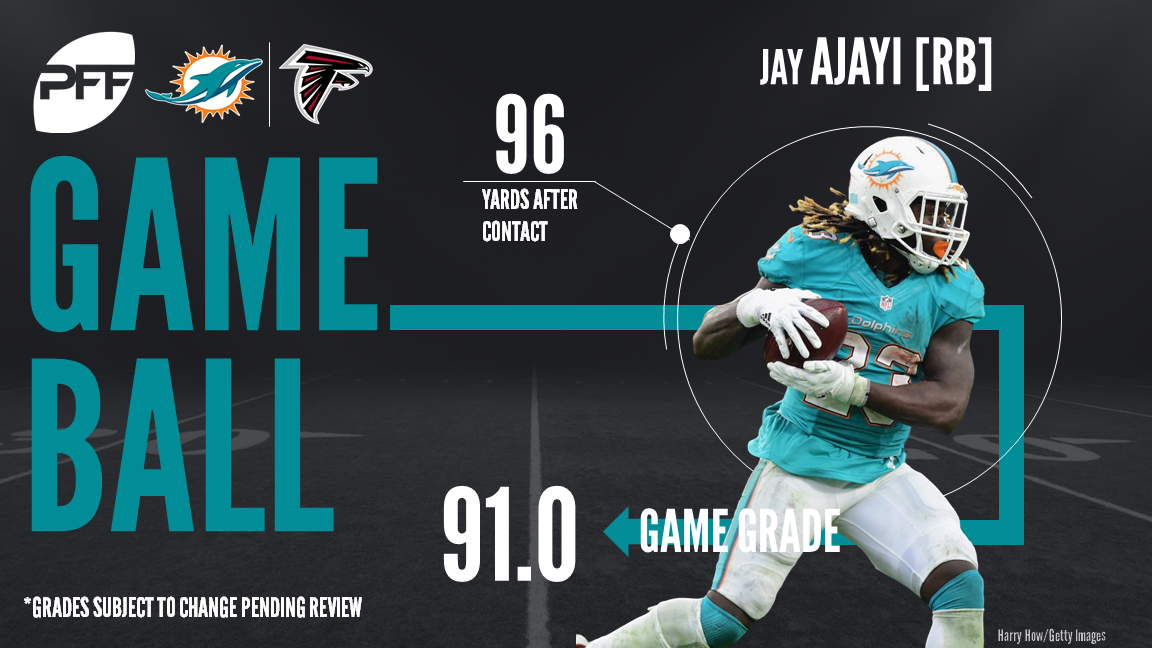 *Grades are subject to change upon review