The NFL schedule's first game in London this season did not disappoint, if you're a Jaguars fan across the pond. The Ravens were utterly shut down by Jacksonville, limiting Baltimore to just 186 total yards, most of which came in the later stages of the game when the score was out of reach.
Jaguars QB Blake Bortles tossed four touchdowns in the blowout, three to TE Marcedes Lewis, and rookie RB Leonard Fournette capped the scoring on the first play of the fourth quarter for Jacksonville when they jumped out to a 44-0 lead. Ben Watson hauled in a Ryan Mallett TD with 3:24 left in the final quarter to avoid the shut out for Baltimore and push the final score to a 44-7 Jaguars win. With that, we give you our PFF exclusive takeaways from the contest for each team.

Top 5 Grades:
TE Marcedes Lewis, 91.4 overall grade
CB Jalen Ramsey, 89.2 overall grade
DE Calais Campbell, 87.6 overall grade
S Tashaun Gipson, 84.8 overall grade
RB Leonard Fournette, 84.1 overall grade
Performances of Note:
It couldn't have gone much better for Bortles. Four-touchdown day. Check. No picks. Check. Backup throws turnover worthy ball on first attempt. Check. It may last for just a week but with his line buying him plenty of time and Marcedes Lewis rolling back the years, Bortles looked comfortable and composed and able to work attacking all levels of the defense. The question for Bortles though is whether this can be the springboard to something more consistent in keeping up with his very respectable adjusted completion percentage of 77.8 today, or just an agonizing tease.
This morning it was Maurice Jones-Drew saying his former teammate would be the difference maker. Oh how we laughed at the notion of a receptionless tight end making his mark. Oh how we were wrong. Lewis had the kind of game he would have dreamed of in his prime. His touchdowns saw him pick on linebackers and safeties, using his size to create mismatches and just flat out running a flat footed Ravens defense. Throw in some of the blocking we've come to expect from him and you have a guy who is going to get picked up on a lot of waiver wires this week after averaging 3.26 yards per route run.
It's easy to ignore Ramsey. He plays in a market that since he was drafted has been viewed as a perennial loser. But those paying attention are watching the development of one of the best cornerbacks in the game. This week offered another example as to why as he was near perfect in coverage, allowing just two completions (for 11 yards) on seven targets while making a perfect read on a bad Flacco decision to walk away with an interception. He made it look easy today en route to a 0.0 passer rating when targeted.
You always wonder if a free agent can replicate his excellent form as he moves to a new team and a different system. Well we don't really need to wonder with Campbell anymore. After his quiet day against the Titans, he was phenomenal beating up on the Ravens. His day included a forced fumble, a sack, a hit and three hurries as well as two defensive stops in the run game. Not a bad day and Campbell is proving the difference maker up front the Jaguars have desperately needed.

Top 5 Grades:
CB Jimmy Smith, 89.4 overall grade
C Ryan Jensen, 85.0 overall grade
DT Carl Davis, 79.2 overall grade
CB Marlon Humphrey, 77.9 overall grade
S Eric Weddle, 77.8 overall grade
Performances of Note:
QB Joe Flacco, 46.2 overall grade
After a good performance against Cleveland, comes the Flacco we've become more accustomed to ever since his hot streak ended with a famous Super Bowl win. Constantly off target and consistently unnerved by the Jags stunting defensive front, Flacco never looked like he enjoyed the trip to London and the stats back it up. He didn't complete a pass over 10 yards all game and made a horrible decision as Jalen Ramsey picked him off. If the Ravens are to be true contenders he simply has to play better.
RG Matt Skura, 52.4 overall grade
One thing Skura will never be is Marshal Yanda. Perhaps it's just a coincidence the offense sputtered without arguably the best lineman in the NFL. But Skura to his credit wasn't a liability in his 40 snaps, and while Jermaine Eluemunor gave up a sack, neither was Skura in on the 16 Eluemunor played. Slighlty below average play doesn't kill you when it's one lineman, but when the dropoff is to that from the best in the business, it really stands out. No surprises that while the stat look kind to the running game, most of that went down deep into garbage time.
CB Jimmy Smith, 89.4 overall grade
Not all Ravens forgot to take their playing shoes to the UK. CB Smith can be one of the better cornerbacks in the league on his day, and this was definitely his day. While Marqise Lee had joy during the game, he had none when matched up with Smith who blanketed him to the tune of three attempts, zero completions and two pass break ups. On a bad day for the defense he was outstanding.
LB C.J. Mosley, 44.4 overall grade
It was a big tackle day for Mosley as he led the team with 11, with six of them going for defensive stops. His problems though came in coverage, especially as Marcedes Lewis got in behind him for his second touchdown of the day. Mosley hasn't quite hit the heights of previous years this season and this was another example of that.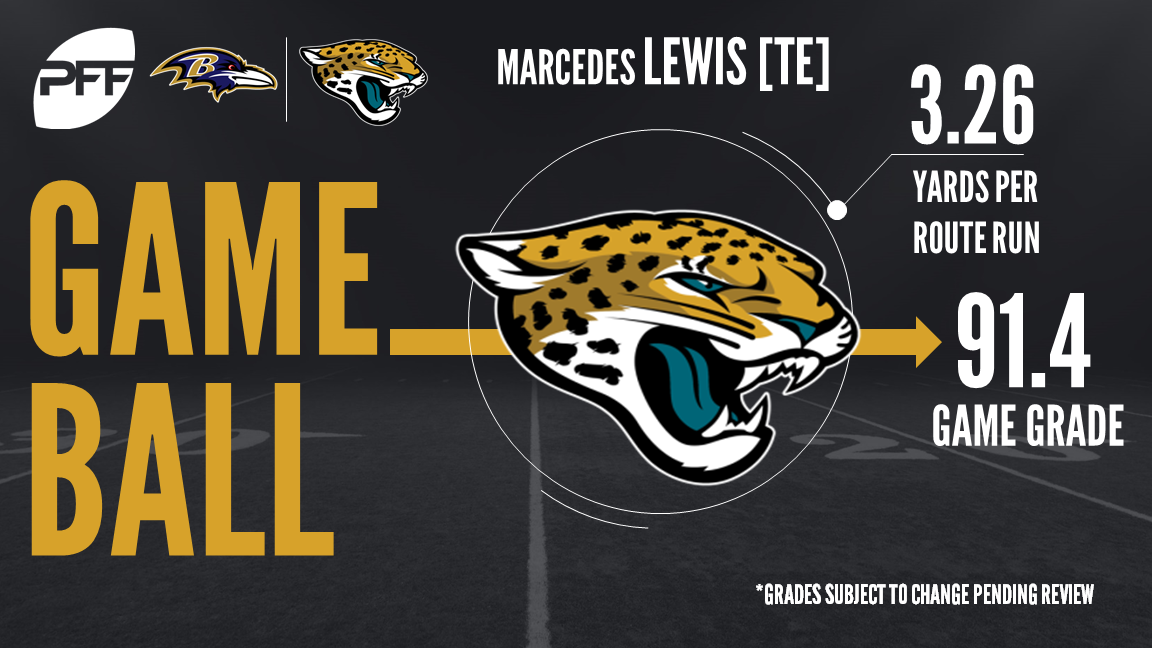 *Grades are subject to change upon review