The Green Bay Packers came back from a fourth quarter deficit to defeat the Cleveland Browns 27-21 in overtime in FirstEnergy Stadium.
QB DeShone Kizer threw three touchdowns, one WR Josh Gordon neatly snatched out of the air, to go with 214 yards on 28 attempts. RB Duke Johnson Jr. and WR Corey Coleman caught the other two touchdowns and had the Browns up 21-7 going into the fourth quarter.
However, their lead would not last. RB Jamaal Williams punched in a one-yard touchdown early in the fourth, and the Packers scored the game tying touchdown when WR Davante Adams caught a touchdown pass from QB Brett Hundley with seconds remaining in regulation. Hundley finished the game with 265 yards and three touchdowns.
Adams caught 10 balls on the day for 84 yards a two touchdowns, the second of which came in overtime and won the game for the Packers. With that, we give you our PFF-exclusive takeaways from the contest for each team.

Top 5 Grades:
S Josh Jones, 89.2 overall grade
QB Brett Hundley, 86.4 overall grade
DI Mike Daniels, 83.0 overall grade
S Ha Ha Clinton Dix, 81.0 overall grade
LB Blake Martinez, 79.6 overall grade
Performances of Note:
Both quarterbacks in this game put their teams in good spots in the lead up to crunch moments. Both put up three touchdown passes, both added value on the ground but unlike his Cleveland counterpart, Hundley had a positive impact on the Packers in crunch moments while Kizer sunk the Browns with crucial errors. Hundley capitalized on Trevor Davis' spectacular punt return to cap off a game tying drive with a well placed back-should throw to Davante Adams and capped it off by picking up what was needed on the overtime drive with a conversion on a slant on third down to ensure Mason Crosby wouldn't have a 50-plus yard field goal to win the game, and then Adams did the rest.
Adams was quiet for the first three quarters of the game, with only a missed tackle forced from S Kai Nacua on a screen pass being of note before he came alive down the stretch. A trio of conversions and solid gains up to the middle of fourth quarter gave way to three momentous grabs in the context of the game. A game-tying back shoulder score at the end of regulation, a conversion on a contested catch against Jason McCourty in overtime before he gashed the Browns' defense for the game winning score to  keep the Packers alive in the NFC playoff hunt.
Jones was a step late on the slant for Corey Coleman's touchdown grab but he made amends for that down the stretch, only surrendering an insane one-handed grab to Seth DeValve on an off-target Deshone Kizer throw. Coleman broke up the third-down pass to David Njoku that would've allowed Cleveland to come closer to running out the clock at the end of regulation and then made the overtime interception from Kizer, rising up over the pile to snag the turnover. Combined with the late second quarter pass defense against Josh Gordon, Jones provided the key late game plays on defense to setup Davante Adams' game winning plays on offense.
Daniels' production at this stage is now to be expected but it is still extremely credit-worthy. Another five stops today took his season total to 29, just four shy of his 2016 season total, which includes two playoff appearances. His running mate in the heart of the Packers' defense showed up again this week as well, with Kenny Clark adding another four stops as the duo of Clark and Daniels again carried the load in the middle of the Green Bay defense.

Top 5 Grades:
G Kevin Zeitler, 86.8 overall grade
DI Larry Ogunjobi, 84.2 overall grade
CB Jamar Taylor, 82.1 overall grade
WR Corey Coleman, 81.5 overall grade
S Derrick Kindred, 80.1 overall grade
Performances of Note:
WR Josh Gordon, 74.0 overall grade
Gordon got off to a fast start in his first home game in four years with a touchdown and two other grabs in the opening 22 minutes of the game but the Packers held him in check thereafter. The flashes Gordon has shown over these last two weeks have to encourage Browns fans and to expect a complete 60-minute performance from him immediately is perhaps too much but as with so many players, Browns fans will wonder if they might have had that first win with just one more big play from Gordon.
Browns fans will hope that touchdown grabs for Coleman and Gordon in the same game becomes a feature in the years to come. Coleman's score was a strong play, as he was riding contact from Josh Jones but managed to hold on to a slant pass in the front of the endzone to put the Browns two scores up. Coleman was held in check there after, much like Gordon. There are positive signs for this wide receiver duo moving forwards but their efforts were not enough to prevent the the Browns from bringing up unlucky number 13 in the loss column.
Many have been crying out for Ogunjobi to get more playing time after showing consistently well in surprisingly limited playing time from the bench. In the absence of Danny Shelton, Ogunjobi got his chance this week and he certainly made the most of it. From the second play of the game he had the better of the Packers' interior offensive line and he was a persistent nuisance in one-on-one situations. He only registered one stop but contributed to three other tackles and was a big reason why the Packers could only gain four yards on seven carries through the A-gaps.
In Garrett's eighth appearance this season, he racked up a multi-pressure game for the eighth time. Garrett had his toughest assignment to date in the shape of Packers LT David Bakhtiari and though he got one hurry against him he picked up two pressures working inside against Packers' LG Lane Taylor, including a hit with a quick inside move midway through the fourth quarter.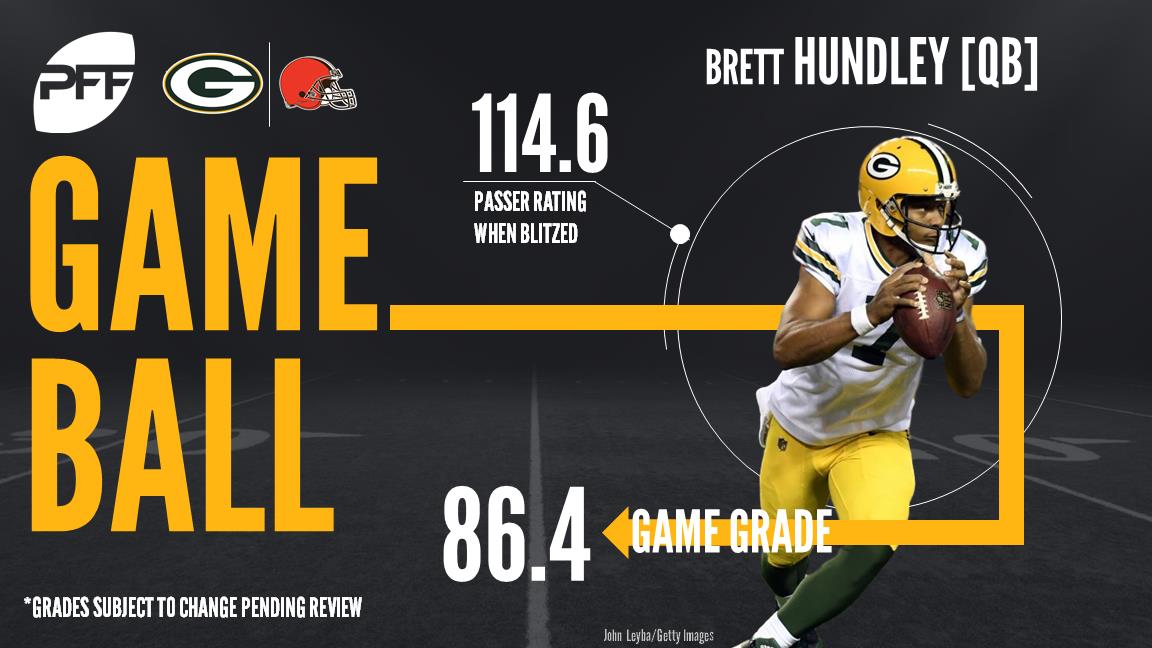 *Grades are subject to change upon review