The Detroit Lions utilized a strong final 16 minutes, scoring 21 unanswered points off the arm of quarterback Matthew Stafford to keep the Cleveland Browns winless, 38-24. The Browns took a seven-point lead with 2:28 left in the third quarter but were outdone by Stafford who hit RB Theo Riddick, TE Eric Ebron and WR Golden Tate on touchdown passes to get the win.
Stafford finished the game completing 17-of-26 passes for 249 yards and the three touchdowns. Tate finished the game with six receptions on seven targets for 97 yards and the game's final touchdown.
Momentum shifted in the Lions favor in the second quarter when Browns TE Seth DeValve fumbled a reception and Lions CB Nevin Lawson returned it 44 yards for a touchdown, and a 17-10 Lions lead at halftime. Cleveland came out strong in the second half however and grabbed a 24-17 lead with Isaiah Crowell and DeShone Kizer rushing touchdowns in perhaps the rookie signal-callers finest performance of his young career, only to have the lead evaporate after Stafford's strong passing display late. With that, we give you our PFF exclusive takeaways from the contest for each team.

Top 5 Grades:
CB Darius Slay, 86.8 overall grade
S Tavon Wilson, 82.4 overall grade
WR Golden Tate, 81.8 overall grade
RB Theo Riddick, 81.3 overall grade
Edge Anthony Zettel, 81.1 overall grade
Performances of Note:
Stafford shook off an early-game, badly-forced interception and came back with a number of big throws in the second half. As we've seen in recent weeks, his deep ball touch was on display again, going 2-of-3 for 79 yards and a touchdown on throws 20-plus yards down the field. The Browns chose to blitz Stafford often and he was able to make them pay, going 9-of-12 for 156 yards and two touchdowns, including a screen to Golden Tate that went for 40 yards and the game-sealing touchdown.
Tate was able to take advantage of a few of the Browns zone blitzes that saw them out of position and unable to bring him down after the catch. Tate finshed the game catching six of his seven targets for 97 yards and a touchdown, with 73 of his yards coming after the catch. Knifing through the defense on a well-timed screen, Tate sealed the victory with his 40-yard screen score to put the game out of reach.
Zettel turned in his second multi-sack game of the season and racked up five or more pressures for the third time on the year. Through nine games, Zettel has 30 pressures (seven sacks, two hits, 21 hurries), very close to Kerry Hyder Jr.'s production at the same stage last season (seven sacks, five hits, 19 hurries). Zettel has filled in ably for Hyder this season and Lions fans will hope he can continue with the volume and timeliness of his pressure with all three of Zettel's second half pressures coming on third down.
CB Darius Slay, 86.8 overall grade
Slay was a threat in coverage throughout the game and being the most targeted Lions' defender while being their most dangerous coverage defender might be a gameplan decision the Browns look back on with regret. Slay was not flawless with a missed tackle on a fourth down and a pass interference penalty allowing the Browns to threaten a late comeback, however his game clinching interception was more indicative of his play throughout the game. Slay erased Ricardo Louis on the fade route to add an interception to an already impressive stat line that saw him surrender just 42 yards on 11 targets.

Top 5 Grades:
QB DeShone Kizer, 87.9 overall grade
RG Kevin Zeitler, 87.0 overall grade
DI Trevon Coley, 86.6 overall grade
RT Shon Coleman, 82.9 overall grade
Edge Nate Orchard, 80.4 overall grade
Performances of Note:
This was the kind of performance that Browns fans have been hoping to see from Kizer since the beginning of this season, even if the individual and team results still weren't quite there. Knocked out of the game for two series by Quandre Diggs, Kizer came back with a strong fourth quarter drive which included three fourth down conversions. Kizer wasn't helped by his receivers at times with four dropped passes but he put the ball on the money especially down the left sideline to give his receivers a chance to make plays down the field. Especially when adding in his work on the ground to exploit space in the Lions' coverage this was comfortably Kizer's best pro performance to date.
The Browns worked their way into this game on the ground with the three headed monster of Crowell, Duke Johnson and DeShone Kizer racking up a 200-yard game on the ground. Crowell led the way with 90 yards, 59 of them after first contact, three missed tackles forced and a touchdown run outrunning the Lions' contain inside the 10-yard line. This marked the the second-straight week for Crowell topping 5.0 yards per carry, 3.0 yards per carry after contact, multiple missed tackles forced and a touchdown. Browns fans will hope Crowell and the running game are rounding back to 2016 form.
Coley was disruptive in the middle of the defense and took advantage of tackle turned gaurd Corey Robinson. He forced the Lions running backs off their marks a number of times and totaled two solo stops and two tackles against the run. Coley's best work was against the pass, where he pressured the passer on two occasions, and had two batted passes at the line of scrimmage.
Garrett had a number of positive plays throughout the game, impacting the Lions quick-strike passing attack with three QB hurries and forcing Stafford off the spot. His play against the run was not as effective, as the Lions found success on outside zone running plays around the edge. Garrett had a big mistake that took the game for a turn, jumping offsides on a 3rd-and-11 in the fourth quarter with the Browns down by seven, with the ensuing play going for the game-sealing touchdown to Golden Tate.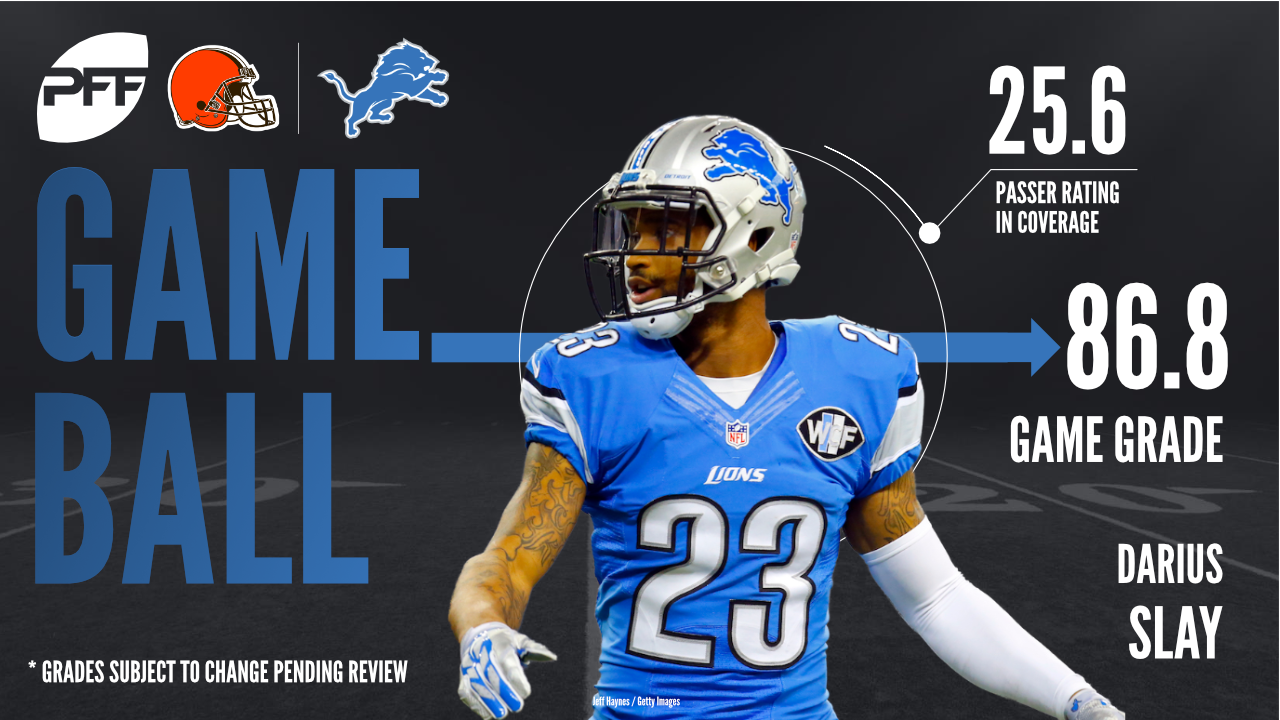 *Grades are subject to change upon review