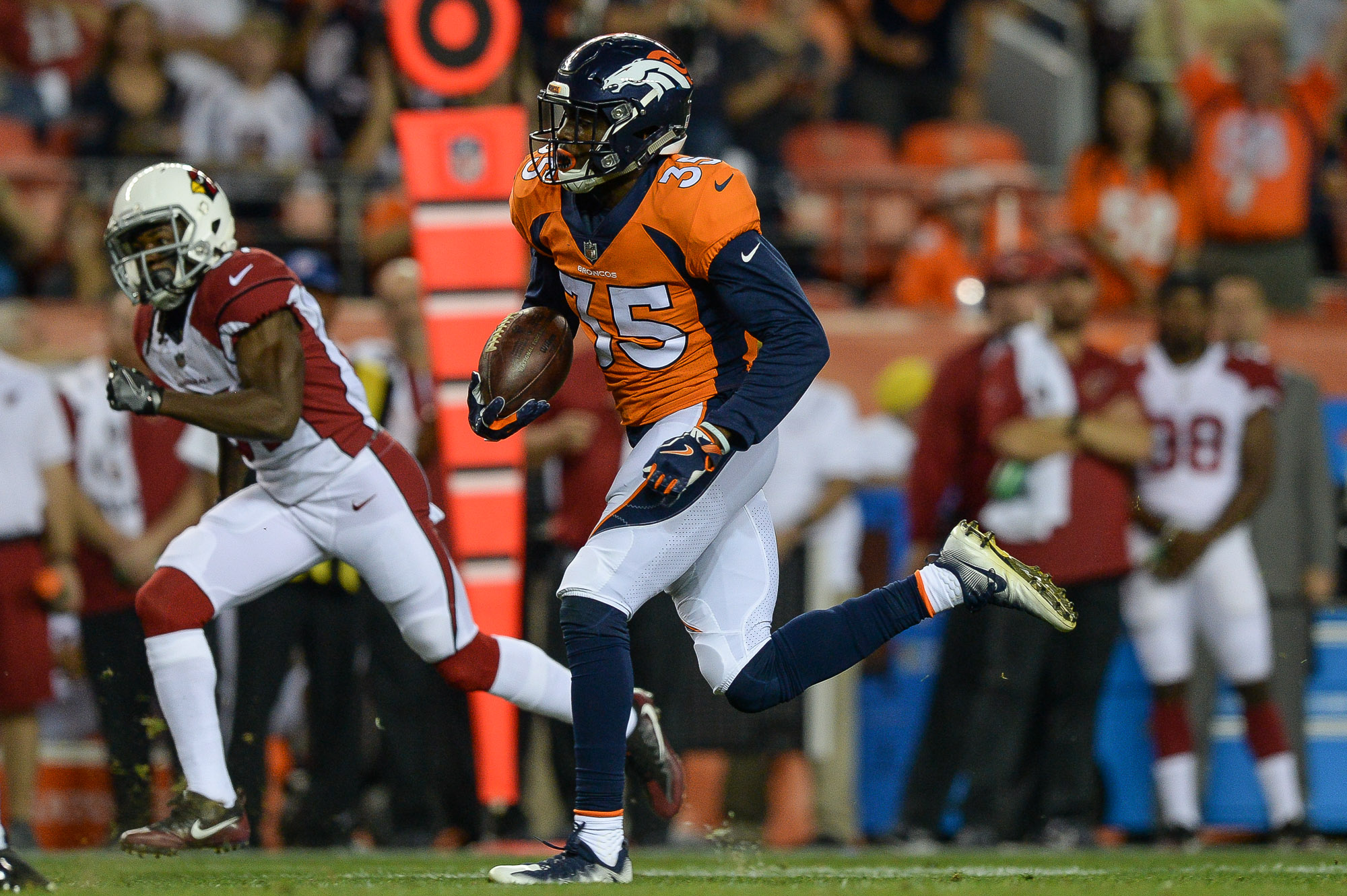 DENVER, CO - AUGUST 31: Defensive back Dymonte Thomas #35 of the Denver Broncos returns after intercepting a pass for a pick six touchdown in the second quarter during a preseason NFL game at Sports Authority Field at Mile High on August 31, 2017 in Denver, Colorado. (Photo by Dustin Bradford/Getty Images)
The first 2 points of the game came via a safety by the Cardinals' ED Alex Bazzie. However, the next 20 points in the first half would come from Denver, including a 58-yard interception return for a touchdown by S Dymonte Thomas.
Piling more points on in the second half, including a QB Kyle Sloter touchdown pass to TE Steven Scheu, the Broncos would go on to win 30-2. With that, we give you our PFF exclusive takeaways from the contest for each team.

Top 5 grades
QB Kyle Sloter, 88.4 overall grade
G Michael Schofield, 85.6 overall grade
DI Shelby Harris, 81.8 overall grade
HB Juwan Thompson, 81.6 overall grade
DI Shakir Soto, 79.7 overall grade
Performances of Note:
QB Kyle Sloter, 88.4 overall grade
Outside taking an awful sack early in the game for a safety, Sloter was nearly flawless on 26 dropbacks. Remarkable in working the middle of the field, he completed 9 of 11 passes for 151 yards and a touchdown, including 5 of 6 for 103 and a touchdown on throws over 10 yards. His stat line could have been better if it weren't for two drops, but he averaged 8.9 yards per attempt when under pressure and had an impressive 102.8 passer rating when blitzed.
Making a strong case to burst the roster bubble, the former Duke Blue Devil made the most of his 16 snaps and 9 carries as he forced four missed tackles, averaging 4.1 yards per carry after contact. That marks back-to-back games forcing four missed tackles. He's impressed this preseason, averaging 4.6 yards after contact per carry. The only knock on him this preseason was that he wasn't targeted at all in the receiving game.
While Harris' traditional stat line isn't all that impressive, recording just one tackle and one assist, the fourth-year veteran was disruptive rushing the passer, getting three hurries on just 15 pass rush snaps. While he did have a missed tackle in the game, Harris was stout against the run, holding his gaps and has had a dominant preseason racking up three sacks, nine hurries and nine defensive stops.
DI Shakir Soto, 79.7 overall grade
An undrafted free agent out of Pittsburg, Soto made his presence known in run defense, as he recorded four run stops on just 17 defense snaps. Soto added an assist and was almost unblockable in the run game.

Top 5 grades
CB Ryan Lewis, 83.6
T Will Holden, 77.5
ED Cap Capi, 75.5
T Ulrick John, 75.3
TE Hakeem Valles, 74.7
Performances of Note:
It was a night to forget for the rookie out of Texas A&M as he completed just two passes all night with an incredible 0.0 passer rating when throwing from a clean pocket. Knight attempted five passes over 20 yards with the highlight of the game for him coming on a dropped post route to Chris Hubert.
Gabbert's stat line was hurt by three dropped passes from his receivers, as he would have completed eight of ten passes. Showing strong command of the offense, Gabbert delivered his passes with accuracy with every attempt coming in under 2.5 seconds.
CB Ryan Lewis, 83.6 overall grade
An undrafted rookie out of Pittsburgh, Lewis hadn't received many opportunities since the Hall of Fame game, where he recorded 28 snaps. He'd only had a total of 32 since. In 31 snaps against Denver tonight, Lewis recorded three defensive stops and a pass defense as he allowed just two of three passes to be completed for four yards.
ED Cap Capi, 75.5 overall grade
Capi has had quite an impressive preseason, as he had recorded two sacks, four hits, and eight hurries coming into the game. He racked up an additional two hits and two hurries against Denver while tacking on two defensive stops. He did record his first missed tackle of the preseason but his overall body of work will heavily influence his ability to make the final 53 man roster.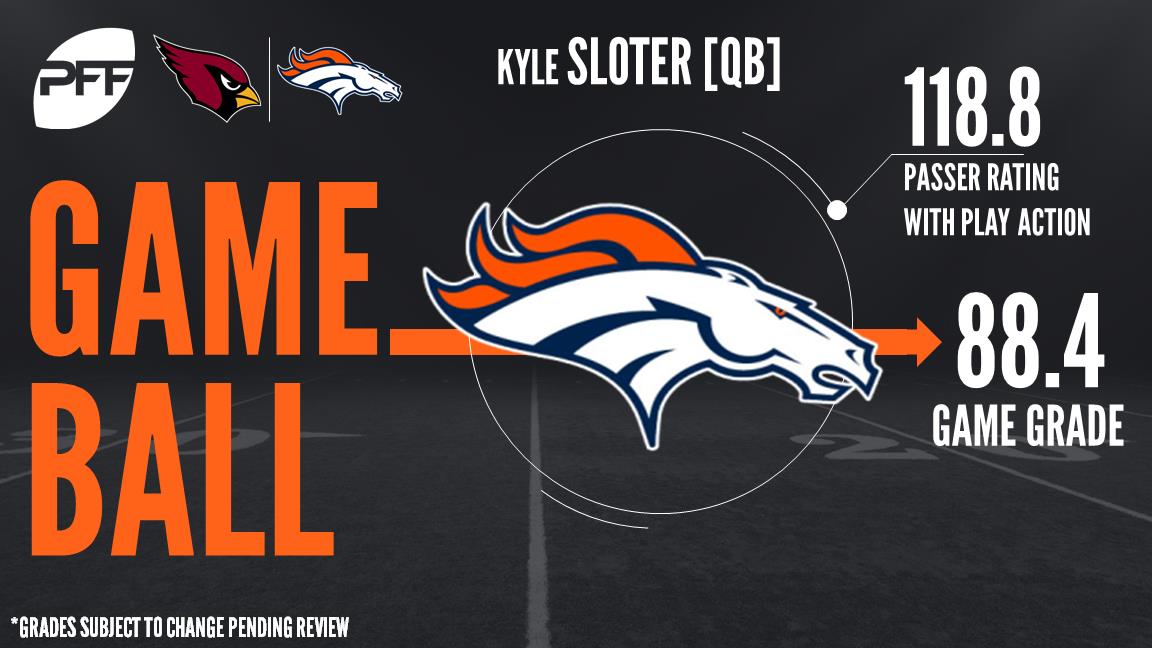 *Grades subject to change pending review