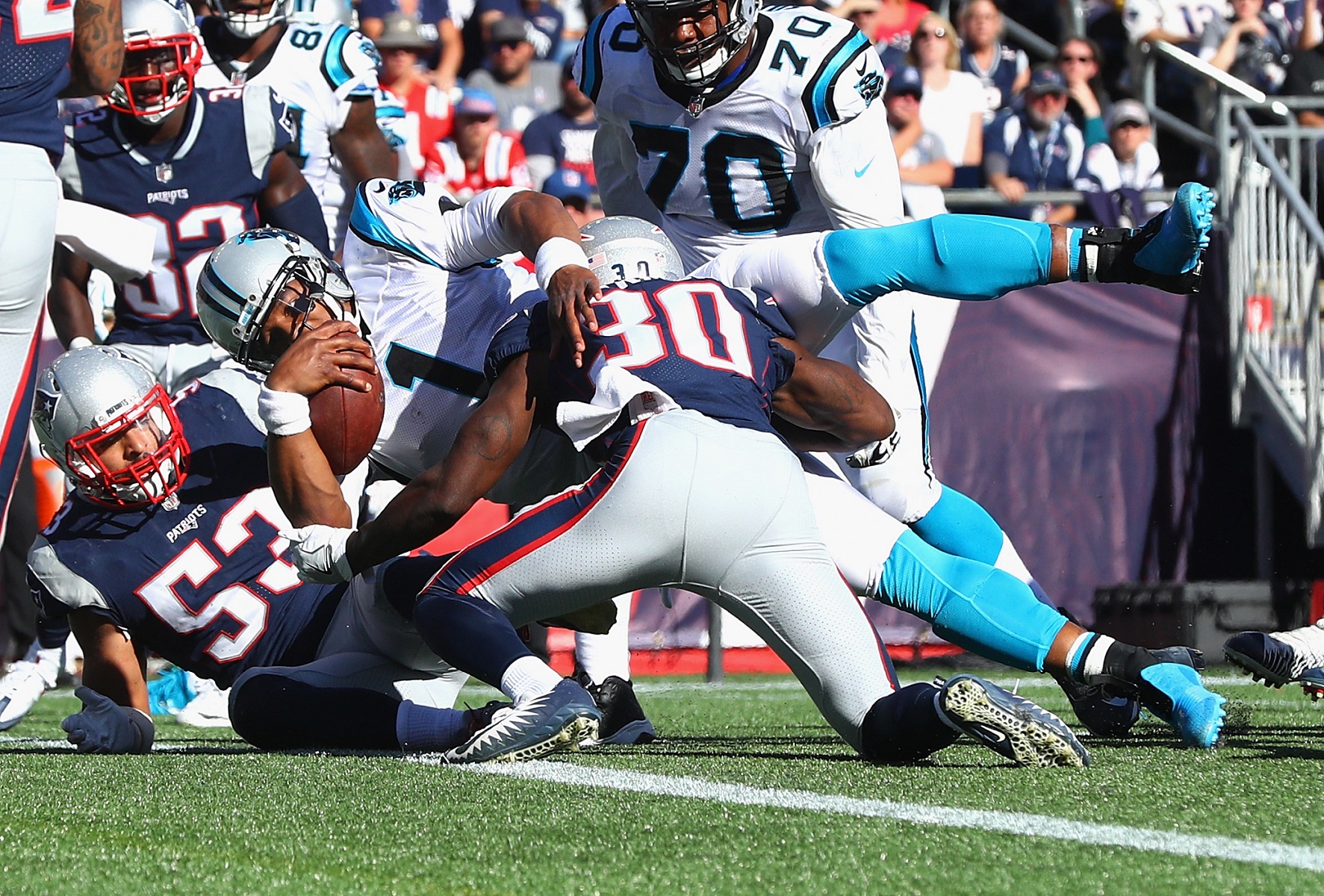 FOXBORO, MA - OCTOBER 01: Cam Newton #1 of the Carolina Panthers scores a touchdown during the fourth quarter against the New England Patriots at Gillette Stadium on October 1, 2017 in Foxboro, Massachusetts. (Photo by Maddie Meyer/Getty Images)
The Carolina Panthers and New England Patriots would trade field goals in the first quarter, but after that, the scoring got going with a QB Tom Brady touchdown pass to WR Chris Hogan. Panthers QB Cam Newton would respond with two touchdown passes of his own, one to HB Fozzy Whittaker and one to WR Devin Funchess. New England added two more field goals to keep the Panther lead to just one point at halftime.
Carolina pulled further ahead in the third quarter, with another Newton to Funchess touchdown however, the Patriots would tie the game with a one-yard WR Danny Amendola touchdown catch, at 30 points apiece. An impressive drive by the Panthers allowed K Graham Gano to kicke a game-winning 48-yard field goal for the 33-30 victory as time expired. With that, we give you our PFF exclusive takeaways from the contest for each team.

Top 5 Grades:
WR Kelvin Benjamin, 84.8 overall grade
LB Luke Kuechly, 84.6 overall grade
DI Kyle Love, 83.9 overall grade
OT Daryl Williams, 83.1 overall grade
OG Andrew Norwell, 82.0
Performances of Note:
QB Cam Newton, 79.9 overall grade
Recovering from a poor early interception, that saw him sail a pass too far downfield allowing for the easy takeaway, Newton settled in as the game went on, and delivered several key throws before leading the Panthers into position for the game winning field goal. When the Patriots didn't get pressure on him, which was on nine of his 33 dropbacks, Newton completed 82.6 percent of his passes, tossed three touchdowns and produced an passer rating of 140.2.
McCaffrey made little impact as a runner, picking up just 16 yards from six carries, though he did forced a missed tackle, but made a bigger impact as a receiver, picking up 33 yards and being used out of the backfield and split wide. What the stats don't show though, is that McCaffrey acted as the decoy on the Panthers opening touchdown, highlighting that sometimes he doesn't even need to touch the ball to make a big impact.
The veteran linebacker was all over the field as he recorded 13 tackles, which is tied for the third-most in his career. Furthermore, Kuechly did not miss a single tackle against New England. He was impressive in coverage as well even though he was targeted nine times, he allowed just six receptions and neither went for more than 10 yards as he allowed a total of 42 receiving yards in the game.
Peppers had his best pass-rushing performance of the season against the Patriots as he led the Panthers with six total pressures on 28 rushes. The former Green Bay Packer was able to consisently beat Patriots right tackle Marcus Cannon as he recorded a two sacks, one quarterback hit and three quarterback hurries, with the majority of these coming against Cannon.

Top 5 Grades:
QB Tom Brady, 82.2 overall garde
DI Malcom Brown, 80.6 overall grade
CB Malcolm Butler, 79.7 overall grade
S Duron Harmon, 77.8 overall grade
TE Rob Gronkowski, 77.0 overall grade
Performances of Note:
QB Tom Brady, 82.2 overall grade
While Brady continued his aggressive style of play, he was not as successful on deep passes as he had been earlier this season. The Patriots quarterback completed just one of the five attempts that traveled more than 20 yards in the air; however, one of the incompletions was a dropped pass by tight end Dwayne Allen. Furthermore, Brady slightly struggled under pressure as his yards per attempt dropped from 7.8 yards when kept clean to 3.7 yards when he was pressured.
The former Buffalo Bill had one of the better games of his 2017 season as he forced two missed tackles on 12 carries. Although, Gillislee averaged just 4.1 yards, this was mainly due to the offensive line as he averaged 3.4 yards just after contact.
Edge Trey Flowers, 71.9 overall grade
Flowers made an impact as a pass-rusher registering two hits and two hurries on 35 pass-rushing snaps, adding to his impressive start to the year. Flowers has now racked up three sacks, six hits and 12 hurries through four games, and looks like he was be a huge factor on a Patriots defense that has struggled to open the year.
Gilmore appeared to be benched to open the second half, after two coverage busts by the Patriots secondary on the final drive of the second quarter, but an injury to Eric Rowe saw him back on the field. On the day, Gilmore allowed two receptions for 71 yards and a touchdown, and commited two penalties, one of which was a costly drive-extender on the Panthers game-winning drive.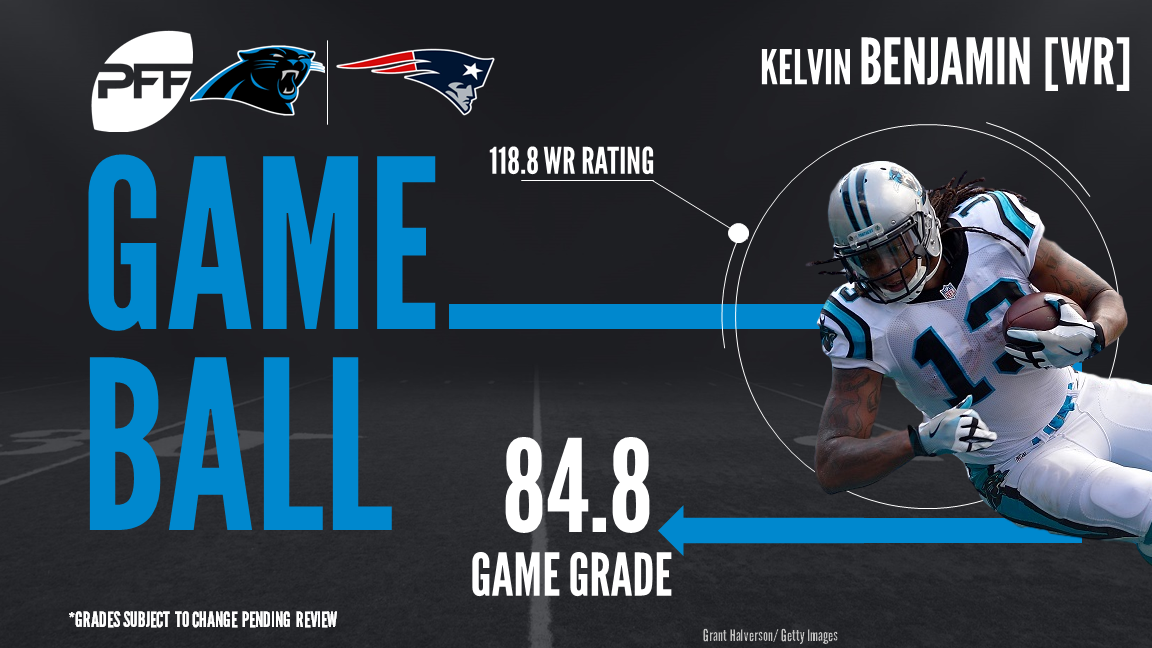 *Grades are subject to change upon review