Reigning NFL MVP Matt Ryan threw two touchdowns, including one in the fourth quarter for the Atlanta Falcons, but his last ditch effort would not be enough to come back over the Carolina Panthers, who utilized a strong second quarter and two third quarter field goals from Graham Gano to hold on and defeat Atlanta, 20-17.
Panthers QB Cam Newton ran a score in with just 23 seconds remaining in the first half that gave Carolina their first lead at 14-10, and Gano's two field goals would be the only points scored until Ryan found RB Tevin Coleman for a 19-yard touchdown pass with 3:25 left in the final frame. In the first game without Kelvin Benjamin, Panthers WR Devin Funchess was Newton's favorite target, hauling in five receptions for 86 of Newton's 137 passing yards.
The Falcons had a chance to get at least within field goal range in the game's waning moments, but with the ball and 2:18 left, the Panthers defense held Ryan to just 1-of-4 passing for negative three yards on their final drive and Newton and Co. were able to eat enough time off the clock for the win. With that, we give you our PFF exclusive takeaways from the contest for each team.

Top 5 Grades:
DI Kawann Short, 86.8 overall grade
RB Christian McCaffrey, 85.1 overall grade
LB Luke Kuechly, 84.5 overall grade
LB Thomas Davis, 80.7 overall grade
DI Star Lotulelei, 80.7 overall grade
Performances of Note:
Newton's team got the win but this wasn't him at his best. His accuracy was spotty for most of the game, got away with a dropped interception in the second quarter and completed just two passes over 10 yards in the air, with none further than 20 yards. There has to be some sympathy for Newton, who saw pressure on 40.7 percent of dropbacks, but if the Panthers are to build on their strong start he'll need to play better with his arm.
Much was expected of McCaffrey when he was taken eighth overall in this years draft. He's struggled somewhat to live up to the billing, but with Jonathan Stewart fumbling twice, he was given the lead role in the backfield. Setting career highs for attempts, yards and yards per carry he was a nuisance for a Falcons defense that did a good job at the line of scrimmage but struggled with the cutback ability and straight speed of the former Cardinal. With Stewart's struggles, will McCaffrey be in line for a sustained big role going forward?
You may not have heard his name called a lot, but Short was his usual destructive self against the Falcons. He picked up two hits and two hurries, whilst beating enough blocks in the run game that the Falcons struggled to establish their ground game.
If not recognized by the 59 on his back, it's hard to miss the Panthers tackling machine with the fans chanting his name whenever he's in on a play. He had a team best three defensive stops to continue his excellent year.

Top 5 Grades:
S Keanu Neal, 91.7 overall grade
Edge Adrian Clayborn, 87.5 overall grade
DI Grady Jarrett, 83.4 overall grade
RB Devonta Freeman, 81.8 overall grade
CB Robert Alford, 80.9 overall grade
Performances of Note:
There will be plenty of message board chatter this week about whether Ryan was let down by his teammates, himself or even the officials. In truth it's a combination of all three, though Ryan, despite the result, is looking much more comfortable than he did at the start of the year. The deep ball accuracy isn't what it was but through the last two weeks he's up to a 60 percent adjusted completion percentage after starting the year at 17.4 percent.
What can you say about Jones? His day will be summed up by an uncharacteristic drop that took the shine (to say the least) off a dominant display. He put another more difficult ball on the ground but regularly found success in the intermediate areas against the Panthers' defenders with three receptions that went for at least 20 yards. Still it could, and should, have been four and it is that which will be remembered.
Clayborn has played some really good football the past two weeks, with him taking advantage of lining up against Matt Kalil as an opportunity to let loose. His tally of just two pressures is somewhat misleading, with him having a sack called back on a coverage penalty while also picking up four decisive wins over Kalil that didn't go on the stat sheet.
This was Alford at his best, even if he did let himself down with a couple of bad angles after the catch that allowed extra yardage. In coverage, though, he was supreme, targeted eight times and allowing just three receptions for 26 yards. That he broke up two passes and was in close coverage on a number of those incompletions is a good sign for a cornerback who has endured an up and down 2017.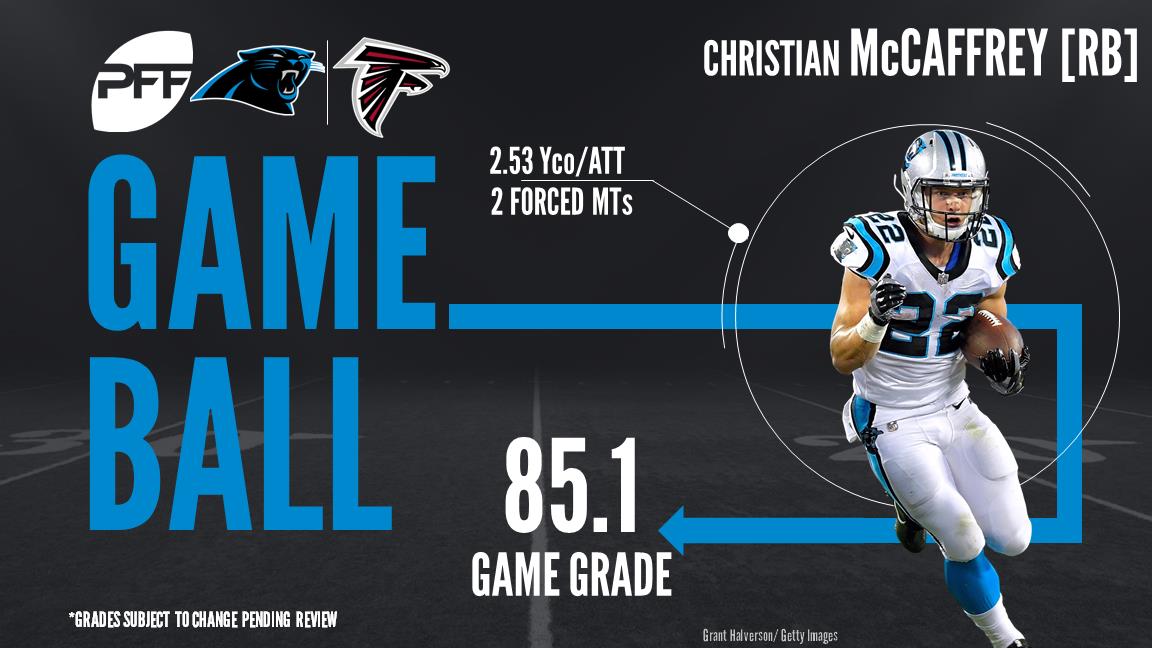 *Grades are subject to change upon review