Needing a win and help to make the playoffs, the Buffalo Bills got that Sunday, beating the Miami Dolphins 22-16 and seeing the Baltimore Ravens lose to make the playoffs for the first time since 1999.
The Bills led throughout, jumping ahead 22-3 before hanging on late to escape with the playoff-making victory.
With that, we give you our PFF-exclusive takeaways from the contest for each team.

Top 5 Grades:
Edge Jerry Hughes, 94.8 overall grade
CB E.J. Gaines, 92.0 overall grade
DI Kyle Williams, 85.0 overall grade
LB Ramon Humber, 82.4 overall grade
S Micah Hyde, 82.1 overall grade
Performances of note:
While O'Leary had only 1 reception, it was a beautifully run corner post route for a touchdown. On top of that, he was also solid in his blocking duties in the Bills' power running game.
Taylor finished 19-of-27 for 204 yards with a touchdown, a throwaway, a drop and a batted pass, to finish with a PFF passer rating of 96.74. Taylor only attempted 2 passes of 20 yards or more in the air, one of which he completed to Nick O'Leary for a touchdown. He was cool under pressure, completing 5 of his 7 pass attempts for 70 yards. Taylor also converted several first downs with his feet as his ability to scramble and run was evident against the Dolphins.
While he didn't record a sack, Hughes was a major force disrupting the Dolphins passing game. All of his pass-rushing snaps came from the right side, creating seven pressures which lead to a pass-rush productivity of 15.9 from that side as he routinely beat the Dolphins back up left tackle Zach Sterup. Hughes has had a relatively quiet season apart from Weeks 5 and 17, where he totaled 13 pressures and six run stops.
Gaines had himself quite a day in coverage, he was targeted six times and allowed four catches totaling 11 yards. He limited opposing receivers to only four yards after the catch and recorded three pass breakups, as well as a forced fumble that Miami was able to recover. Gaines had notched seven pass breakups on the season while only allowing 307 yards on 60 targets.

Top 5 Grades:
LB Stephone Anthony, 83.2 overall grade
CB Xavien Howard, 78.1 overall grade
WR Jarvis Landry, 78.0 overall grade
DI Jordan Phillips, 75.6 overall grade
LB Chase Allen, 75.2 overall grade
Performances of note:
Landry was targeted a Dolphins-high 10 times, and if it wasn't for a drop he would have caught all 10 thrown his way. He ended the game with 92 receiving yards, 61 of which came after the catch. Landry is due to hit free agency in the offseason and will command a lot of money if the Dolphins are unable to reach a deal with him.
Jay Cutler gave way to the fourth-year quarterback out of San Jose State following the first series. Fales has only seen 9 snaps in his entire career up to this point but was tasked with the majority of them against the Bills. With limited playing time it wasn't surprising that Fales struggled under pressure, going 6-of-16 for 54 yards and an interception compared to 23-of-26 for 211 yards while given a clean pocket.
Anthony did not have huge day statistically with pressures or defensive run stops but he was solid in pass coverage, yielding 1 reception for 6 yards on 12 pass-coverage snaps and making nice plays on the field for the Fins' defense.
Covering on 34 pass snaps, Howard was targeted 5 times, yielding 3 receptions for 37 yards. Howard would add a pressure on Tyrod Taylor as well. The Dolphins defense struggled at times getting the Bills stopped offensively.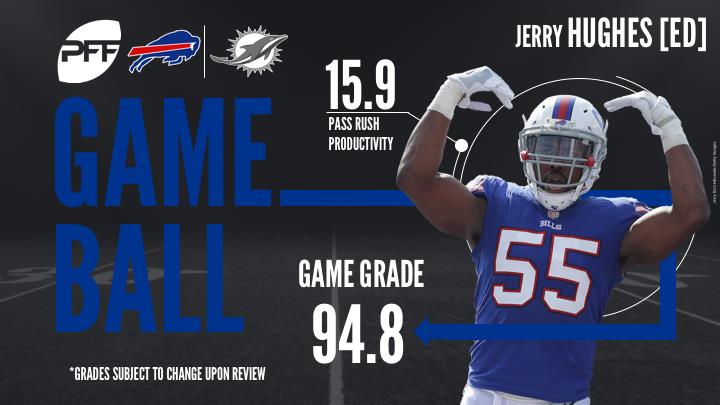 *Grades subject to change