Sub-freezing temperatures and unrelenting snowfall forced the visiting Indianapolis Colts into a war of attrition with the Buffalo Bills on Sunday, but the cold couldn't keep the home team from coming out on top, 13-7 in overtime.
Bills veteran running back LeSean McCoy ran the show on offense with his 137 rushing yards on 31 carries. He also punched in the game-winning touchdown from 21 yards out in the extra period to give his team the 13-7 win. Buffalo withstood the cold, and the injury-bug, after rookie quarterback Nathan Peterman went down. Quarterback-turned-wide-receiver-turned-quarterback Joe Webb performed admirably in relief duty as signal-caller after Peterman exited the game, and the Bills kept their name in the AFC playoff race.
With that, we give you our PFF-exclusive takeaways from the contest for each team.

Top 5 Grades:
RB LeSean McCoy, 88.9 overall grade
LB Preston Brown, 83.4 overall grade
S Jordan Poyer, 82.4 overall grade
LB Matt Milano, 81.2 overall grade
S Micah Hyde, 80.4 overall grade
Performances of Note:
McCoy took over the game towards the end of the second quarter and became a one-man offense for the Bills against the Colts. His offensive line struggled to move defenders around in the snow as he averaged just 0.56 yards before contact. However, McCoy averaged 4.31 yards after contact and broke eight tackles on his 32 carries, including one forced missed tackle on his game-winning touchdown in overtime.
Despite the conditions, Peterman had a solid game before exiting the contest with an apparent injury. While he attempted just nine passes, the Buffalo quarterback was on target with all of his attempts only to see his receivers drop three passes in the snowy weather and the Colts defenders break up a fourth one. Peterman also showed poise and good accuracy on the last drive of the first half, which ended in an eight-yard touchdown pass to Kelvin Benjamin.
Over the course of the game, we saw offensive linemen struggle to stay on their feet at the second level, which isn't overly surprising given the conditions. This left linebackers free to make plays, and that's exactly what Brown did. He racked up six tackles, all of them resulting in a defensive stop on the play.
Poyer is enjoying a career year in Buffalo, and that continued with another solid performance today. Obviously with the snow making life difficult for the opposing offense, not much was asked of him in coverage, but he still made an impact there and against the run, with all three of his tackles resulting in a defensive stop.

Top 5 Grades:
RB Frank Gore, 86.4 overall grade
CB Quincy Wilson, 86.2 overall grade
DI Margus Hunt, 86.0 overall grade
DI Johnathan Hankins, 84.3 overall grade
S T.J. Green, 83.8 overall grade
Performances of Note:
With both teams having to rely heavily on the running game thanks to the snow, running back Frank Gore turned back the years with a vintage performance. In all, 94 of his rushing yards came after contact, while also forcing four missed tackles. Most of his runs went up the middle, with 22 of his 36 carries going either side of the center, as Gore racked up 91 yards on those carries.
The weather definitely played a part, but Brissett struggled to get anything going in this game, with just one of his completions coming on a throw travelling 10 yards or futher downfield. He also scrambled twice for 11 yards, but at times this felt like a game where some play action roll outs would have helped the Colts offense find some space to make plays, but nothing ever materialized. Brissett himself wasn't the reason for the loss, but if he had been able to find a few plays downfield, we might have seen a different result.
Even though six of the Bills' 15 pass attempts targeted Wilson, the rookie cornerback held his ground and allowed just two receptions for a total of 18 yards. Wilson appeared to match the phisicality of wide receiver Kelvin Benjamin as he allowed him just one reception on five targets and also recorded a pass breakup against Benjamin.
Hunt quietly had a very impressive outing against Buffalo as he successfully set the edge against runs for the majority of the afternoon. Hunt finished the game tied for the second-most defensive stops on his team with five and picked up two total pressures, which was tied for the most on the Colts defense.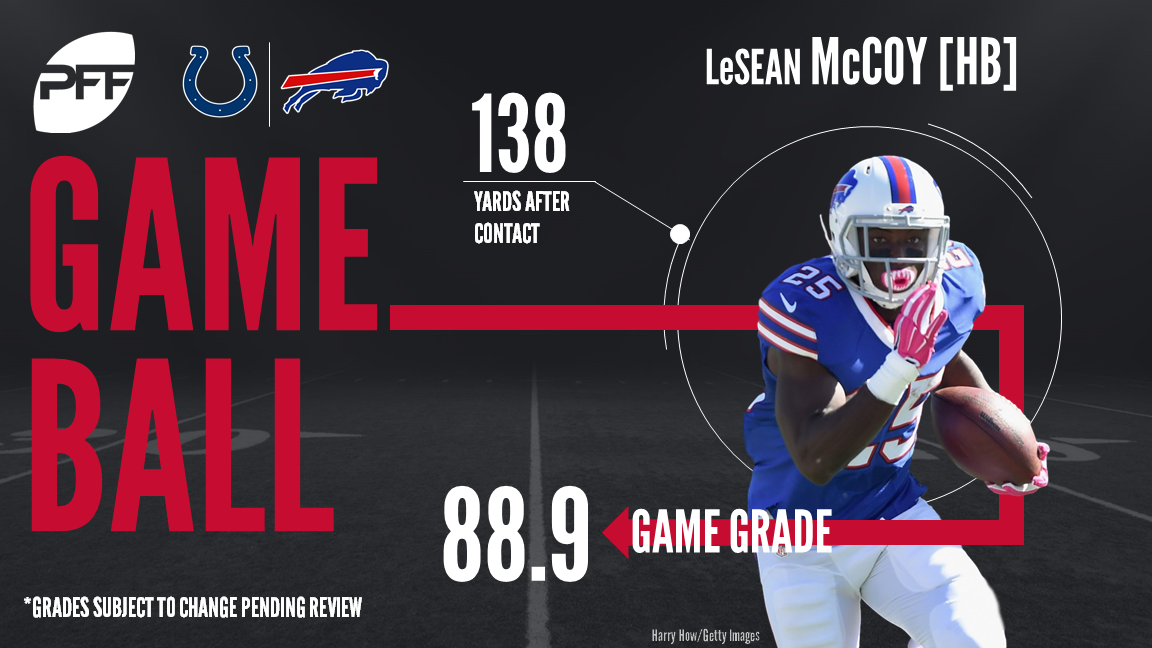 *Grades are subject to change upon review