The Atlanta Falcons were able to go into CenturyLink Field and come out with a 34-31 victory over the Seattle Seahawks, over coming valiant attempt at a come back by QB Russell Wilson and company.
QB Matt Ryan kept his stat sheet clean, avoiding any turnovers and throwing for two touchdowns. RB Tevin Coleman only averaged 2.2 yards per carry but also punched in a touchdown himself.
Wilson attempted a game tying drive, but the field goal attempt by Blair Walsh fell short. Wilson ended the night with 258 passing yards, 86 rushing yards, and three total touchdowns (two passing, one rushing) versus two turnovers. RB J.D. McKissic was the most effective runner for Seattle who wasn't named Wilson, averaging 4.3 yards per carry, albeit on only seven carries.
Defensively, CB Desmond Trufant's early interception of Wilson set the Falcons up close to the endzone, eventually allowing them to take a 14-point lead early in the first quarter. With that, we give you our PFF exclusive takeaways from the contest for each team.

Top 5 Grades:
QB Matt Ryan, 90.4 overall grade
CB Desmond Trufant, 89.3 overall grade
DI Dontari Poe, 85.4 overall grade
DI Courtney Upshaw, 84.6 overall grade
ED Derrick Shelby, 82.5 overall grade
Performances of Note:
Matt Ryan was exceptional throwing against the depleted Seahawks secondary in a critical Monday night game. He consistently was accurate on deep and intermediate throws, going 3-of-5 for 75 yards on balls thrown 20-plus yards in the air, and 3-of-5 for 40 yards on throws 10-19 yards down the field. Ryan only had nine dropbacks in which he threw under pressure, but he had an almost perfect 152.1 passer rating on those throws. Ryan only put the ball in danger once, on a run-pass option on the Falcons' second drive which was almost intercepted. Other than that throw, he was absolutely brilliant and earned the highest grade of the night.
Sanu was only targeted three times by Ryan in the game, but he made a huge difference on all three of those targets. Sanu's first target was his likely the best catch of the night, when he ran under a pick by Julio Jones and leapt to grab Ryan's throw with one hand in the back of the endzone. He also had a grab on a deep crossing route that led to a Falcons field goal toward the end of the half. Sanu also drew two pass interference calls on Seattle corners that resulted in 41 combined yards for the Falcons. When targeting Sanu, Ryan had a 153.5 passer rating on Monday night.
It was a fantastic game for Trufant, who was tight in coverage on almost every play of the night. He saw six targets in 56 coverage snaps and allowed just three catches for just 28 yards. He had his big early interception and added two more pass breakups with his tight coverage. He also had a pass defense on one of Seattle's free plays to keep them at just five-yard penalty gains. He held his receivers to a mere seven yards after the catch on the three receptions he surrendered.
Poe was unblockable up the middle against the Seattle interior offensive line, both in the run and pass game. Poe finished with a quarterback hit and four quarterback hurries which gave him a pass-rushing productivity score of 9.1 for the game. His pass-rushing grade of 83.0 was a team-high. He also added a solo run stop, blew up multiple other run plays and finished the game with a 79.4 run-defense grade.

Top 5 Grades:
QB Russell Wilson, 87.3 overall grade
LB Bobby Wagner, 84.9 overall grade
DI Sheldon Richardson, 82.9 overall grade
S Bradley McDougald, 79.8 overall grade
TE Jimmy Graham, 79.2 overall grade
Performances of Note:
It was another fantastic game for Wilson, who continues to make magic happen despite having to constantly run for his life in the pocket. While he started off the game with an awful miss for an interception, he kept his Seahawks in it the rest of the way. Wilson was particularly effective when kept clean, completing 22-of-32 passes for 223 yards and two touchdowns from a clean pocket. Wilson once again led his team in rushing, finishing with a perfect 99.9 run grade.
Graham has had some questions since coming to Seattle, but it's clear that he's becoming Wilson's security blanket in games like this. Graham caught 7-of-11 targets for 58 yards and a touchdown, five of those catches going for a first down or touchdown. He also caught a two-point conversion. He averaged 1.61 yards per route run for the game. He did have a dropped touchdown pass that could've changed the game, but overall this was a good game for Graham.
Bobby Wagner continued his All-Pro season by finishing as the Seahawks highest-graded defender. Although Wagner has a positive impact in rushing the passer and in run defense, his biggest impact was in pass coverage. Wagner was targeted five times and allowed four catches, but only allowed 11 yards and only three of those yards came after the catch. Wagner finished with seven tackles, three of which resulted in stops.
Richardson was the Seahawks most effective player on the defensive line on Monday night, both rushing the passer and defending the run. Richardson had five tackles in run defense, all of which were defensive stops, and had a critical sack to get the ball back for the Seahawks to give them a chance to tie the game late. Richardson finished with a 79.4 pass-rushing grade and a 78.9 grade in run defense.
PFF Game Ball: Matt Ryan, QB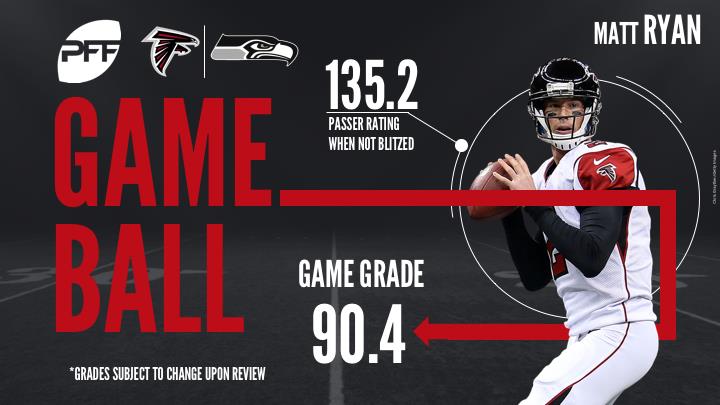 *Grades are subject to change upon review