The Atlanta Falcons secured their spot in the 2017 playoffs with their 22-10 victory over the Carolina Panthers.
QB Matt Ryan was 28-of-45 for 317 yards and a touchdown, committing no turnovers on the day. Running backs Tevin Coleman and Devonta Freeman each got 11 carries and both rushed for 23 yards, although Freeman led the team in receptions (9) and receiving yards (85) and caught Ryan's lone touchdown.
QB Cam Newton was 14-of-34 for 180 yards, one touchdown, and three interceptions. He led the team in rushing with 59 yards on 11 attempts. RB Christian McCaffrey only had 14 rushing yards in the game but contributed 40 receiving yards as well.
S Keanu Neal and CB Robert Alford both contributed to the win, picking off Newton on back-to-back late drives to help build and maintain the Falcons' lead. With that, we give you our PFF-exclusive takeaways from the contest for each team.

Top 5 Grades:
LB Deion Jones, 89.7 overall grade
CB Robert Alford, 86.5 overall grade
DI Grady Jarrett, 85.1 overall grade
S Ricardo Allen, 83.8 overall grade
G Ben Garland, 82.6 overall grade
Performances of note:
Ryan had a solid effort, working the short game well and making key throws to sustain the offense. His one touchdown throw came on a quick read against an unblocked pressure to get RB Devonta Freeman in space, though Ryan's best throw of the day may have been the back-shoulder seam route to WR Mohamed Sanu that was knocked away late for an incomplete pass. Ryan did most of his damage in the short (0-9-yards) range, going 16-of-20 for 186 yards and the touchdown.
While Freeman was held to only 22 yards on 11 carries, he did damage in the pass game, catching all nine of his targets for 85 yards and a score. He took the easy flat route to the house with a nifty cut, and he was counted on to make other plays in space, forcing four missed tackles on his nine catches.
Deion Jones has been a game-changing force for the Falcons this season, and in particular later on in the season as the NFC South leaders battled each other for supremacy. He was the player that sealed the deal for the Falcons the first time they played the Saints and he was able to cut off a late pass into the end zone in this game intended for TE Greg Olsen to help seal this win as well. Jones had a fine game overall, particularly in coverage.
At times Grady Jarrett looked like Aaron Donald, knifing into the Panthers backfield against both the run and the pass. He had a sack and a hurry as a pass-rusher, but also three total defensive stops, one of which was a tackle for a loss of four yards in the run game where he was in the backfield so quickly he almost hit the runner at the mesh point.

Top 5 Grades:
LB Luke Kuechly, 87.3 overall grade
G Andrew Norwell, 86.2 overall grade
DI Kawann Short, 85.7 overall grade
T Matt Kalil, 83.2 overall grade
TE Ed Dickson, 80.6 overall grade
Performances of note:
The Panthers need Cam Newton to be at his best for this team to do damage on offense, and he was about as bad as Cam Newton gets in this game. A generally inaccurate quarterback, Newton was especially scattershot in this game, mailing several passes way over the heads of the receivers he was trying to connect with. He wasn't alone in mistakes in this game, but the team can't win games with Newton playing like this.
One of the best players of the season for the Carolina Panthers, LG Andrew Norwell had another fine outing against the Falcons and was one of the few Panthers linemen to do so. Norwell didn't allow any pressures across 40 pass-blocking snaps, while most of the pressure on Newton came from the right side of the Panthers' offensive line.
It was just another day at the office for Kuechly, who knifed around blockers to finish with five run stops on only 24 run snaps, good for a run-stop percentage of 20.8 percent that ranks second in the NFL this week. He also finished with a clean-up sack and a pressure, though he was caught out of position a few times in coverage.
Short didn't knock down the quarterback, but he had five hurries and a batted pass to go with three stops in the run game. He consistently pushed blockers back into QB Matt Ryan's lap, forcing more difficult throws, and his line-of-scrimmage disruption helped limit Atlanta ball carries to just 2.0 yards per carry.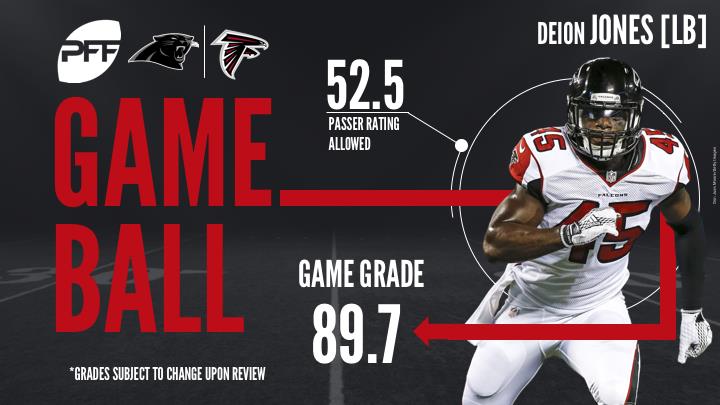 *Grades subject to change