The Atlanta Falcons defeated the New Orleans Saints 20-17 at Mercedes-Benz Stadium after a game winning interception by LB Deion Jones.
QB Matt Ryan did not have his best statistical night. His 15-of-27 for 221 yards was solid, however he threw three interceptions and only one touchdown. RB Devonta Freeman helped out his offense, carrying the ball 24 times for 91 yards and punching in a touchdown.
RB Mark Ingram and WR Michael Thomas stepped up for the Saints. Ingram's usage was dictated some by game flow, but he averaged 4.1 yards per carry on the night. Thomas had a big day, catching 10 passes for 117 yards and a touchdown.
QB Drew Brees had a fairly clean statistical game, going 26-of-35 for 271 and two touchdowns, that is until the Saints' final drive. Deion Jones intercepted Brees in the endzone, maintaining Atlanta's 3 point lead and ultimately sealing the game. With that, we give you our PFF-exclusive takeaways from the contest for each team.

Top 5 Grades:
LB Deion Jones, 92.6 overall grade
DI Grady Jarrett, 83.1 overall grade
RB Tevin Coleman, 82.5 overall grade
DI Dontari Poe, 80.7 overall grade
T Ryan Schraeder, 79.6 overall grade
Performances of Note:
Running backs Devonta Freeman and Tevin Coleman combined for 123 yards for the Falcons and if not for Freeman's fourth quarter fumble, both would have graded well. Coleman earned some tough yards and important first down conversions, as 21 of his 32 rushing yards came after contact. He has forced 15 missed tackles this year, one away from his career high of 16 a season ago.
It was a tough night for Matt Ryan, throwing three interceptions (one by way of a dropped pass) while clearly trying to force the ball to his No. 1 receiver Julio Jones. Ryan struggled more under pressure than when given time, going 4-of-10 for 49 yards under duress with a poor red zone interception.
Overall it was a solid night for Jones. He was targeted a team-high eight times and allowed five receptions. Those five catches went for a combined 17 yards though, and he had the interception and pass breakup. While he did miss a tackle on Mark Ingram on the final drive, he still finished with a game-high five tackles that resulted defensive stops, and he also had the interception that pretty much sealed the game.
Jarrett didn't get his name called often, but he quietly made a significant impact. Jarrett led the team with three total pressures, albeit without a sack or hit on Drew Brees. He had one run stop, but also beat his man a few other times to force the run away from the intended point of attack to generate clean-up tackles for his teammates.

Top 5 Grades:
WR Michael Thomas, 92.7 overall grade
Edge Cameron Jordan, 87.0 overall grade
S Marcus Williams, 85.9 overall grade
T Terron Armstead, 83.5 overall grade
RB Mark Ingram, 81.7 overall grade
Performances of Note:
Thomas tied a season-high with 117 receiving yards, but it was his effectiveness of those yards that really made a difference. Out of his ten catches, nine went for first downs or a touchdown, including four on third down. His performances leaves him just eoght yards shy of back-to-back 1,000 yard seasons with three games to go.
After missing last week, Armstead returned to the lineup and had his first game of the season where he both played all of the Saints' offensive snaps and did not allow a pressure in pass protection. Armstead, like much of the Saints' blockers, did not do much in the run game, where he had just an average performance.
Jordan was a disruptive force again, as he has been all season for the Saints. He was the top-graded player rushing the passer and defending the run for the defense, recording five pressures and two stops in the run game. Jordan is having arguably his best season in what has been a distinguished career, recording 60 pressures and 32 stops against the run with three games yet to play.
Williams came away with a crucial red zone turnover when Matt Ryan tried forcing the ball to closely covered Julio Jones. That was the only play the second-round pick out of Utah was targeted in the pass game, and he ended the game with six tackles and a run-defense grade of 76.2. Williams has been a solid player all season for the much improved Saints defense.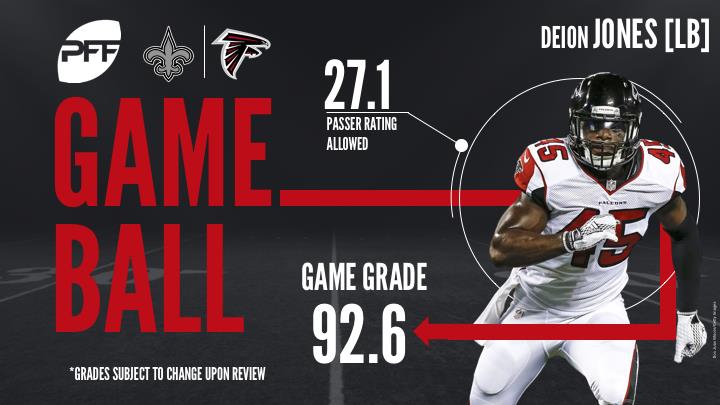 *Grades are subject to change upon review