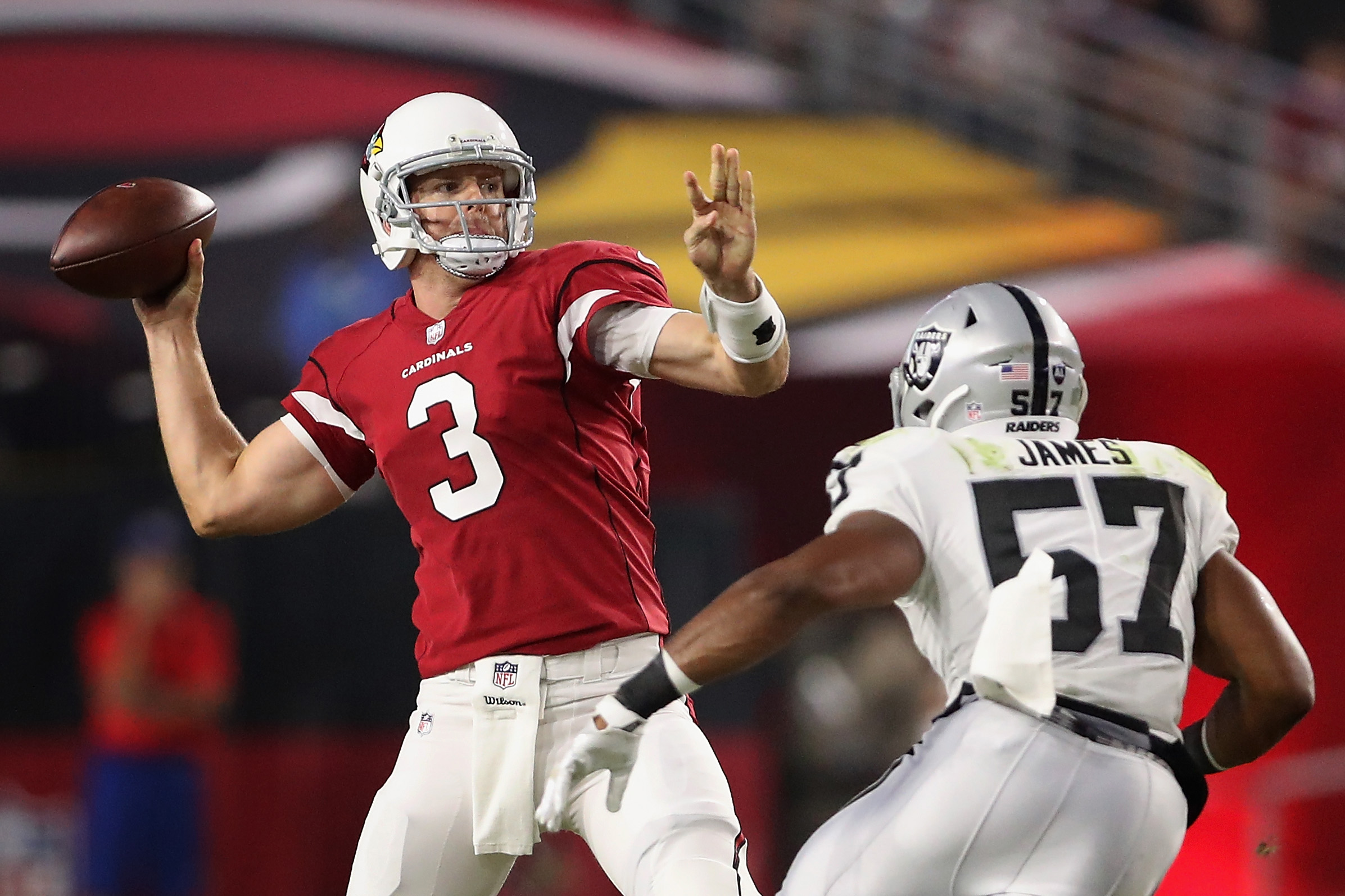 GLENDALE, AZ - AUGUST 12: Quarterback Carson Palmer #3 of the Arizona Cardinals throws a pass over middle linebacker Cory James #57 of the Oakland Raiders during the first half of the NFL game at the University of Phoenix Stadium on August 12, 2017 in Glendale, Arizona. (Photo by Christian Petersen/Getty Images)
Marshawn Lynch sat, literally, and the Oakland Raiders fell to the David Johnson/Carson Palmer-led Arizona Cardinals, 20-10. Behind an early, impressive drive by Palmer and Johnson, capped by a Brittan Golden 12-yard TD reception, the Cardinals opened up a 17-0 first half lead, and didn't look back, ultimately knocking off Oakland, 20-10.
With no Lynch and no Derek Carr, the Raiders offense turned to second-year pro Connor Cook and veteran EJ Manuel at quarterback for the evening, while no running back was able to sustain much in the means of consistency for Oakland. With that, we refocus and give you our PFF exclusive takeaways from the contest for each team.

Top 5 Grades
T Ulrick John, 84.3 overall grade
Edge Cap Capi, 80.0 overall grade
S Ironhead Gallon, 78.6 overall grade
DI Olsen Pierre, 78.5 overall grade
S Harlan Miller, 77.8 overall grade
Performances of note:
After latching on with Arizona early last season, John did not see the field until Week 12 for the Cardinals and the results were not pretty. In three games, he allowed three sacks, four hits and 12 hurries for an overall grade of 32.6. John was much improved on Saturday night though as he did not allow one pressure on his 31 snaps in pass protection, good for a pass protection grade of 86.3.
Quickly in the first quarter David and Chris Johnson were pulled and it was Ellington's turn to prove he deserves a spot in the Arizona backfield. He did nothing to dissuade Arizona coaches, playing strong in all areas. Ellington caught four of his six targets for 31 yards, forced two missed tackles on seven carries and had a clean sheet in pass protection.
Edge Cap Capi, 80.0 overall grade
Capi took advantage of his preseason reps against the Raiders. Capi only rushed the quarterback on 18 snaps but collected three pressures and earned a game-high 82.4 pass-rushing grade.
Gallon was targeted twice in coverage and didn't allow a reception. He also leaped and broke up a seam route before it could reach the receiver. Gallon finished the game with an 80.7 coverage grade.

Top 5 Grades
S Shalom Luani, 84.8 overall grade
LB Cory James, 82.5 overall grade
TE Clive Walford, 82.1 overall grade
Edge LaTroy Lewis, 81.7 overall grade
S Karl Joseph, 81.4 overall grade
Performances of note:
Walford caught all three of his targets against three different coverage defenders, collecting 17 yards after the catch. Quarterbacks saw a 118.8 passer rating when targeting Walford.
QB EJ Manuel, 77.5 overall grade
Manuel was crisp on the night as he completed 10-of-12 passes including both of his intermediate targets ( between 10-19 yards downfield). Manuel was cool under duress, seeing a 112.5 passer rating when under pressure.
After a solid rookie season where he earned an 81.8 overall grade, Edwards lost the vast majority of his 2016 season due to a preseason injury. He looks to be back in form as he had an outstanding performance Saturday night. Edwards had one pressure on ten pass-rushes and was disruptive in run defense with a run defense grade of 79.9.
Joseph, the Raiders 2016 first round pick, showed off his abilities in the box as a strong safety on Saturday night. Joseph played half of his 30 snaps lined up as a strong safety or linebacker and in his 14 snaps against the run he had three stops, one of which was a tackle for loss. Joseph finished the game with a run defense grade of 89.1.

PFF Game Ball: Ulrick John, T
*Grades are subject to change