Arizona Cardinals kicker Phil Dawson, previously a four-year kicker with the San Francisco 49ers, nailed all four of his field goal attempts on Sunday to out-kick his former team and secure a victory at home.
Following Dawson's four field goals, Cardinals quarterback Carson Palmer orchestrated a seven-play, 75-yard scoring drive to send the 49ers home with the loss in overtime. Palmer connected with future Hall of Fame wide receiver Larry Fitzgerald for a 19-yard touchdown with just :32 seconds left in overtime to earn the 18-15 win. With that, we give you our PFF exclusive takeaways from the contest for each team.

Top 5 Grades:
S Tyvon Branch, 88.8 overall grade
DI Corey Peters, 78.4 overall grade
HB Chris Johnson, 75.8 overall grade
WR Jaron Brown, 75.2 overall grade
DI Rodney Gunter, 75.0 overall grade
Performances of Note:
Palmer had success moving the ball when he was kept away from pressure, completing 24-of-37 attempts for 252 yards and a 93.5 passer rating on throws coming without pressure. He was pressured however on 21 of his 58 dropbacks on Sunday afternoon and on throws coming under pressure he was 9-of-15 for 105 yards and an interception (and he was lucky to not have thrown another one that bounced right off of NaVorro Bowman's hands when Palmer didn't see him in underneath coverage).
WR Jaron Brown, 75.2 overall grade
Palmer's favorite – non-half back – receiving option of the day, Brown was the recipient of a healthy 12 targets. He caught eight of those targets for 105 yards, earning 62 of those on three catches when matched up opposite of Dontae Johnson and six of his eight catches resulted in a Cardinals first down.
Branch made big plays in all three phases, as he registered a hit and a QB hurry, and posted a 92.5 run defense grade. He gave up just two receptions into his coverage for 10 yards, and four of his seven solo tackles went for defensive stops.
While Peters did little on the pass-rush (one hurry on 17 rushes), he was the Cardinal front seven's best run defender on the day. He tallied two run stops, and put up a run defense grade of 83.4.

Top 5 Grades:
LB Ray-Ray Armstrong, 89.7 overall grade
OT Trent Brown, 88.8 overall grade
DI DeForest Buckner, 88.7 overall grade
OT Joe Staley, 88.4 overall grade
LB NaVorro Bowman, 84.5 overall grade
Performances of Note:
While the interior linemen struggled, Staley and Brown were excellent throughout the game for the 49ers. Staley posted a run-blocking grade of 89.0 to Brown's 86.9, and the duo combined to give up just three total pressures, none of them sacks.
QB Brian Hoyer, 67.9 overall grade
Hoyer was able to move the ball well in spots, but couldn't sustain and finish drives throughout the game because of his struggles with pressure and the blitz. He completed just three of 11 passes and took three sacks when under pressure, and against 20 blitzes completed just 31.6 percent of his throws and had a passer rating of 43.1.
Once Buckner hit his rhythm he was virtually unstoppable, getting into the Cardinals backfield seemingly at will. At the end of it all, Buckner tallied six total pressures (two hurries, three hits and a sack) and that's not counting another sack he got during overtime but was nullified by a holding penalty San Francisco chose to accept on the opposite side of the line; he also batted a pass down at the line of scrimmage, made two additional defensive stops and finished the evening with an 86.9 run defense grade.
After missing five tackles over the last two weeks (including four last week alone against the Rams), Bowman tallied three defensive stops – and eight solo tackles – without missing a tackle in Week 4. Bowman also delivered a devestating hit on Carson Palmer on a blitz right up the A-gap and he also defended a pass in coverage.
PFF Game Ball: DeForest Buckner, DI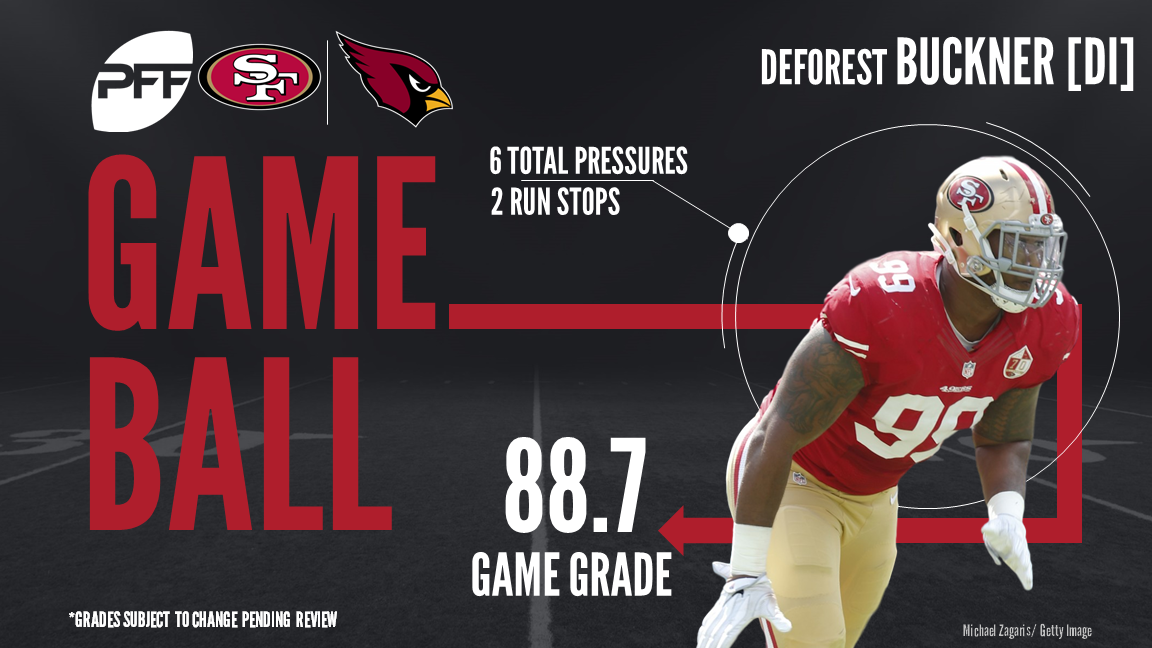 *Grades are subject to change upon review