The Cardinals doubled up the Colts in yardage in the first half, but the Colts came out of the half with the lead on the strength of a RB Frank Gore touchdown run and a field goal.
The Cardinals would come back in the fourth quarter, with a QB Carson Palmer touchdown pass to WR J.J. Nelson and a field goal to tie it, with Arizona getting another Phil Dawson field goal in overtime to win the game 16-13. With that, we give you our PFF exclusive takeaways from the contest for each team.

Top 5 Grades:
WR J.J. Nelson, 85.3 overall grade
S Tyvon Branch, 84.3 overall grade
T John Wetzel, 83.2 overall grade
CB Patrick Peterson, 81.9 overall grade
EDGE Chandler Jones, 79.5 overall grade
Performances of Note:
Palmer finished 19 of 36 for 332 yards, including a dropped pass and a touchdown and interception. He was sacked 4 times also. Palmer finished 2 of 8 on passes under pressure and threw his interception under pressure as well. He played his best football in the fourth quarter, bringing the Cardinals back to win, including a beautiful pass on a deep post route to J.J. Nelson.
WR J.J. Nelson, 85.3 overall grade
Nelson caught 5 passes for 120 yards and touchdown. He had 2 receptions on deep passes (20 yards or more in the air) for 76 yards, including a miraculous catch on a post route that gave Arizona life in the fourth quarter.
Jones was a constant force rushing the edge today, as he got two sacks, a hit and three hurries (along with a forced fumble). He also forced a holding penalty late against Indianapolis LT Anthony Castonzo, and racked up six total defensive stops.
The rookie had a rough afternoon for the Cardinals, primarily due to his play in coverage. He surrendered four receptions for 51 yards, with three of them going for first downs. Colts QB Jacoby Brissett had a rating of 118.8 when throwing into Reddick's coverage.

Top 5 Grades:
LB Jeremiah George, 85.2 overall grade
CB Rashaan Melvin, 84.6 overall grade
S Malik Hooker, 83.7 overall grade
T Joe Haeg, 83.0 overall grade
TE Jack Doyle, 81.4 overall grade
Performances of Note:
T Joe Haeg, 83.0 overall grade
Haeg may have posted the highest overall grade on the Colts offensive line, but he wasn't immune to the struggles shared by the rest of the unit. While most of his pressures were not of the immediate variety, he did surrender three total (one off a missed blitz pickup), one of them resulting in a sack. Overall though he posted a solid 86.8 pass-blocking grade to go with a 79.3 run blocking grade.
Castonzo had a solid day on run blocks, posting a grade of 87.9 in the category. Pass-blocking was a significant struggle, however, as he took two penalties and surrendered five total pressures, including a strip-sack on the final drive of regulation for the Colts.
Melvin was fantastic in the Colts secondary. He had 2 stops and an assist in run defense to go along with numerous pass breakups in coverage. Melvin proved up to the task in covering the explosive Cardinal receivers. Melvin yielded 3 receptions on 9 passes thrown into his coverage.
George had 2 stops in run defense and yielded 1 reception which was a screen pass that he made the tackle on for a -6 yard gain. George was proficient in his run defense and helped ground the Cardinals power running schemes.
PFF Game Ball: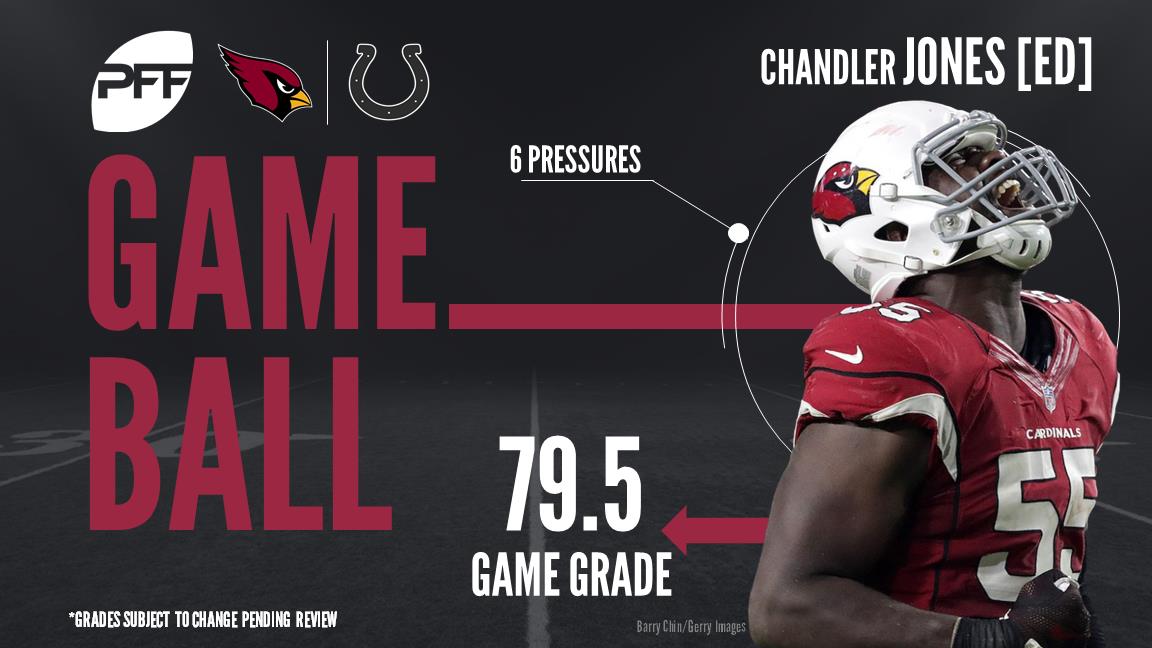 *Grades are subject to change upon review