The New York Giants defeated the Detroit Lions on Friday night, 30-17 continuing the second full week of preseason action in the NFL.
PFF's ReFocused series this season features immediate takeaways and a key to the victory from two Senior Analysts who graded the performance, watching every player, on every play of the game. For more data and analysis from the game, utilize our Premium Stats 2.0 dashboard to expand your knowledge on the key players, signature stats and much more.

FINAL SCORE
New York Giants 30, Detroit Lions 17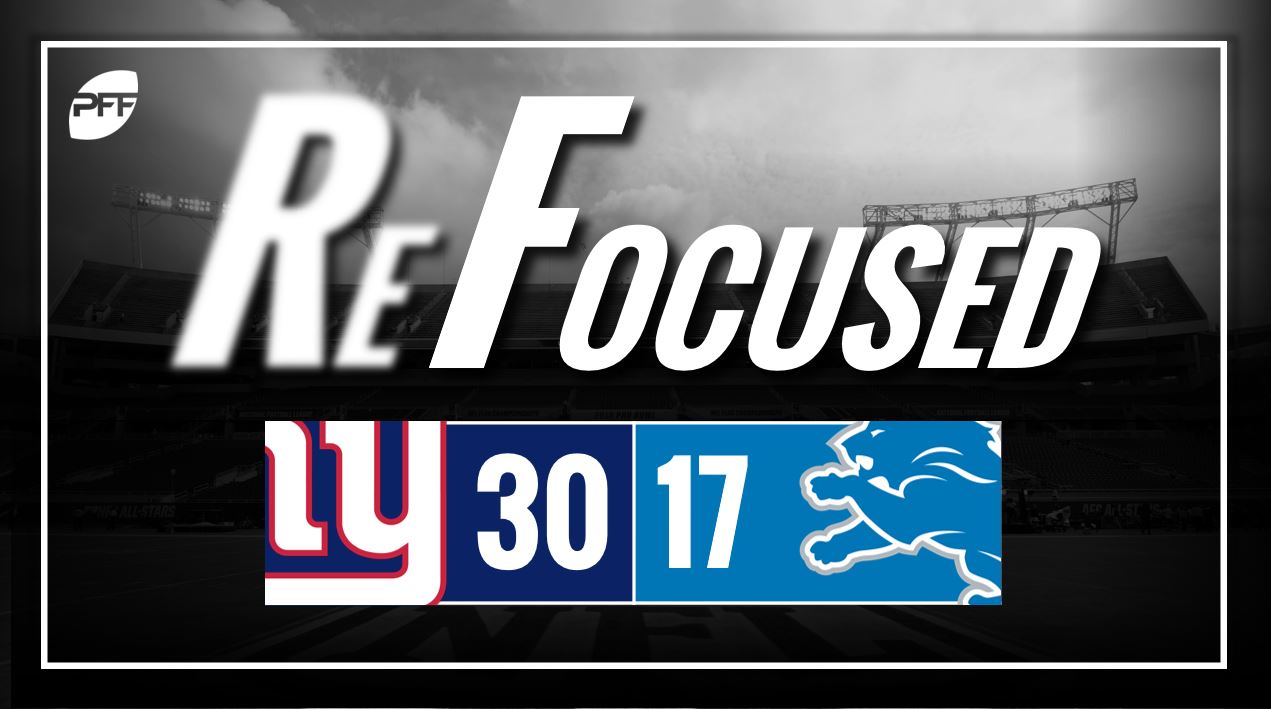 Analyst Takeaways

After many questions surfaced about his accuracy following the Week 1 game against the Browns, Davis Webb finished the game completing 70 percent of his passes, including a beauty that floated right into the hands of Sterling Shepard on 3rd & 17 for a first-down conversation.
Overall, the Giants run-blocking was less than desirable, but sophomore running back Wayne Gallman still managed to turn out a solid performance with showing his skills in and out of the backfield with a pair of touchdowns. With the departure of Shane Vereen, Gallman might be the answer as their third-down back.
Early on in this game, the Giants were all over Detroit's offensive line and really made their mark. It started early when Kerry Wynn ran right through guard Kenny Wiggins to sack Matthew Stafford on the opening drive. The Giants starters allowed just one play beyond 10 yards in their two drives of work, a 42-yard catch and run after Theo Riddick juked LB Alec Ogletree to another dimension.

The Lions run game really struggled to get going in this game, however, LeGarrette Blount looked like the best back in this game for Detroit, making some good cuts to gain yards on plays that looked doomed. Even he only averaged 2.9 yards per rush and his longest run was just seven yards. Ameer Abdullah didn't get much going and was lucky to avoid disaster when he fumbled the ball on his first carry, despite not being touched.
Jake Rudock saw the most action in this game at quarterback, and was actually inserted back into the game after Matt Cassel failed to get anything going in three drives for the Lions offense. Rudock finished with a solid completion rate however, that doesn't really tell the whole story as Rudock spent most of the game checking down almost immediately. He rarely looked to make throws downfield, and when he did they weren't great.
Darius Slay continues to prove that he's one of the league's best. Despite getting flagged in the end zone for pass interference, he showed over and over why NFL teams shouldn't pick on him in coverage with several pass breakups on the night. Most notably, he jumped a slant on 4th & 3 to prevent a score. However, poor run defense is an ongoing theme for the Lions this preseason. Although they didn't give up nearly as many yards as last week, they still managed to allow three touchdowns on the ground. Each of those scores were results of a player over pursuing the ball carrier or losing outside containment. Rolan Milligan fell victim of this on both fourth quarter scores when Gallman and Robert Martin were able to burst around his outside contain.
KEY TO THE GAME
New York: Key for the Giants was the ability to capitalize on errors made by Lions defense. Jarrad Davis paid more attention to the backfield than his coverage assignment and Gallman walked into the endzone for one easy score
Detroit: The Lions inefficiency to get the run game going allowed the Giants to sit back in coverage and let everything come underneath. It didn't help that neither Rudock or Cassel could challenge the New York secondary.