The Arizona Cardinals defeated the New Orleans Saints on Friday night, 20-15 continuing the second full week of preseason action in the NFL.
PFF's ReFocused series this season features immediate takeaways and a key to the victory from two Senior Analysts who graded the performance, watching every player, on every play of the game. For more data and analysis from the game, utilize our Premium Stats 2.0 dashboard to expand your knowledge on the key players, signature stats and much more.

FINAL SCORE
Arizona Cardinals 20, New Orleans Saints 15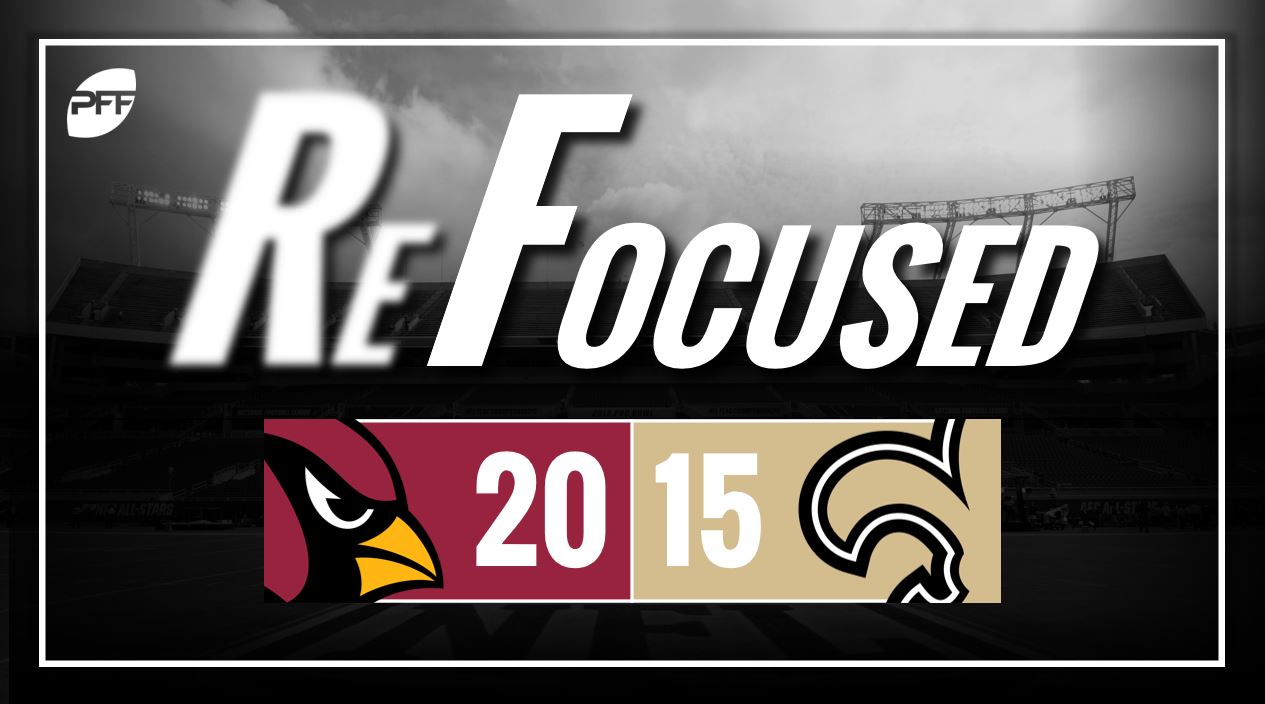 Analyst Takeaways

Cardinals quarterbacks threw a lot of quick passes to avoid the Saints pass-rush on the evening. Including Sam Bradford's final drive in which David Johnson put the ball in the end zone with an impressive run on third down gaining at least five yards after contact.
On Josh Rosen's touchdown drive, he took advantage of the defensive mistakes, including a personal foul and a pass interference call on a deep play-action pass. It all culminated on third down when Rosen took advantage of his great pass protection to find Christian Kirk for a touchdown.
Bene Benwikere continues to put together solid preseason performances and hauled in a nice interception on an overthrown Taysom Hill pass.
Rookie undrafted free agent Deatrick Nichols made a case for a roster spot with a well-rounded performance. Nichols did get nabbed for a defensive holding penalty in coverage on one play but also came up with a sack off the edge and some impressive defensive stops in the run game.

The Saints' offense failed to get much going due to their inability to hold on to the ball. Hil had a pair of interceptions, one that came off a drop from Cameron Meredith on an accurate pass and another on an overthrow on a sideline go route that was intercepted by Benwikere. Hill also fumbled twice, once on a strip sack that wasn't his fault but another on a botched handoff that was. Hill did manage to show off his impressive athleticism with a long scramble where he outran Cardinals' back-seven defenders.
Rookie running back Boston Scott struggled a bit in pass protection which is to be expected from a rookie. Scott also showcased his ability to make people miss both as a rusher and as a receiver showing he can be a factor for the Saints' offense.
Woodrow Hamilton IV was one of the few bright spots for the Saints defense. He stood out in the run defense getting a few run stops. Also, Devaroe Lawrence played a well-rounded game, flashing in the passing game by batting a Rosen pass down and getting a hit on Rosen during the final play of the half.
KEY TO THE GAME
Arizona: The Arizona quick passing game did its part to avoid the Saints' pass-rush on Friday night.
New Orleans: Their was no way for the Saints to overcome four turnovers in the first half while their offense struggled to score until late.