The San Francisco 49ers defeated the Dallas Cowboys on Thursday night, 24-21 opening the first full week of preseason action in the NFL.
PFF's ReFocused series this season features immediate takeaways and a key to the victory from two Senior Analysts who graded the performance, watching every player, on every play of the game. For more data and analysis from the game, utilize our Premium Stats 2.0 dashboard to expand your knowledge on the key players, signature stats and much more.

FINAL SCORE
San Francisco 49ers 24, Dallas Cowboys 21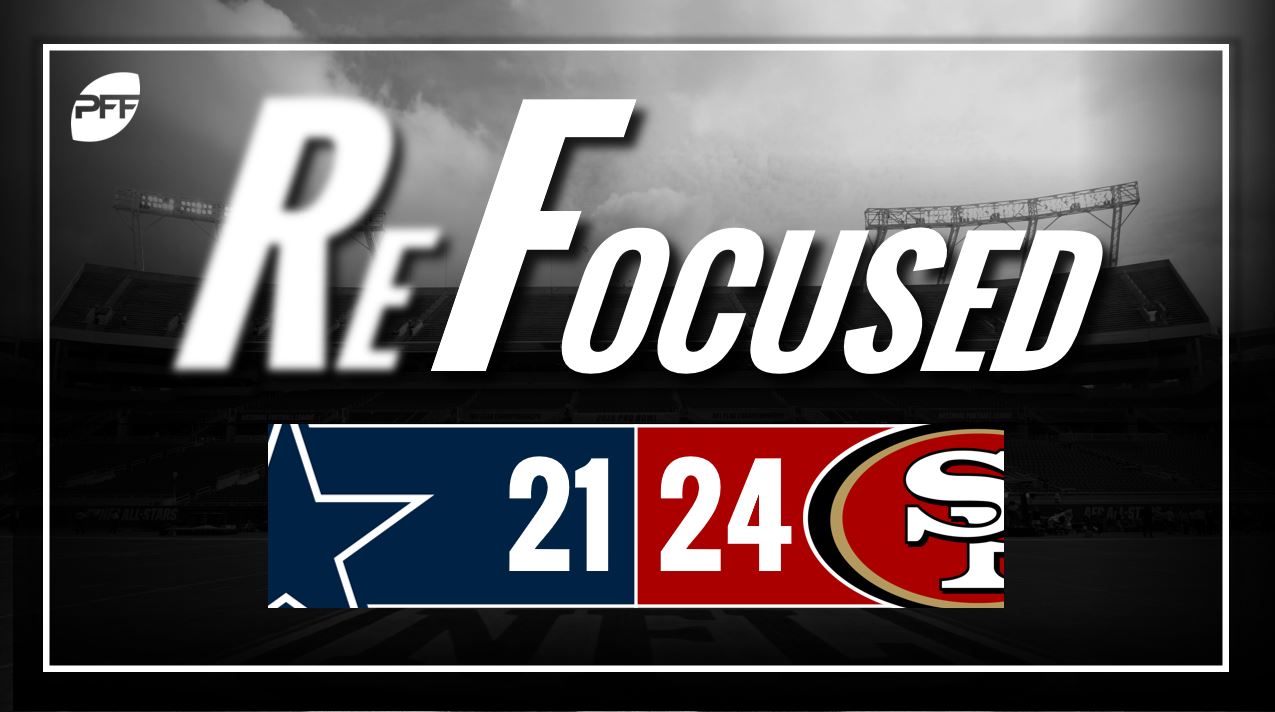 Analyst Takeaways

The Cowboys opening drive yielded a lot of positives. Quarterback Dak Prescott was able to use his legs to convert a first down and looked sharp in his decision making, capping the drive by connecting with rookie wide receiver Michael Gallup on a 30-yard touchdown pass, ending his day with a perfect 158.3 QB rating.
Second-year QB Cooper Rush got the second-team snaps and ended with a nice stat line, going 15-for-23 for 145 yards. His touchdown pass to Lance Lenoir was put in a great location, from which Lenoir made a nice toe tap along the sideline boundary of the endzone.
The individual efforts of some of Dallas' pass rushers were impressive in this game, highlighted by Taco Charlton's vicious spin move on Andrew Lauderdale in the second quarter that would have done some real damage to C.J. Beathard had he not gotten the ball out quickly. DeMarcus Lawrence also showed some of his explosiveness early in the first quarter before resting up, reminding everyone of how dominant he was a season ago.
CB Donovan Olumba found himself getting thrown at quite a bit, and the Niners had success doing it. Particularly late when they were driving to take the lead. Olumba committed multiple pass interferences on the final drive, including one that set them up inside the 10-yard line.

The passing game seemed to click for San Francisco when Nick Mullens was in the game, with the former Southern Miss signal caller leading them on two late touchdown drives to steal a win. This was highlighted by a spectacular grab by Victor Bolden late in the game on 4th-and-2, sprawling over Donovan Olumba for a 24-yard reception. Mullens was calm and collected, finding open receivers and delivering into tight spots when needed down the stretch.
C.J. Beathard and Dante Pettis tried beating Dallas deep multiple times throughout this game, but they only found success once. Early in the third quarter, Pettis found himself wide open, beating Jourdan Lewis for a 53-yard gain.
A few guys stood out for the 49ers defense, not surprisingly one of them was linebacker Reuben Foster. Foster played the first quarter and recorded two solo tackles, then made an athletic pass break up on a deep crossing route in zone coverage, something only a select number of linebackers can do. Among the other starters cornerback Jimmy Ward didn't have a great pre-season opener, surrendering a 30 yard touchdown to Michael Gallup on the Cowboys opening drive.
Rookie defensive tackle Jullian Taylor got ample playing time and was impressive throughout the game. He recorded one sack, two QB hits and a tackle for loss. The rookie from Temple will possibly get a lot more work next week since fellow defensive tackle Solomon Thomas exited the game with a head injury in the first quarter.
KEY TO THE GAME
Dallas: Dallas was unable to put the game away late, largely due to their inability to generate much of a ground attack. If you take away Prescott's 12-yard scramble, they ended with only 93 yards on 28 attempts. It was apparent the second and third team offensive line was having a tough time opening up running lanes.
San Francisco: The comeback was spear-headed by Mullens, who was quite efficient in the second half, as he led two nice touchdown drives in the final minutes to seal the victory. The 49ers pass offense as a whole was big in this game, as they racked up over 350 yards through the air.