Rookie Derrius Guice's much-anticipated debut season in the NFL is already over before it began. The Washington Redskins running back will miss the entire 2018 season after suffering a torn ACL just minutes into the team's first preseason game against the New England Patriots on Thursday.
Selected in the second round of this year's draft, former LSU standout Guice went down awkwardly as he was tackled from behind on an impressive 34-yard scamper negated by a holding penalty. He exited the game after the tackle and was evaluated by the team's medical staff, and though he was standing on the sidelines after the injury, Friday's MRI didn't bear any positive news.
Per NFL's Ian Rapoport, there was hope Guice had only suffered an MCL injury, but the young running back's walk off the plane "was concerning." The MRI later revealed a torn ACL and ending the young running back's season. He had suffered a hyperextended knee (yes, the same knee) at LSU but opted against surgery, also per Rapoport.
Guice ran with bad intentions in his career with the Tigers, averaging north of 4.0 yards after contact per attempt in each of his first two seasons with the team (2015-16). He also flashed big-play potential through the end of his collegiate career, as he earned 1,499 yards on breakaway (15 or more yards) runs from 2015-17 – the 13th most among all FBS running backs in the three-year span.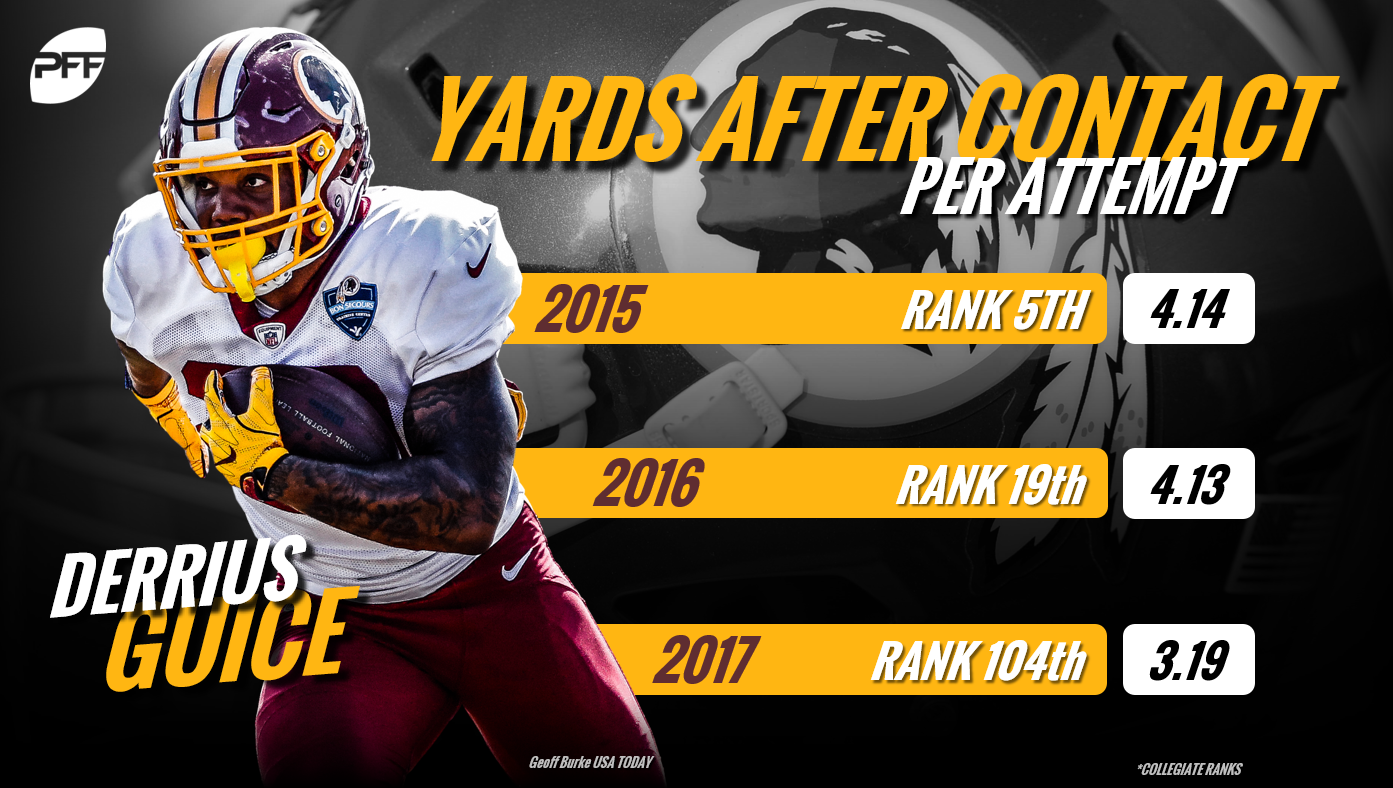 Prior to Guice's injury, Washington's running back situation was in a bit of a "three-for-all" in terms of who will see the majority of touches behind veteran Chris Thompson, a 5-foot-8, 195-pound back better utilized in the passing game. The three-for-all now drops to a two-for-all consisting of third-year back Rob Kelley and sophomore Oklahoma product Samaje Perine if the Redskins opt against bringing in outside help.
Kelley, a 6-foot, 229-pound thumper of a back enjoyed quite the coming-out party as an undrafted rookie free agent in 2016. He averaged an impressive 2.84 yards after contact per attempt and forced 35 missed tackles across 168 carries, ranking T-10th and 13th, respectively, among running backs with 100-plus carries that season.
However, Kelley's fallout ensued in Year 2 of the young back's career. Kelley averaged 3.13 yards per carry across 62 attempts throughout an injury-plagued 2017 season before being placed on the injured reserve following an abysmal showing against the Minnesota Vikings in Week 10. Of course, Kelley's unexpected regression opened the door for then rookie running back Perine to take on an increased role, and he didn't fail to impress down the stretch.

In Weeks 11-17, Perine averaged 2.65 yards after contact per attempt, ranking 12th among running backs with at least 100 attempts in said span. He also improved his run grade from 45.3 – the lowest mark among running backs from Weeks 1-10 – to 65.3.
In addition to Thompson, Kelley and Perine will likely be tasked with filling Guice's shoes in the ground game, but unfortunately for Washington, the duo's ceiling doesn't likely come near that of Guice's. And losing a year of development with a running back pushes the Redskins' pursuit for a strong rushing attack another year down the road.
Potential Free Agents to Sign
Alfred Morris (29)
Old friends can come in handy in dire times. Former Redskins superstar Alfred Morris may be north of three years removed from his last 1,000-yard season with Washington, but there's reason to believe he still has some gas left in the tank.
Among running backs with at least 100 touches in 2017, Morris ranked fifth in yards after contact per attempt (3.30) and 15th in elusive rating (51.5).
Orleans Darkwa (26)
Unlike Morris, former New York Giants running back Orleans Darkwa has never proven capable of a 1,000-yard season. In fact, his 2017 campaign was the first year in which he had north of 153 yards in any single season, as he finished with 751 rushing yards on 171 attempts (4.4 yards per carry).
Darkwa finished outside of the top-40 qualifying running backs in elusive rating (31.0) and forced missed tackles per touch (0.105) a year ago, but he did mange to finish 15th in yards after contact per attempt (2.94).