This offseason is set to be an intriguing one in terms of quarterback movement around the league. While most of the action looks like it could take place with trades or the draft, a few potential starters and some solid backup options lie behind Washington QB Kirk Cousins.
Here's a look at the top 10 free agent quarterbacks currently set to hit the open market.
[Editor's note: For players who took enough snaps to qualify for a position ranking in the 2016 NFL season, their 2016 PFF overall grade has been noted in parenthesis.]
1. Kirk Cousins, Washington Redskins (85.9 overall grade in 2016 season)
Cousins has shown he is the man moving forward in Washington the past two seasons, with all signs pointing to the team locking him up to a big deal. He finished 2016 with an 85.9 overall grade, good for eighth-best among qualifying QBs. There are some good pieces around Cousins to contribute to his success—with him needing to cut down on a couple mistakes throughout the course of a game to take the next step—particularly in the low red area.
2. Mike Glennon, Tampa Bay Buccaneers
While Glennon has played just 15 snaps since the start of the 2015 season, he has shown enough to warrant a chance to be a starter somewhere. Throughout his 18 career starts from 2013–2014, Glennon has balanced in some really solid play, and some uneven as well, with not much in between. His blend of pocket instincts, poise, and an ability to click through progressions give him a good chance to be a starter for someone in 2017.
3. Brian Hoyer, Chicago Bears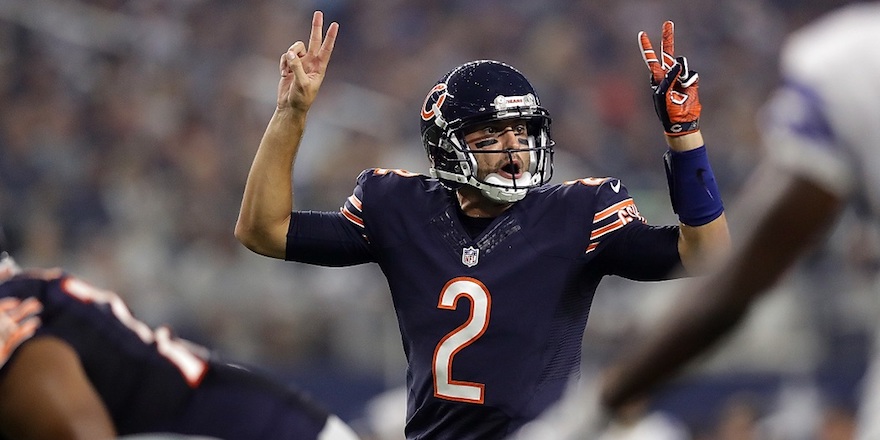 Hoyer was playing some of the best football of his career in Dowell Loggains' system, grading in the top half of quarterbacks from Weeks 2–7 before an injury derailed his season. For Hoyer, it's about putting together a full season of consistency. As colleague Sam Monson has pointed out, some interesting splits throughout Hoyer's career have seen him post a passer rating of 93.1 in September to October, and 70.2 from November on. Hoyer is a capable starter, a very good backup, and at the very least, can be a bridge for a team with a young quarterback coming in.
4. Matt Barkley, Chicago Bears (73.8)
Through Weeks 12–15—his first four starts—Barkley sat behind only Green Bay's Aaron Rodgers and New England's Tom Brady in terms of overall quarterback grade before recording two poor outings to finish the season. He has shown a considerable uptick in arm strength since entering in NFL in 2013. Barkley's poise and ability to get through progressions was impressive this past season, but he needs to cut down on the big mistakes that seemed to show up more as the season went on. Barkley's play solidified him as a solid backup option for years to come, and potentially more if he can cut back on the crucial mistakes.
5. Case Keenum, Los Angeles Rams (49.6)
While Keenum had his struggles throughout the 2016 season, the Rams' offensive problems lied much deeper than him. Keenum is still capable of being a high-percentage passer in the right situation, and his creativity outside the scheme is still a plus. He likely won't get a chance to start anywhere any time soon, but brings valuable experience and enough game to the table to be a solid backup for years to come.
6. Shaun Hill, Minnesota Vikings
Hill may ultimately choose to retire this offseason, but if he chooses to come back, he is still a top backup quarterback option even at age 37. Hill's greatest strength is knowing who he is as a player; he operates efficiently no matter the system and takes care of the football. The wealth of knowledge he could pass along to a young QB is invaluable if the right backup situation presents itself for the 2017 season.
7. Ryan Fitzpatrick, New York Jets (42.1)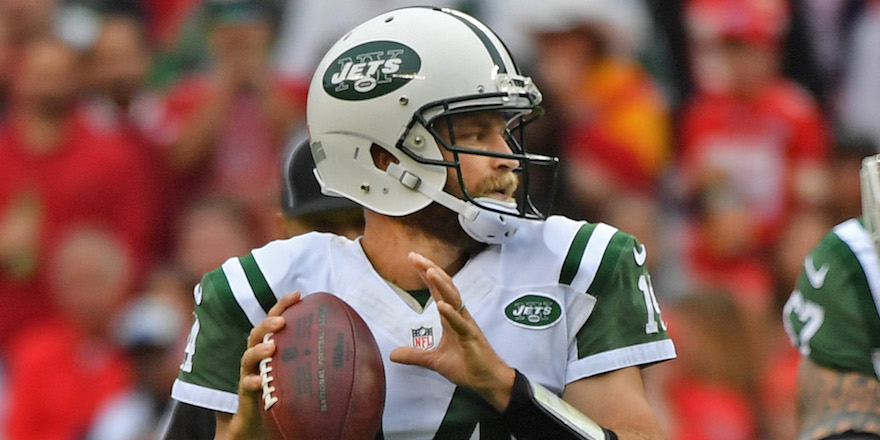 We've seen throughout the years just how streaky Fitzpatrick can be. 2016 exemplified what his absolute worst can look like, and his poor play showed up more consistently than it typically does in a given year. His days of starting are likely over, but if Fitzpatrick can accept that and slide into a backup role, he would add a lot of value to a quarterback room. His value would come with helping out young quarterbacks and potentially entering games in relief duty if required, where he may be at his best.
8. Matt McGloin, Oakland Raiders
McGloin has established himself as a gritty backup that possesses many of the traits teams look for in their No. 2 quarterback. While his play hasn't always looked perfect, McGloin is a very capable backup option, showing he can get through progressions cleanly at times and make a few outside-the-scheme plays to keep an offense moving.
9. Mark Sanchez, Dallas Cowboys
One poor preseason game against the 49ers last year ultimately removed Sanchez from contention for the starting job in Denver. He was able to resurface in Dallas as the backup for most of the season, where we saw him constantly discussing and aiding rookie Dak Prescott. Sanchez may not get another shot to start, but is a high-end backup, and showed he was comfortable with that role.
10. Geno Smith, New York Jets
The last spot on this list was a toss-up between Smith and Ryan Mallett, with both players having talent, but a lack of consistency to break through as a starter. A change of scenery will greatly benefit Smith after some up and (mostly) down times with the Jets. Playing on time and in rhythm with decisiveness is something he will look to improve upon with a new team.
Want more free agent rankings? Check out PFF's Top 50 free agents for the 2017 offseason now.