The race for the Defensive Player of the Year is all but over. Aaron Donald could sit out the rest of the season, and his ridiculous 17 sacks would lock up the award. Let's take a look at the other defenders having outstanding seasons who have put themselves squarely in contention for the Defensive Player of the Year (Not Named Aaron Donald).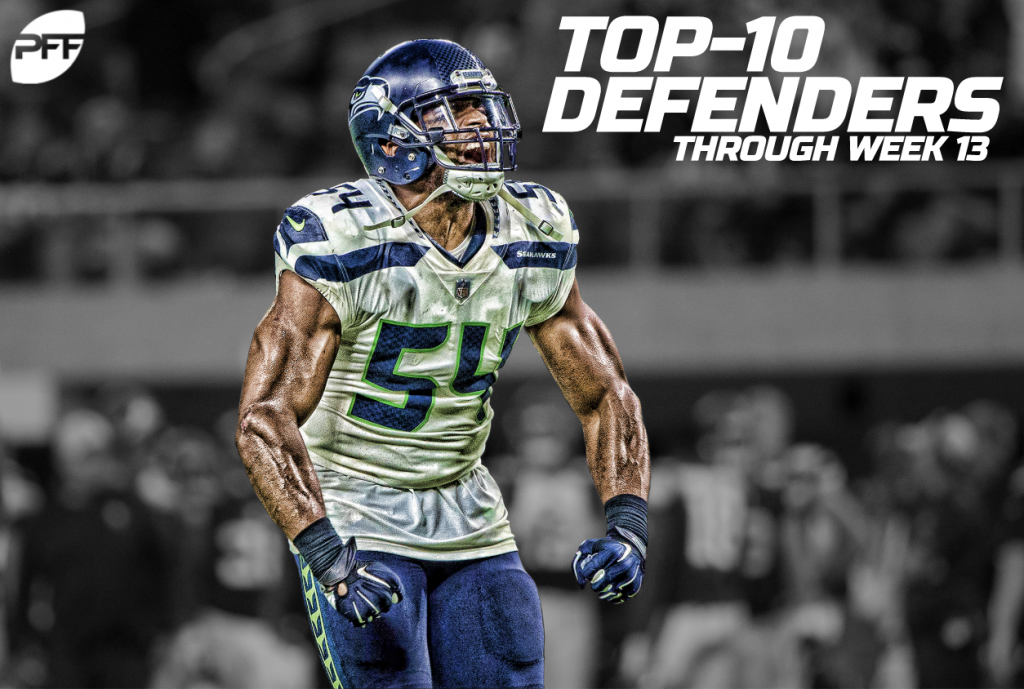 Miller had a slow start to the 2018 season, but there was little doubt he'd bounce back. He's registered 10 sacks in his last seven games, notching at least one in every single outing. No one gets game planned for more because teams know where he's going to line up (over 75 percent of his snaps have come off right tackle) and it still doesn't matter. He's posted double-digit sacks now in every healthy season of his career.

There's not a better slot cornerback in the NFL today. The name of the game at the position is picking off passes and limiting yards after catch, and King does both at a high level. He has three picks so far this season and has allowed only 19 first downs on 59 targets. 47 other cornerbacks have allowed more first downs while only 29 have been targeted more. King's 15 coverage stops are also the second most of any corner in the league.

There's not a better pass-rushing nose tackle in the NFL than Clark at the moment. If you leave Clark one-on-one with your center, it's not going to end well. Against the Rams, the third-year defensive tackle made John Sullivan, one of the best centers in the league, look like a backup. He registered two sacks, a hit and three hurries in that outing against the Rams. It was one of three times this season that he notched six pressures in a single game.

You can pencil in Kuechly for a spot on this list every year. Kuechly is once again the NFL's leader with a 12.8 run-stop percentage, but it's his work in coverage that will never get old to watch. Of the 39 times he's been targeted this season, only 13 have resulted in first downs. His 17 coverage stops are the fifth most among all linebackers in the league, and he's missed only two tackles on receivers.

He's back. It's not quite vintage, 20-sack J.J. Watt, but he's still on pace for 16 for the year. For all the injuries he's suffered since his last full season, that's pretty damn impressive. The scary thing is he's been getting better and better as the season has worn on. He has 17 pressures in his last three outings and seven run stops. I think the Texans' defense might have missed him last year just a little.

What Fletcher Cox is to the passing game, Hicks is to the run game. He continually moves the line of scrimmage and has been the only person that can even be brought up in the same breath as Damon Harrison in terms of run defense. Unlike Harrison, though, Hicks can hold his own as a pass-rusher. The Bears lineman ranks 12th among interior defensive linemen with 35 pressures this season.

If it weren't for Donald's dominance, we'd be talking a lot more about Cox's dominance. While Cox is 18 pressures behind Donald for interior defensive linemen, he's also 13 pressures ahead of third place. His 19 quarterback hits are the most in the entire NFL, as he's been hands down the best bull-rushing threat in the league. Cox is the poster boy for disruption being more valuable than counting stats, as he continually impacts more plays than his tackles and sacks would indicate.

If you've read anything about Wagner on here this season, I'm sure you've heard that he still hasn't missed a tackle on 98 attempts. That stat is indicative of just how reliable Wagner is as a linebacker. He isn't going to get caught out of position. Wagner's been downgraded at the second lowest rate of any starting linebacker in the NFL. It's hard to play the position much better than Wagner has this season.

Jackson's breakout campaign has been one of the most impressive we've ever seen from the safety position – and it's not solely because of his playmaking ability. He's notched four picks and three touchdowns already, but he's also limited big plays at a high level. Jackson Has yielded only 21 catches into his coverage this season at an average of 11.3 yards per catch.

His 84 pressures so far this season are more than any other defender (not named Aaron Donald) had in 2017. Donald is on his own level.