It goes without saying that each drive in the NFL is crucial to a team's overall success. To keep an offensive drive alive, a team must either gain large chunks of yards on first and second down, or they must convert an often pressured third down. That's why a productive, reliable third-down pass rusher is invaluable in an NFL that is becoming more and more pass oriented.
Below is a list of the 2018 season's highest-graded third-down pass rushers.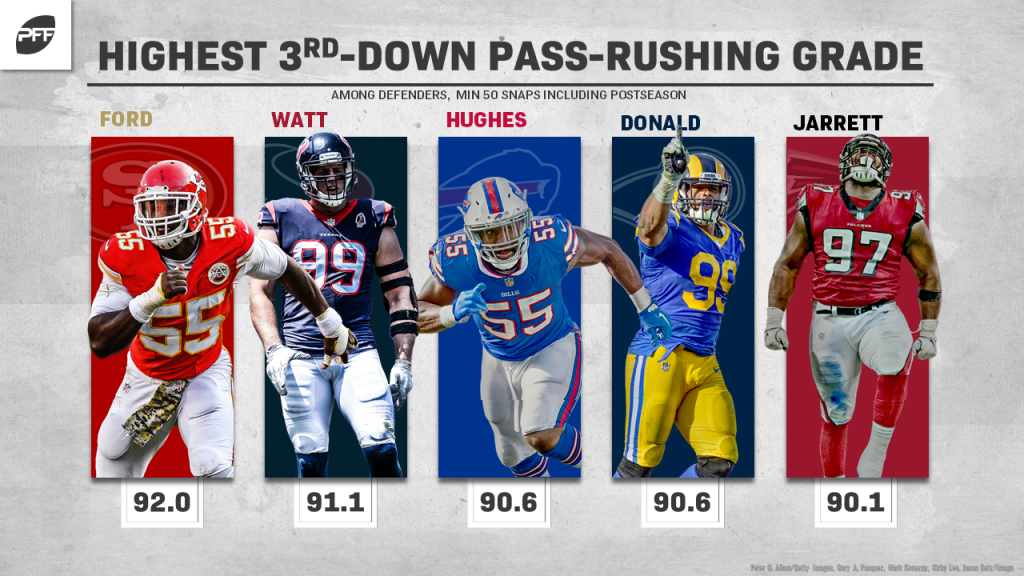 It is a rare occurrence when the league's top pass rusher arrives on a new team before the new league year, but former Kansas City Chiefs edge defender Dee Ford finds himself in that exact situation. 
San Francisco received a steal as the Auburn alumnus earned the highest pass-rushing grade at his position (91.0) a season ago, but he was most effective on third-downs, earning a 92.0 pass-rush grade in said situations. Ford ranked third and fourth, respectively, in third-down pressures (33) and pass-rush win percentage (25.4%) among qualifying defenders.
Despite playing less than 250 total snaps in two-straight seasons (2016-17), Watt ranked second among all defenders with a 91.1 grade on third-down pass-rush situations in 2018. Watt ranked 11th among edge players with 25 pressures on third-down, and he beat the opposing blocker on 14 third-down snaps, three more than anyone else at his position.
When healthy, there are few better edge defenders than Watt; he has earned a 90.0-plus defense grade in each of the last five seasons where he has played more than 300 snaps. He has done so by being so effective on third-downs.
Jerry Hughes did anything but regress in 2018, as he earned the third-best pass-rushing grade on third down (90.6). Hughes amassed six sacks and 33 quarterback pressures on third-down passing plays which contributed towards his second-ranked win percentage (26.9%) among all NFL defenders.
A season ago, 159 defenders saw 50-plus third-down pass-rush snaps; Hughes was one of just three defenders who recorded a pass-rush productivity mark of 30.0 or higher. Hughes pressured the quarterback on a staggering 25.4% of third-down pass-rush snaps which ranked second at his position.
It is no surprise that Aaron Donald finds himself on this list, as he has earned the highest grade among interior defenders in each of the last four seasons. Donald led all NFL defenders with 106 quarterback pressures last year, with 41 of those coming on third-down passing situations. 
The Pittsburgh alumnus was not only effective but also efficient, as he earned the highest win percentage (26.5%) and pass-rush productivity mark (26.5) on third-down at his position.
Good things seemed to happen for the Falcons when Jarrett rushed the passer on third down, as the Clemson alumnus ranked third among 60 qualifying interior defenders by earning a win on 21.8% of his third-down pass-rush snaps.
Jarrett saw 124 third-down pass-rush snaps a season ago, and he beat the opposing defender 12 times, a league-best at his position. The Falcons interior defender finds himself in good company as he rounds out the top five third-down pass rushers with a 90.1 grade.