We're in mid-July which means two things, it's hot in the northern hemisphere and NFL training camps are approaching rapidly. Over the past few weeks, we've ranked all 32 teams offensive lines as a unit and more recently, how each team stacks up in the passing game headed into the 2017 season.
With that in mind, we've shifted to the defensive front, more specifically, the defensive front seven. Defensive linemen like Aaron Donald can interrupt games at another level while linebackers like Jerrell Freeman might as well be another defensive back with how well they can cover receivers.
With that, here are our exclusive rankings for each team's front seven headed into 2017 as a unit:

1.

The Texans Jadeveon Clowney and Whitney Mercilus make this a formidable unit, but add in arguably the best defensive player the world has seen this decade in J.J. Watt, and they become downright terrifying for opposing quarterbacks. Brian Cushing, Benardrick McKinney and Zach Cunningham provide a combination of experience, talent and potential at the linebacker position. D.J. Reader will be looking to improve upon his promising rookie season while taking on a larger role filling the void left by Vince Wilfork's departure. Reader's 7.3 pass-rush productivity topped all rookie interior defenders in 2016.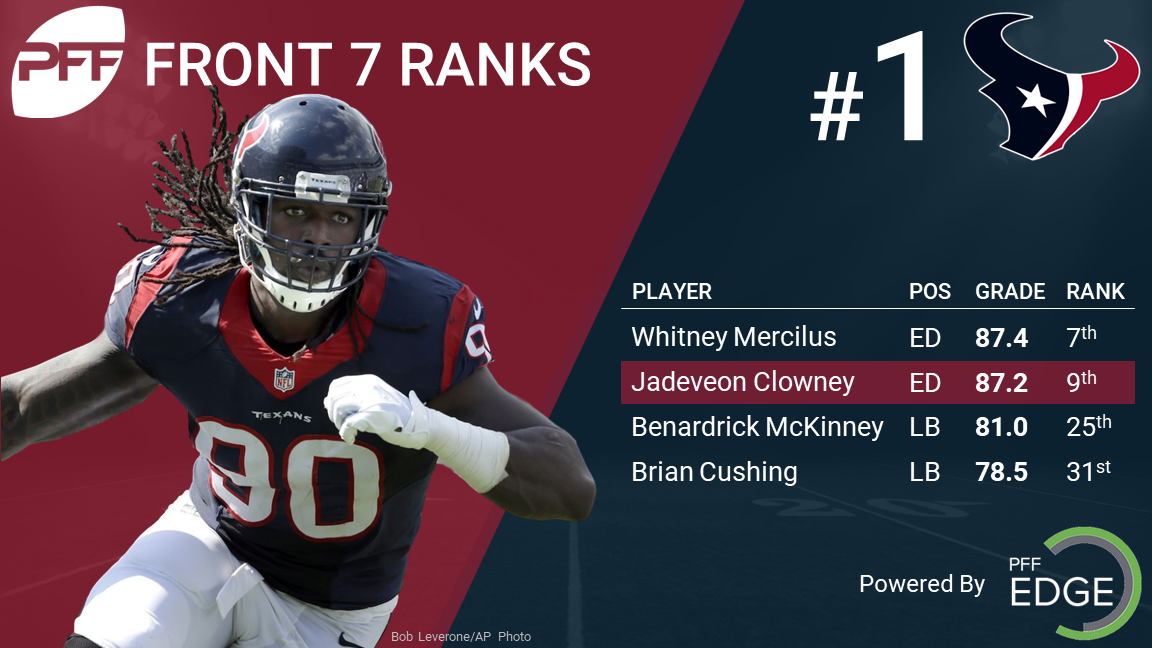 2.

The Seahawks boast the most productive linebacker duo of 2016 in Bobby Wagner and K.J. Wright, who both graded in the top eight last season. Michael Bennett is still effective as a versatile chess piece, while Frank Clark and Cliff Avril both finished in the top eight of pass-rush productivity among 4-3 defensive ends last season. Avril's 12.1 and Clark's 10.9 pass-rush productivity marks ranked them fourth and eight, respectively. It will be interesting to see how the Seahawks use the highly talented Malik McDowell, their top draft pick of 2017.
3.

This 2017 Eagles unit could easily challenge for the No. 1 or No. 2 spot on this list as the season progresses, as there are no real weakness to this front seven. Fletcher Cox and Jordan Hicks both ranked in the top five in their positional grades, while Brandon Graham finished with a 93.3 overall grade, second best of all edge defenders. They added PFF's No. 3 overall prospect in the 2016 draft in edge defender Derek Barnett, as well as veteran Timmy Jernigan, who had the best stop percentage last season among all 3-4 defensive ends (10.8 percent).
4.

Luke Kuechly leads this unit as one of the league's best defenders, and Kawann Short finished last season as the third highest graded interior defender with an 87.7. Edge rushers Mario Addison (second at 14.1) and Charles Johnson (10th at 10.8) both were top 10 last season in pass-rush productivity among 4-3 defensive ends, and Julius Peppers returns to add depth and experience.
5.
Aaron Donald, alone is good enough to rank this unit higher than some other front sevens. Donald not only led all interior defenders with 82 QB pressures, that mark was good enough for fourth among all defensive linemen, edge rushers included. A healthy Robert Quinn would be a big boost if he can return to form, as well as solid players such as Michael Brockers and Mark Barron lands this unit in the top five. Dominique Easley is another solid young player who has flashed some potential to disrupt plays as an interior defender as well.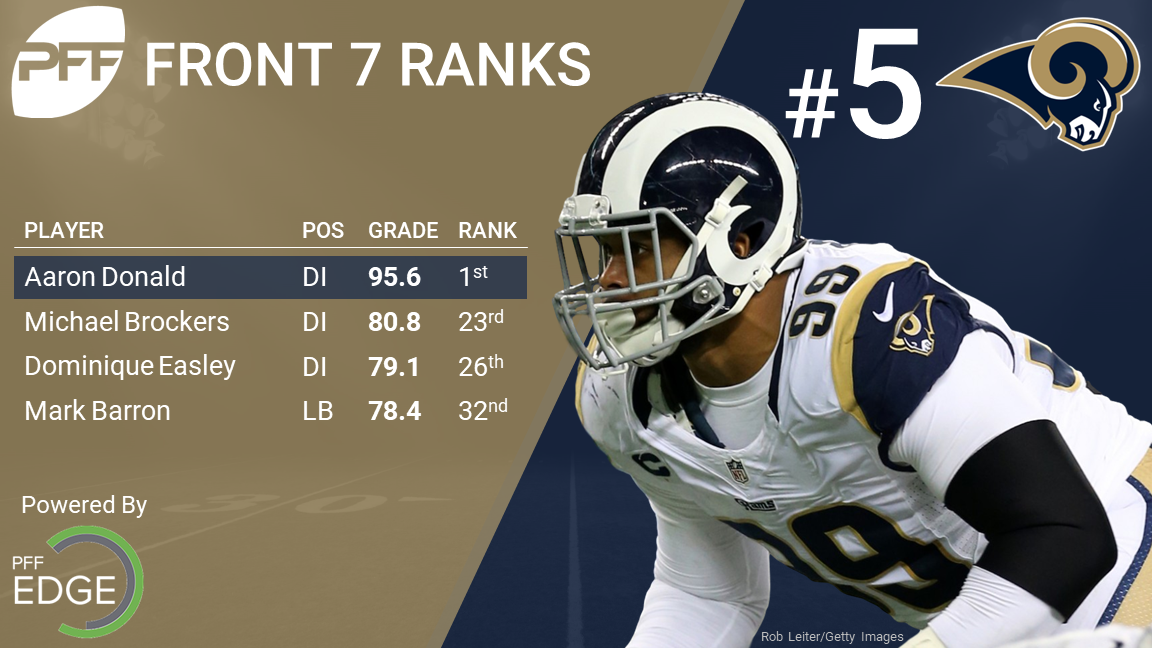 6.

Linebacker Anthony Barr had a down year in 2016, but in 2015, he played to an elite level, and still has the talent to do so. In his sophomore campaign, Danielle Hunter finished with the sixth best pass-rush productivity rate (11.5) among 4-3  defensive ends and it still just 22 years old, while Everson Griffen graded out as the 26/109 best edge defender last season. Both Eric Kendricks and Linval Joseph are stellar run-stoppers manning the inside of this front seven unit. Joseph's 9.3 run stop percentage ranked him tied for 14th among DIs while Kendricks 10.2 run stop percentage ranked him 11th among ILBs.
7.

Von Miller is as effective as any at getting to the quarterback, and he has graded at an elite level in every season of his career, while his pass rush productivity of 14.4 was surpassed by only Khalil Mack (15.0) last season. DeMarcus Ware retired, but young talents Shane Ray and Shaq Barrett provide a solid edge rotation. The interior of the defensive line was a weakness last season, and it remains to be seen if any of the journeymen acquisitions such as Billy Winn or Zach Kerr can step up their game on the inside.
8.

The Cardinals strength will be getting after the quarterback, as Chandler Jones was the seventh best edge defender last season, and Markus Golden finished his sophomore campaign grading at a solid 81.5, 24th best among all edge defenders. Deone Buchanan and Haasan Reddick are exciting young players, but are both undersized linebackers, and combined with the loss of elite interior defender Calais Campbell, the Cardinals have question marks against the run.
9.

The key for the Chiefs front seven unit this season will be to stay healthy, as they had a handful of players either miss chunks of time or play hampered by injury. Derrick Johnson and Tamba Hali are aging but proven veterans, but a healthy return of Justin Houston would be a game-changer. The emergence of Chris Jones, who finished as the highest graded rookie interior defender last season, should help ease concern over the free agent departures of Dontari Poe and Jaye Howard.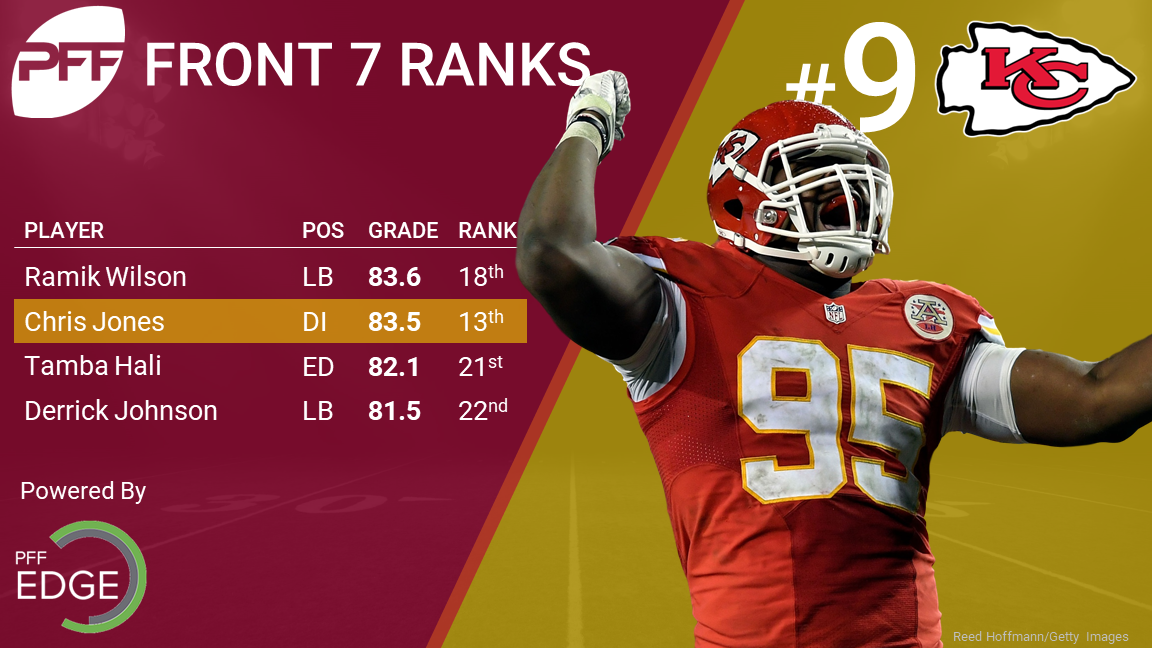 10.

It's amazing that at 38 years old James Harrison still played at such a high level last season. He finished seventh among 3-4 OLBs in pass-rush productivity rate of 12.2, and his coverage grade (75.8) was the best among all edge defenders. Ryan Shazier and Stephon Tuitt are both extremely talented young players, but they miss way too many tackles. Despite missing three games last season, Shazier missed 21 tackles, fourth most among all linebackers, while Tuitt had the most missed tackles among all interior linemen.
11.

The Chargers found a diamond in the rough in 2016 fifth round pick Jatavis Brown, who finished as the 27th highest graded linebacker. They also have an outstanding pair of edge-rushers in Joey Bosa and Melvin Ingram, who finished as the fifth and sixth highest graded players at their position last year (Bosa's first), respectively. Former first round pick Corey Liuget has had an up-and-down career, but last year posted the worst grade of his career since his rookie year at 49.3. If Liuget can improve from last year, this group could easily be on the rise.
12.

Retaining Dont'a Hightower huge for this unit, but the recent free agent signing of David Harris is a sneaky nice add, bringing leadership and depth at a position where Hightower has played all 16 games in a season just once in his five-year career. They have solid depth on the interior in Alan Branch, Malcom Brown and Lawrence Guy. While Trey Flowers is a future star who's talent was on display in the Super Bowl with three sacks and two QB hits, wherever the rest of the pass-rush will come from is a question mark as edge rush remains a weakness on paper.
13.

The Giants have the game's best run-stuffing interior defender in Damon Harrison, as well as high quality (and highly paid) edge rushers in Jason Pierre-Paul and Olivier Vernon. Harrison led all defensive interior players with his 15.8 run stop percentage. Devon Kennard was their best linebacker with a 79.1 grade, but he only played 46.4 percent of the teams snaps last season. The lack of depth on the defensive line but more importantly the quality of play from the linebackers are looming concerns for this front seven unit going into 2017.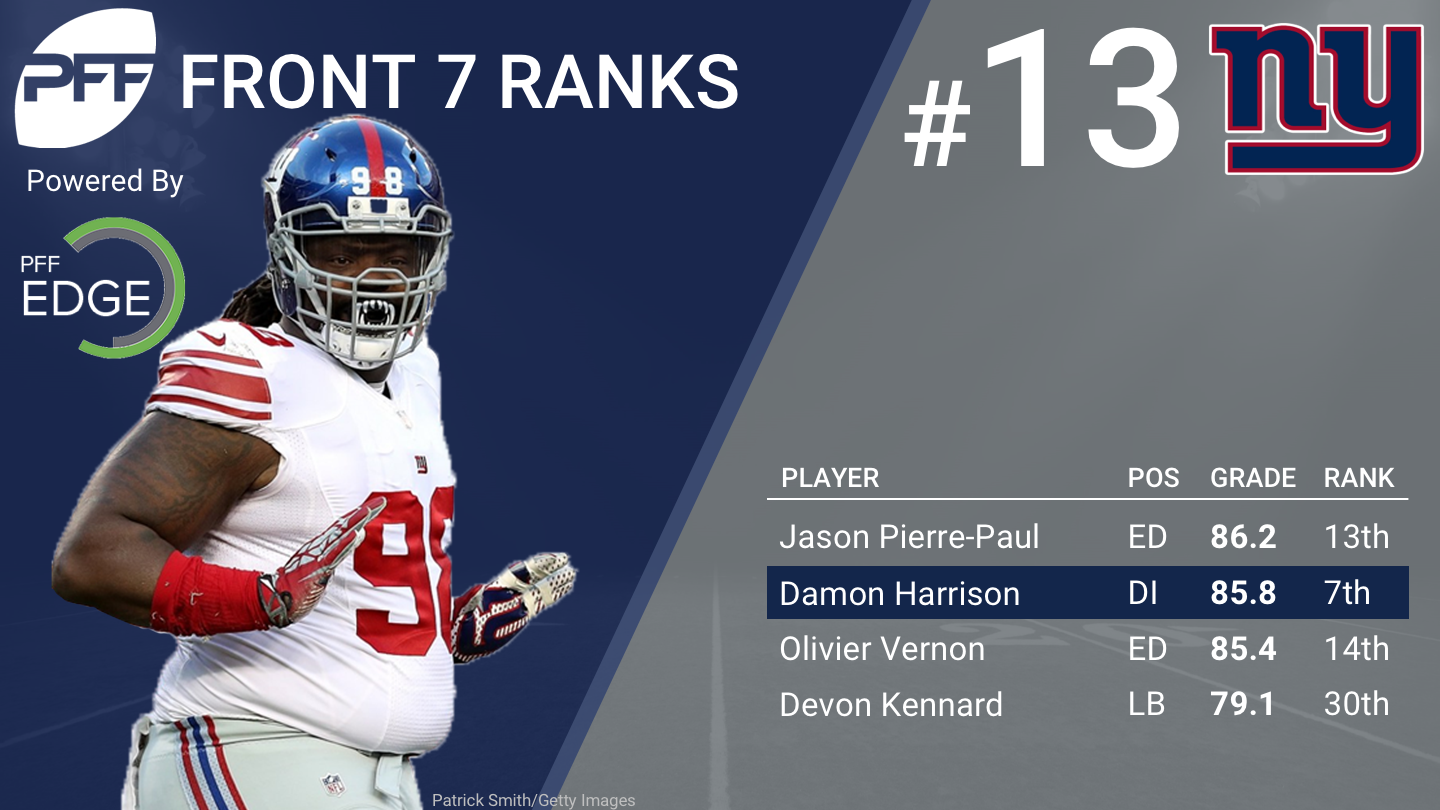 14.

Malik Jackson will be joined by big-time free agent Calais Campbell, forming a very formidable interior duo. Campbell finished in the top 11 at both run stop percentage (8.0 – 11th) and with his pass-rush productivity (9.2 – fifth) last season with the Cardinals. While the aging Paul Posluszny had a career resurgence last season finishing as the fourth best linebacker in the league, expect ultra-talented Myles Jack to steal significant snaps from him in the upcoming season, with Telvin Smith rounding out a very solid linebacker corps. The edge remains a weakness however with unknowns and health concerns, and the Jaguars did very little to improve upon the position.
15.

Khalil Mack is the type of player you build a defense around and that opposing offenses must game-plan and account for on every single play. His 15.0 pass-rush productivity rate was the highest in the league last season, at any position. Bruce Irvin, Aldon Smith and Shilique Calhoun round out the edge with a mix of experience and upside. Major concerns lie with the rest of the front seven as no current Raiders linebacker or interior defender finished last season ranked in the top 70 for their position.
16.

The Packers lack a difference-maker at linebacker, and saw a huge dip in production from Clay Matthews Jr. last season. The interior looks to be in good shape with the consistently solid Mike Daniels finishing last season as the ninth best interior defender, while Kenny Clark had the best run stop percentage (8.8) of all 3-4 rookie defensive ends. Nick Perry looks to build on a season that earned him a new five-year contract, in which he led all 3-4 outside linebackers with a 12.4 run stop percentage.
17.

The Dolphins front seven is headlined by DT Ndamukong Suh and DE Cameron Wake. Suh ranked within the top three among all the league's defensive tackles in both run stops and total QB pressures while Wake tied for the highest pass-rush productivity (14.1) among 4-3 defensive ends last season. The Dolphins brought in long-time Pittsburgh Steelers LB Lawrence Timmons to join Kiko Alonso and Koa Misi on their linebacking corps. Timmons fielded a much higher run stop percentage (8.8) than Alonso (6.6) last year, and could help bolster their run D.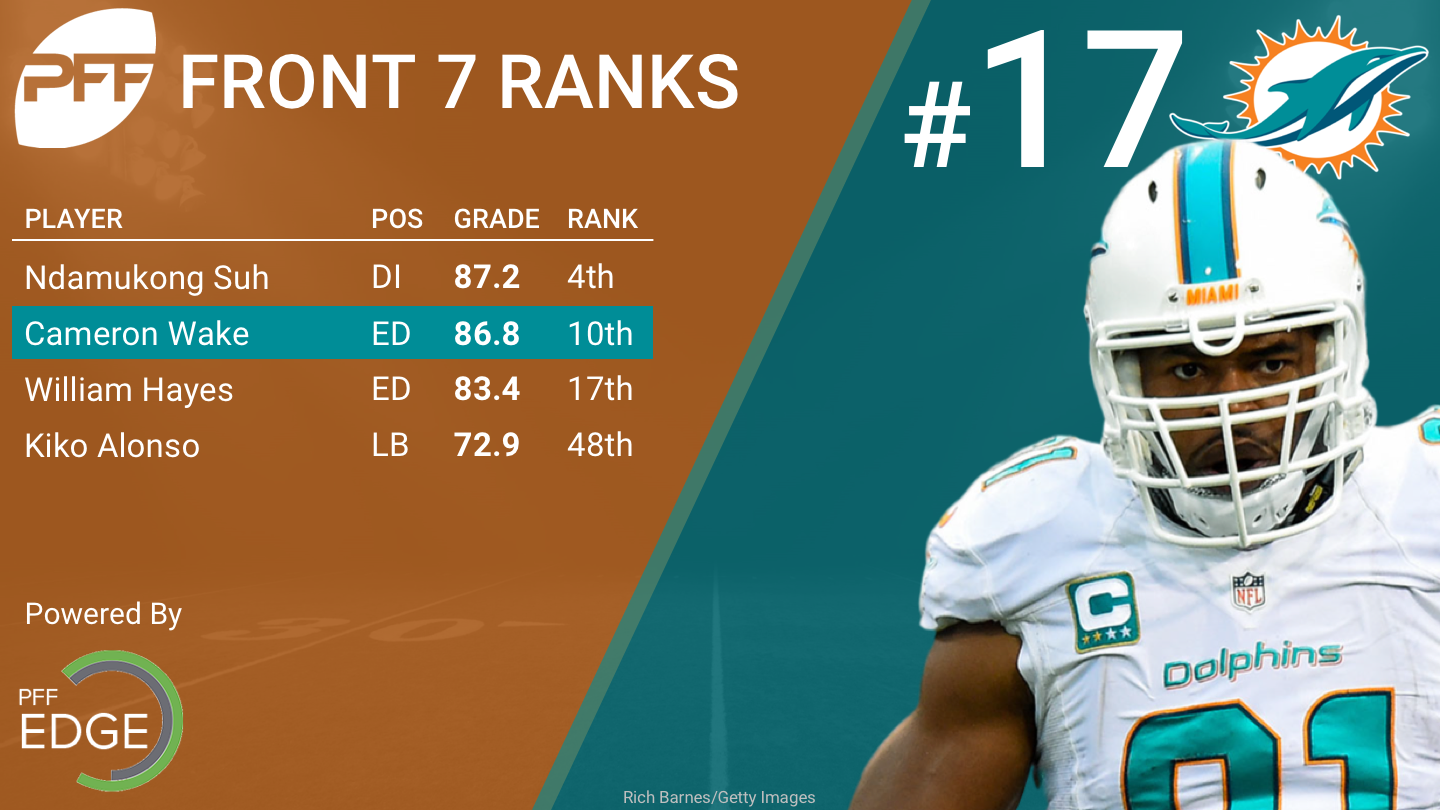 18.

Leonard Williams is not only arguably the best player on the Jets front seven, he is arguably the best player on their entire team. His 85.1 overall grade ranked him 11th overall among all interior linemen, his 29 run stops tied him for seventh and his 48 QB pressures tied him for 11th. However, aside from Williams, the only other member of the Jets defensive line that finished in the top 30 in any PFF signature stat was Sheldon Richardson's 37 QB pressures – which ranked 29th among DEs. With Darron Lee and Lorenzo Mauldin struggling in their first and second seasons, respectively, the Jets brought back LB Demario Davis from Cleveland, who despite grading with the second highest grade of his career (58.4), only ranked 59th among all linebackers.
19.

Save for Sylvester Williams, each member of the Titans front seven graded at a 76.5 or higher last season, all trailing Jurrell Casey, who for the fifth season in his six career years, graded out above 85.0 on the season. Casey ranked in the top 10 in both run stop percentage (8.2) and pass rush productivity (8.9) among 3-4 defensive ends, while Derrick Morgan and Brian Orakpo finished with PRP's in the top 11 among 3-4 outside linebackers.
20.

Vic Beasley led the league in sacks and Deion Jones impressed with an 83.0 overall grade in his rookie season, good enough for 20th among all linebackers. Both player still have room to improve and get even better in 2017. LB De'Vondre Campbell struggled in both pass and rush defense, finishing with the 20th, out of 34, in tackle efficiency, missing six tackles last season, three in each run and pass defense. Grady Jarrett ranked 18th among defensive tackles with his 18 run stops a season ago, but his run stop percentage was good enough for just 32nd, and he may have a new lease of life with Dontari Poe alongside him in the middle this year.
21.

Terrell Suggs is another aging veteran who is still playing at a high level for the Ravens, as he finished 2016 with a 78.3 overall grade, 39th among edge defenders. This marked the eighth season he has graded at a 78.0 or higher. C.J. Mosley had a great year among the Ravens LB corps and Michael Pierece (second) and Brandon Williams (11th) each impressed against with their run stop percentages of 12.5 and 9.9, respectively. However, Baltimore is young and inexperienced elsewhere on their front seven after losing Timmy Jernigan, as only Albert McClellan played enough snaps last season to qualify for a position rank with his 42.3 overall grade – 99th among edge defenders.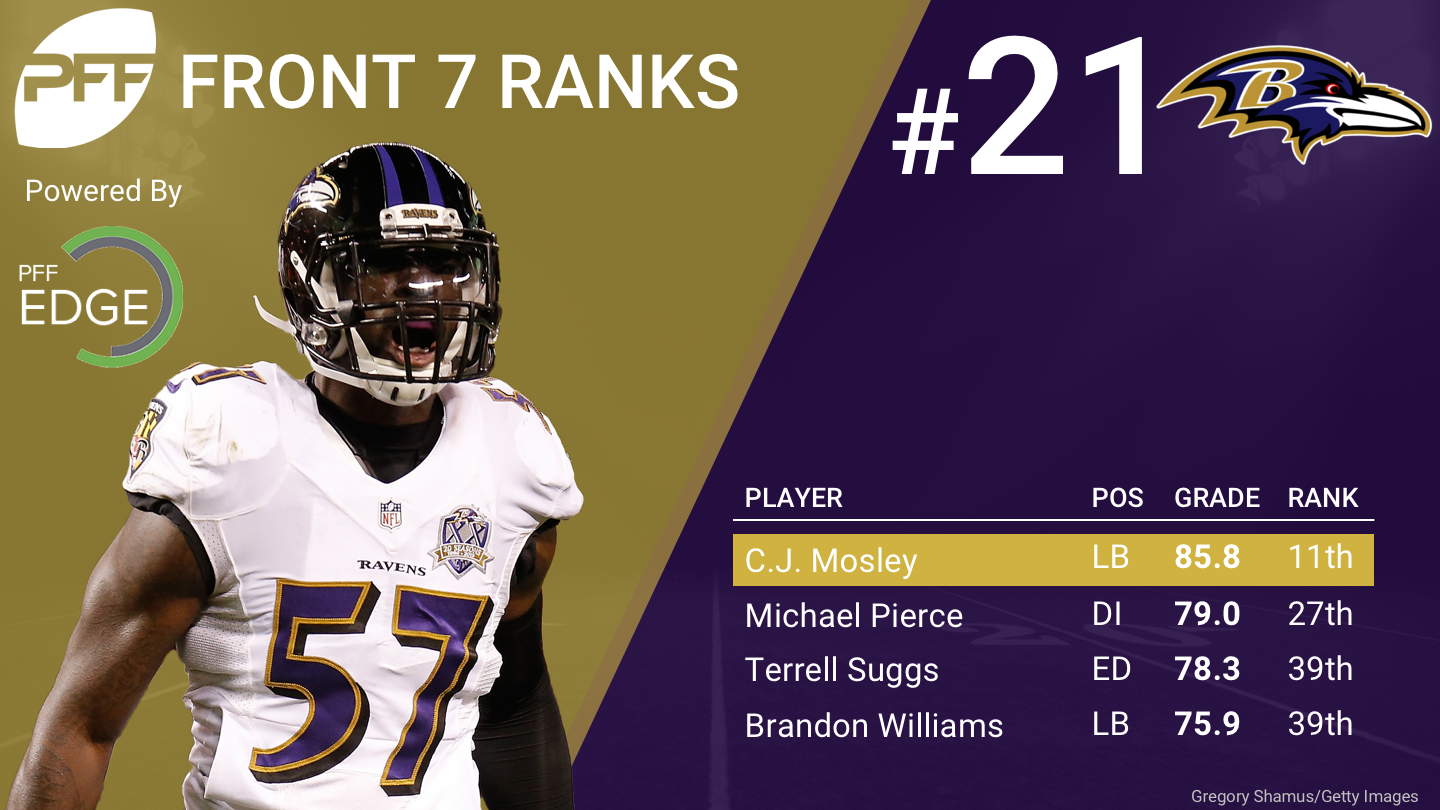 22.

DT Gerald McCoy may be one of the game's best interior defenders and DE Robert Ayers had the fifth most QB pressures among 4-3 defensive ends along the right side of the D-line last year. The Bucs also brought in former Redskins DI Chris Baker to draw attention away from McCoy. If LBs Kwon Alexander (22 missed tackles) and Lavonte David (13 missed tackles) can cut down the missed tackles, this front seven unit could certainly rise from 22 next season.
23.

The Bengals are solid at seemingly four of their front seven positions. Geno Atkins, Vincent Rey, Vontaze Burfict and Carlos Dunlap all graded at an 83.7 or higher last season, and each ranked in the top 15 of their respective positions. Cincinnati brought in LB Kevin Minter from Arizona who had a career-year as they'll hope he can keep that up. Outside of the aforementioned players is where the Bengals struggle. Michael Johnson graded out as the 105th ranked edge defender, out of 109 qualified EDs. Wallace Gilberry and Pat Sims who each finished with their worst, and second-worst graded seasons, respectively, last year. Can one of their rookies or second-year players emerge for Cincinnati?
24.

With a full season in Cleveland, LB Jamie Collins could improve this Browns front seven. Oh, and throwing in No. 1 overall pick Myles Garrett in there could also help. Collins ranked in the top 12 in both run stop percentage and pass rush productivity among 4-3 OLBs last season, in just his time in New England alone. Christian Kirksey signed an extension with the team after an impressive 2016 season, and DT Danny Shelton rounds out the standouts on the Browns front seven as he finished with the second most run stops (39) behind Giants' Damon Harrison from the DT spot. Emmanuel Ogbah, Tank Carder and Desmond Bryant should see extended playing time this season as only Ogbah qualified for a ranking with his overall grade of 44.2 – 94th overall among edge defenders.
25.

The Bills may see a bump in their rankings, if second-year LB Reggie Ragland can return to his form that got him drafted in the second round of the 2016 NFL draft. Ragland missed all of last year with a torn ACL he suffered in training camp last season. DT Marcell Dareus had another consistently good season, as he was one-of-six defensive tackles to log 200 or more snaps in run defense, and not miss a single tackle against the run. Kyle Williams has proven age is not a factor for him, finishing with his ninth season in a row finishing with a grade 73.2 or higher. The loss of Zach Brown and the recent arrest of Adolphus Washington will hurt the Bills front seven, and the questions remain to be answered on whether Ragland can fill that void.
26.

There's a reason the Cowboys drafted Michigan standout Taco Charlton in the first round, and they'll hope he can wreck havoc on opposing QBs in the NFC East, which they were unable to do last season, grading as our 24th ranked team in terms of pass rush. While Sean Lee headlines the Dallas front seven finishing as the fifth highest graded linebacker, the rest of the Cowboys finished with average grades, which is just that, average. David Irving generated a good pass-rushing force, but struggled in run defense with just 9 run stops, and will miss four games this year, and Anthony Hitchens was great when he rushed the passer (seven pressures on just 19 pass-rush snaps) but finished just 33rd among inside linebackers with his 8.3 percent run stop percentage.
27.

The loss of Chris Baker should be immediately filled by big Jonathan Allen who returns home to the greater D.C. area. LB Zach Brown comes in from Buffalo after a career-high 84.1 overall grade that ranked him 17th among linebackers. Mason Foster and Ryan Kerrigan are solid members of the Redskins front seven, but they lack depth. Ziggy Hood and Preston Smith each failed to crack the top 2/3rds of their position rankings, and can Stacy McGee keep up his play from last year after missing seven of the final 10 games? The questions rise among the Washington front seven after Brown, Foster and Kerrigan.
28.

LB Jerrell Freeman might as well have been an added defensive back for the Bears in 2016. His coverage grade of 94.9 was the highest among any defensive position last season, all the while grading out as the best LB in the NFL last year. One player along your front seven isn't nearly good enough to limit opposing offenses however as behind Freeman and DI Akiem Hicks, no Chicago defender finished with a grade in the top 30 of their position last season. LB Danny Trevathan was good against the run, but struggled with six combined missed tackles last season. Edge defender Leonard Floyd created a QB pressure every other 11th snap, but ranked 43rd in run stop percentage among 3-4 outside linebackers.
29.

The Saints front seven is a mix of veterans and unproven youngsters, who got even more inexperienced when they lost Nick Fairley earlier this offseason due to a medical condition. Returning to possibly give the Saints some hope along the front seven is Cameron Jordan, who tied for fourth in terms of the most pressures accumulated last season among all edge defenders. New Orleans will have to hope for some extended high-level play from vets Dannell Ellerbe or Craig Robertson, or hope that rookie Alex Anzalone or second-year man Sheldon Rankins can breakout this season.
30.

Ezekiel Ansah and Kerry Hyder highlight the Lions front seven as bookend defensive ends, however neither of them cracked the top 30 in pass-rushing productivity among edge defenders last season. DI Haloti Ngata saw a career-low grade of 47.8 last year – his career low by almost 30.0 points. Detroit fans will bank on rookies Jarrad Davis and Jalen Reeves-Maybin making immediate impacts this season for help along the front seven.
31.

The Colts had 10 players see more than 125 snaps at linebacker last season, and with Erik Walden and Robert Mathis no longer around, Indianapolis will search for consistency along their LB corps. Former Buckeyes Jonathan Hankins and John Simon will each look to increase their grades from a year ago, but for different reasons. Hankins saw a career-low grade of 47.1 and Simon will hope to continue to increase his overall season grade for the fifth consecutive year. Can this unit meld together and perform on a consistent basis in 2017?
32.

The 49ers will be the darkhouse candidate for possibility of most improvement this year. They'll be banking on rookies Solomon Thomas and Reuben Foster, each first round picks, while San Francisco will also hope for a re-emerging season from edge defender Aaron Lynch. With the ageless veteran Elvis Dumervil and Navorro Bowman guiding them, this team could be solid on the front seven. Key word, could, as we just don't know yet.