CHICAGO, IL - SEPTEMBER 24: Jordan Howard #24, Cody Whitehair #65 and Willie Young #97 of the Chicago Bears celebrate after defeating the Pittsburgh Steelers 23-17 at Soldier Field on September 24, 2017 in Chicago, Illinois. (Photo by Joe Robbins/Getty Images)
PFF's extensive database of information grows ever deeper, and at times we like to dip into the data we provide to NFL teams, here to give some zone blocking rankings.
PFF records run concepts for every carry in the NFL, separating these into a series of concepts with various modifiers that allow teams to easily sort these plays and gain insights on team tendencies and expedite their tape study.
For these purposes, we will be cutting all of that information down and just focusing on zone blocking. All teams employ some level of zone blocking in today's NFL. Gone are the days where teams ran exclusively man or 'gap' run concepts, and even the lowest team on this list has run almost 50 plays of zone blocking so far this season, but the differences are in how frequently teams run it, and the division of inside and outside zone.
So here is how much each team has run zone blocking, ranked from the most to least in percentage terms: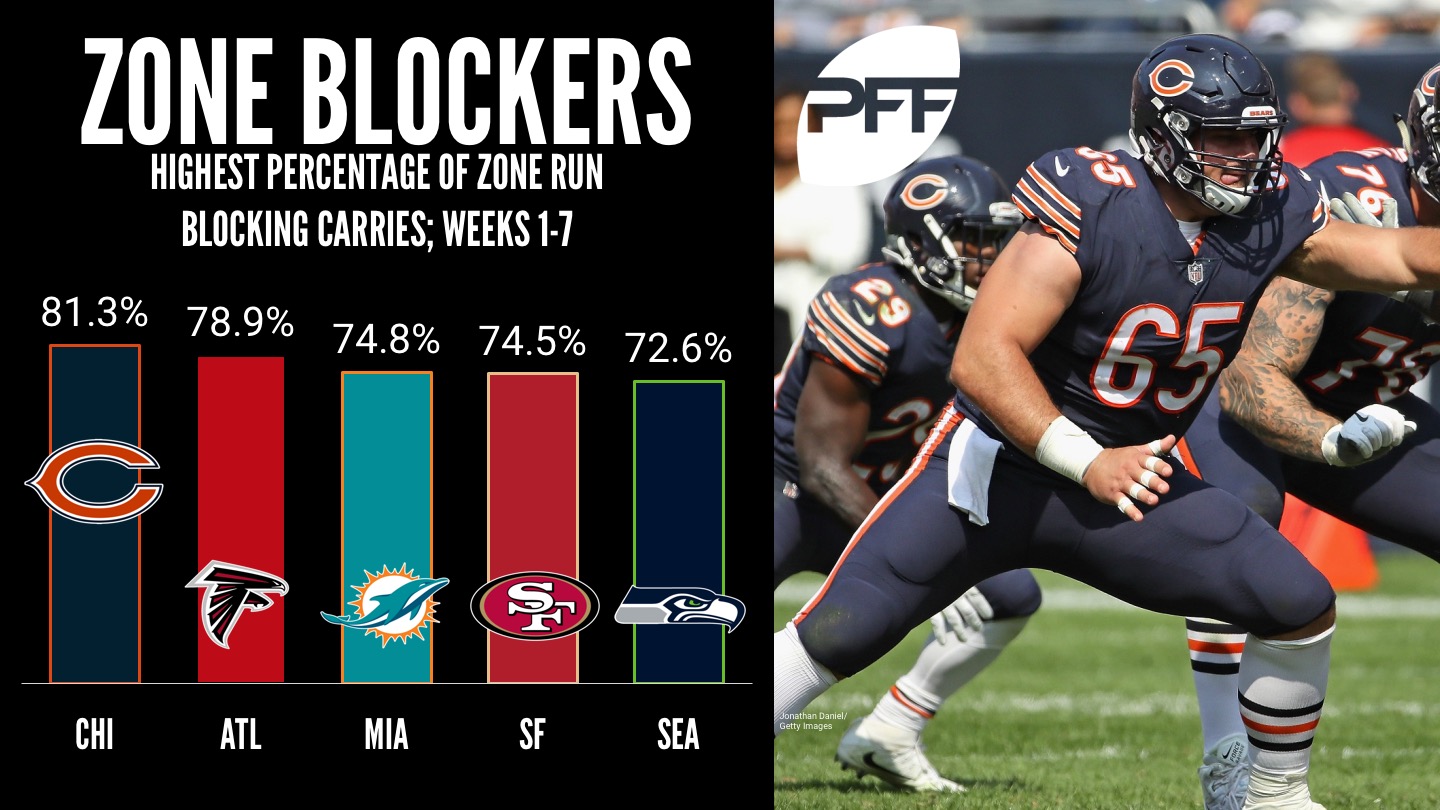 Zone Blocking Percentage: 81.3 percent
Primary Zone Concept: Outside Zone (57 percent of zone plays)
No team runs more zone blocking than the Chicago Bears, who use outside zone in particular heavily with Jordan Howard a punishing downhill runner able to find holes and knock off big gains. The Bears have gained 4.2 yards per carry on zone runs, averaging 1.2 yards before first contact, a middle of the pack number.
Zone Blocking Percentage: 78.9 percent
Primary Zone Concept: Outside Zone (62.5 percent)
The Atlanta Falcons have five rushing touchdowns on zone runs, tied for most in the league. They have been a big outside zone team with Alex Mack making that tick in the middle from his center position. The team has gained 5.0 yards per carry on zone runs, second best average in the league.
Zone Blocking Percentage: 74.8 percent
Primary Zone Concept: Inside Zone (58.2 percent)
The Dolphins have used a lot of zone blocking this season with their running plays, but they haven't had a huge amount of success from it. They have averaged 3.4 yards per carry on those runs, and just 0.8 of those yards have come before contact, with Jay Ajayi making the majority of his own production.
Zone Blocking Percentage: 74.5 percent
Primary Zone Concept: Outside Zone (56.1 percent)
The 49ers have used a lot of zone runs, as would be expected with new head coach Kyle Shanahan's offense in town this season. They have been pretty balanced though between the zone concepts they have used, and not just run outside zone all day long. On zone runs they have gained 4.4 yards per carry, and 1.7 of those before first contact.
Zone Blocking Percentage: 72.6 percent
Primary Zone Concept: Outside Zone (60.4 percent)
The Seahawks have run zone run concepts on 72.6 percent of their carries, with 60.4 percent of those being outside zone, but because of their poor offensive line they haven't been too successful. They have gained 3.2 yards per carry on their zone runs, which is 28th in the NFL, with 14 first down runs coming from zone blocking.

You must have PFF Edge to continue reading...