All season long, PFF will be tracking the rookies around the league to keep tabs on the race for Rookie of the Year. Below is our weekly check-in after the Week 3 games. Who is out in front in the race?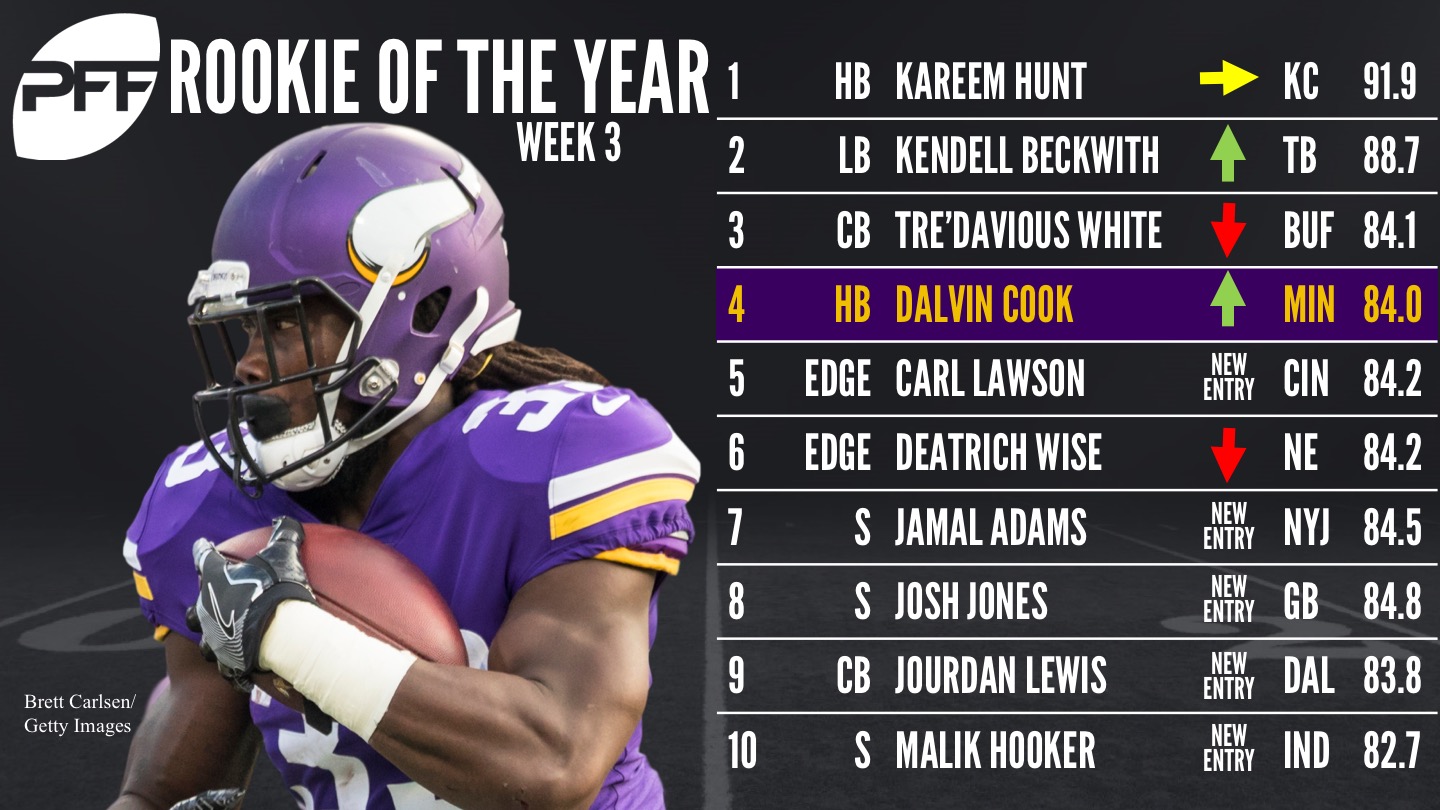 PFF Grade: 91.9
Elite Stat: Hunt leads all running backs with a 173.0 elusive rating (a runner's success beyond the point of being helped by his blockers).
Shouldn't come as a surprise that Hunt has topped this list now for the third consecutive week to start the season. Kansas City's electric halfback leads all backs in overall grade and his 88.3 rushing grade is also best among his peers. Hunt leads all backs in averaging 4.21 yards after contact per carry and his missed tackle rate of 2.4 (he's forcing one missed tackle for every 2.4 times he touches the ball) also ranks first as well.
PFF Grade: 88.7
Elite Stat: Beckwith ranks eighth among all linebackers with a 12.2 run stop percentage.
Beckwith made his debut on this list last week and another strong performance last weekend against the Minnesota Vikings has seen him rise up to the number two spot. Beckwith's overall grade ranks third among all linebackers while his 87.7 run defense grade ranks second. With both Kwon Alexander and Lavonte David dealing with injury, Beckwith's strong start has been especially encouraging for the Buccaneers defense.
PFF Grade: 84.1
Elite Stat: Opposing quarterbacks have a 53.9 passer rating when targeting White's receiver in coverage, the 16th-lowest among 107 qualified cornerbacks.
Three weeks into the season and White has shown tremendous all-around play. His 83.8 coverage grade ranks ninth among cornerbacks and his 74.7 run defense grade ranks 30th, making him just one of four cornerbacks to rank within the top 10 in terms of coverage grade and in the top 30 in terms of run defense grade. White is one of 25 cornerbacks to have recorded multiple run stops so far this season and he leads all cornerbacks with a 33.3 percent playmaker index (interceptions plus pass breakups, divided by targets into his coverage).
PFF Grade: 82.3
Elite Stat: Cook has four runs of 15-plus yards this season, tied for the second most among HBs.
Cook ranks fourth among running backs in terms of overall grade and his 87.4 rushing grade trails only Kareem Hunt. As good as Cook has been running the ball (which has been sensational), he hasn't been nearly as good as both a receiver and in pass protection; if he wants to challenge Hunt for the top spot on this list he's going to need to sure up those facets of his game.
PFF Grade: 84.2
Elite Stat: Lawson ranks second among edge defenders with a 19.9 pass rush productivity rating.
Lawson was a machine last season at Auburn when it came to creating pressure on the quarterback, his 62 total pressures were the fifth-most among Power 5 edge defenders and only Derek Barnett had more than him among SEC players. He's shown through three weeks that he didn't leave that aspect of his game back at school, tallying 17 total pressures and earning a great 86.6 pass-rush grade through the first three weeks.
PFF Grade: 84.2
Elite Stat: Wise ranks third among edge defenders with a 18.3 pass-rush productivity rating.
Wise ranks ninth among edge defenders with his 84.7 pass rushing grade and his 13 total pressures are the 14th-most among his peers. Wise is just one of five players to have at least eight quarterback knockdowns (sacks combined with hits) this season, putting him in a group with DeMarcus Lawrence, Calais Campbell, Melvin Ingram and Von Miller.
PFF Grade: 84.5
Elite Stat: Adams has allowed 0.49 yards per coverage snap this season, the lowest rate among all rookie safeties who've seen at least five targets into their coverage.
Adams joins Harrison Smith as one of just two safeties to have grades north of 84.0 in both coverage (84.3) and run defense (86.1) as he's quickly showing the completeness to his game that persuaded the Jets to select him sixth overall. Adams is one of just eight safeties to have recorded multiple pass breakups through three weeks and his three run stops are tied for the 16th-most among safeties.
PFF Grade: 84.8
Elite Stat: Jones ranks third among safeties with a 10.0 run stop percentage.
Jones ranks 11th among safeties in terms of overall grade and his 83.6 run defense grade ranks eighth. Jones is one of just four safeties who rank in the top-10 in terms of run defense grade to have a coverage grade of at least 74.0. Jones has recorded nine total stops so far on defense and is yet to miss a tackle, no other safety has more than five stops without a missed tackle.
PFF Grade: 83.8
Elite Stat: Lewis has allowed 0.82 yards per coverage snap this season, the fourth lowest rate among rookies.
Lewis ranks 11th among cornerbacks in terms of overall grade and he's one of just four cornerbacks to have both a coverage grade and run defense grade north of 80.0, joining Jason McCourty, Trevor Williams and Chris Harris Jr. After sitting out Week 1, Lewis played 65 snaps in Week 2 earning an average grade before going off for an 87.2 overall grade against Arizona on Monday Night Football this past week, a game in which he limited five receptions to just 33 total yards, broke up a pass and recorded four stops.
PFF Grade: 82.7
Elite Stat: Hooker ranks sixth among all safeties who've played at least 100 coverage snaps by allowing just 0.19 yards per coverage snap.
Hooker was a blanket in coverage last season for Ohio State and the Colts' first round pick has been just that so far through the first three games of the season. The 15th overall pick ranks 10th among safeties with an 84.4 coverage grade and he's got more interceptions so far this season (two) than he's allowed catches into his coverage (one).
On the Bubble:
Garett Bolles, OT, Denver Broncos
Marshon Lattimore, CB, New Orleans Saints
Leonard Fournette, HB, Jacksonville Jaguars
Rasul Douglas, CB, Philadelphia Eagles
Takkarist McKinley, Edge, Atlanta Falcons
T.J. Watt, Edge, Pittsburgh Steelers
Chris Carson, HB Seattle Seahawks
Gareon Conley, CB, Oakland Raiders
Dalvin Tomlinson, DI, New York Giants
Tarik Cohen, HB, Chicago Bears