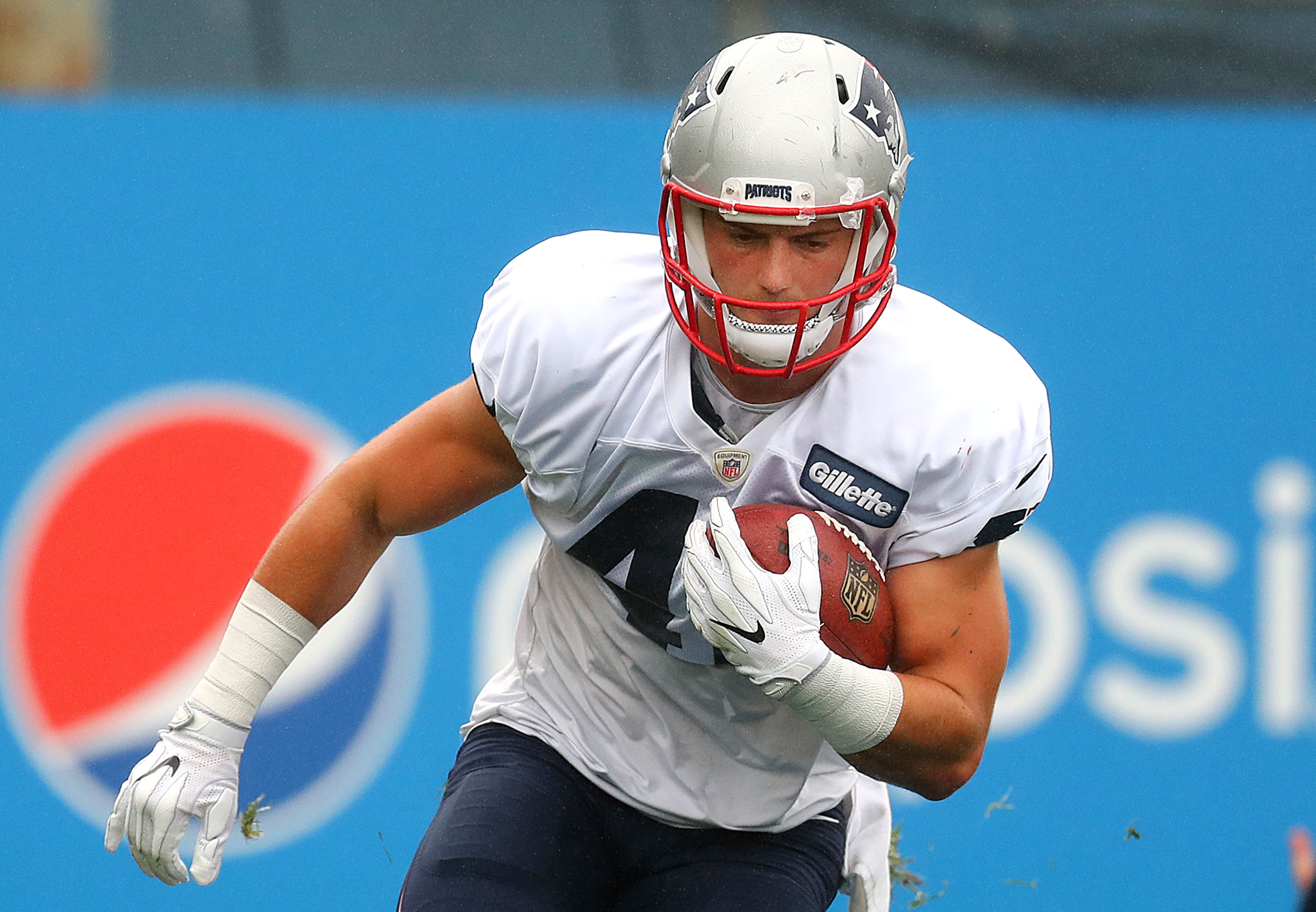 FOXBOROUGH, MA - AUGUST 8: New England Patriots Jacob Hollister carries the ball in a drill during training camp at the Gillette Stadium practice field with the Jacksonville Jaguars in Foxborough, Mass., Aug. 8, 2017. (Photo by John Tlumacki/The Boston Globe via Getty Images)
The second week of the preseason continues with games on Saturday, including one featuring the New England Patriots at the Houston Texans. Teams will be looking to see which players improve on their Week 1 performances and which players really grab hold of important roles. The PFF analysis team has all of the important battles and players to watch in this game:

Coverage by: Andrew Fleischer
O'Shaughnessy brings with him extensive special teams experience, playing 292 of his 406 snaps in 2016 on special teams. He amassed six tackles and two assists as a special-teamer in 2016, and didn't miss a single tackle. He's made some notable plays in camp this week with the Patriots, and stands to get more playing time on offense in Saturday's game against the Texans.
Jacob Hollister lacks in special teams experience, but he more than makes up for it with his skill as a "move" tight end. His play in last week's preseason game against the Jaguars earned him an 87.3 overall PFF grade, first among all tight ends, and the 15th highest grade among all players last week. He took his 52 snaps of opportunity and 32 routes run turned it into seven receptions for 116 yards on seven catchable passes. His 3.63 yards per route run was the fifth highest among all tight ends with at least four snaps in route.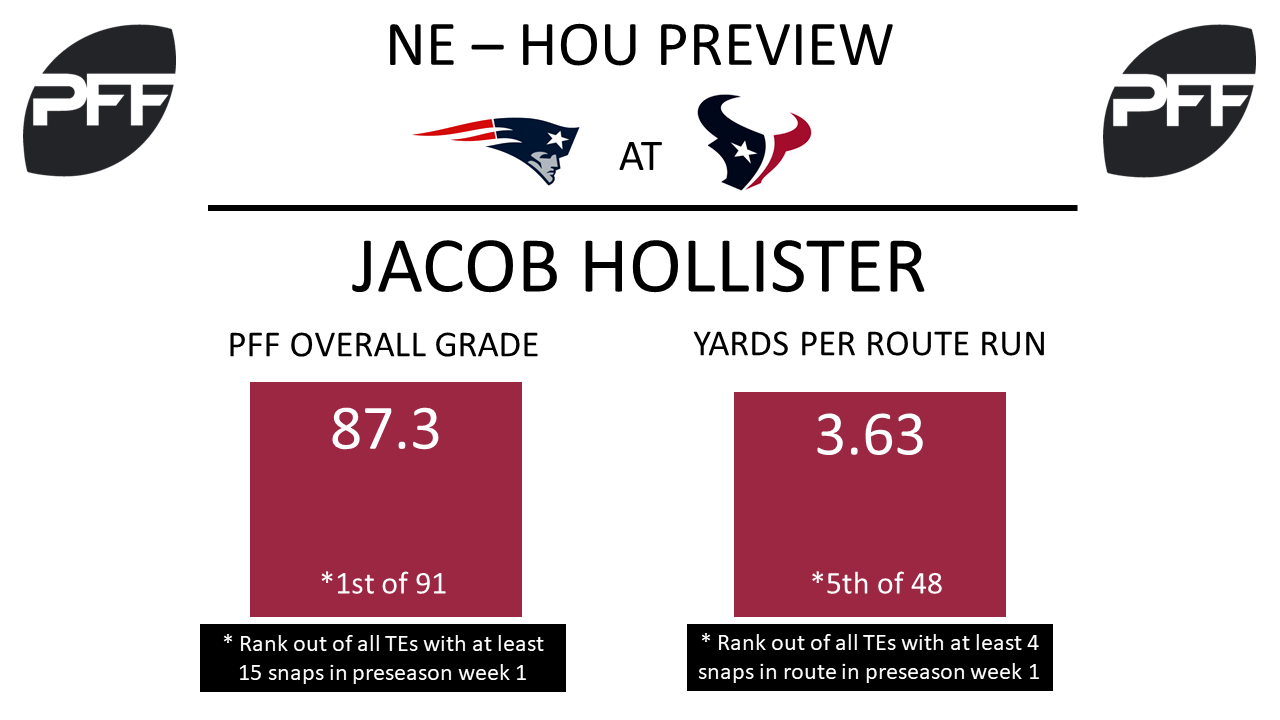 Players to Watch:
Cameron Fleming, T – Flemming should secure the role of primary swing tackle behind the starters. He looks to build on his 2016, which earned him a 71.9 overall grade on nine games at right tackle and four games at left tackle. He got off to good start with his performance the first preseason game with a 74.4 overall PFF grade on 40 snaps, 19th best among 113 tackles with at least 18 snaps.
Rex Burkhead, RB – Burkhead should see an increased workload in the Patriots' second preseason game. Burkhead is expected to see an increased role on offense in New England, and he graded out quite well when he was given the opportunity with the Bengals. He forced 15 missed tackles in his 74 snaps, and his elusive rating of 49.9 was the 21st highest mark out of 68 running backs with at least 50 attempts. In addition, his 3.03 yards after contact per attempt was the 12th-highest mark among the same group.
Harvey Langi, LB – Langi, an undrafted free agent out of Brigham Young University, is a capable pass-rusher, with a pass-rushing productivity rating of 9.1, the 22nd-highest rating out of 44 draft-eligible 3-4 linebackers. Where Langi particularly shines is as a run stopper. In 2016 at BYU, Langi had a run stop on 7.7 percent of his run snaps, the sixth-highest rate out of 32 draft-eligible 3-4 linebackers. Langi had 14 run snaps in the Patriots' Week 1 preseason game, and finished with a run stop, giving him a 7.1 run stop percentage, 13th-best out of 25 3-4 outside linebackers with at least 11 run snaps.

Coverage by: Aaron Resnick
In last week's preseason opener, Savage recorded an overall grade of 66.9 on 19 snaps, while Watson recorded a grade of 65.7 playing 47 snaps. Both fared well when under pressure as Watson had an adjusted completion percentage of 70 percent, while Savage's wasn't far behind at 66.7 percent.
With a clean pocket, Savage had an adjusted completion percentage of 87.5 percent, while Watson's sat at 61.5 percent. At Clemson, Watson had a drastic increase in his adjusted completion percentage when kept clean, so it wouldn't be a surprise if that stat evens out in this one.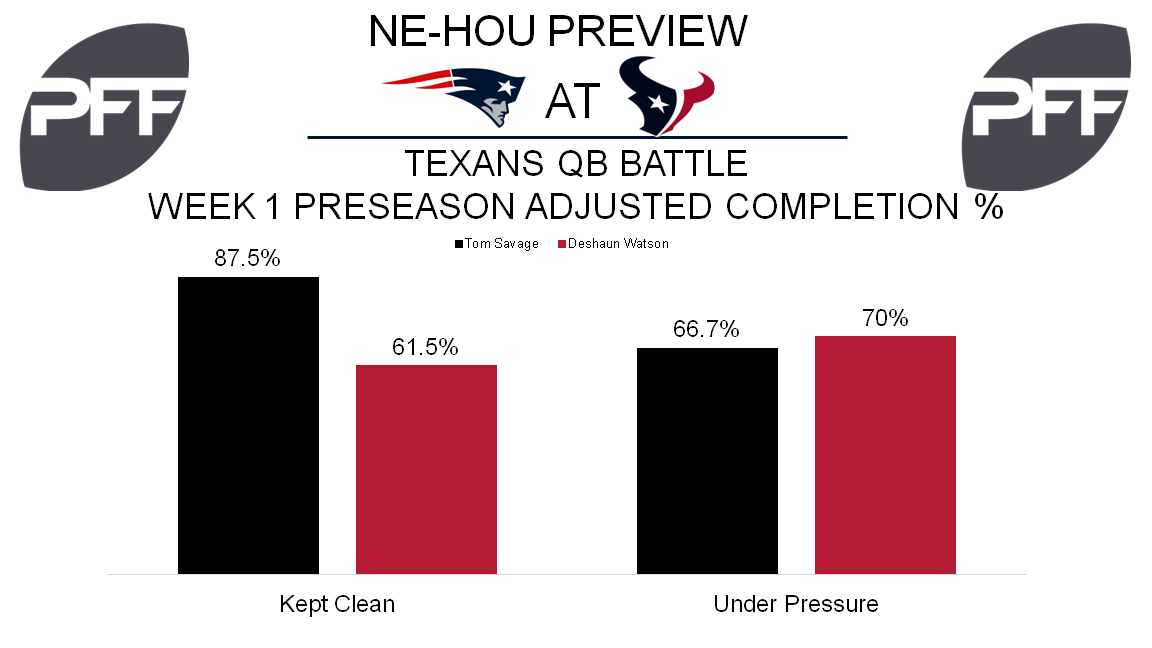 Blue posted an overall grade of 65.7 in 2016, but got off to a nice start in the preseason opener with a game grade of 80.8. On 13 snaps, Blue had five rushes for 33 yards and a touchdown with 19 of those yards coming after contact.
A third round pick this past April, Foreman played 24 snaps and recorded a grade of 79.0. Foreman last week had nine rushes for 76 yards and went on to average over five yards after contact per attempt.
Player to watch:
Corey Moore, S – In 2016, Moore played 501 snaps and his overall grade of 74.4 ranked 55th among safeties. Currently listed as the starting strong safety on the Texans' unofficial depth chart, Moore made the most of 32 snaps in the preseason opener. Against the Panthers Moore recorded a grade of 81.2, and excelled in coverage. In 16 coverage snaps, Moore was targeted twice but did not allow a reception and even hauled in an interception at the end of the first half.Moore's coverage grade of 73.9 in 2016 ranked 43rd among safeties, so it will be interesting to see if this past week was an anomaly or a sign of things to come.