After each week of the NFL regular season, and once our exhaustive All-22 review processes are in the books, PFF will be bringing you the insights from our play-by-play grading of every NFL game with our Team of the Week.
The team format will match the improved All-Pro system when it comes to offensive and defensive formation, with a flex player for both sides of the ball that can be either a receiver, slot weapon, tight end or running back on offense, and anybody in the defensive secondary on defense. This gives us the flexibility to reward the player that best deserves it across multiple positions, rather than shoehorning in somebody just to fit a slot receiver or cornerback role.
We lend some weight to playing time, and a variety of factors are considered, but these will largely be the best-graded players at their respective positions throughout the league. This year, our Team of the Week will be coming out before Monday Night Football has been played, featuring the best performances from the Thursday Night and Sunday games. In the occurrence that a performer on Monday night is worthy of a spot on the team, this list will be updated and those with standout performances from the weekend will still be appreciated.
Check out all of our regular season advanced statistics and information including every player's grade with PFF Elite and Premium Stats 2.0.

Offense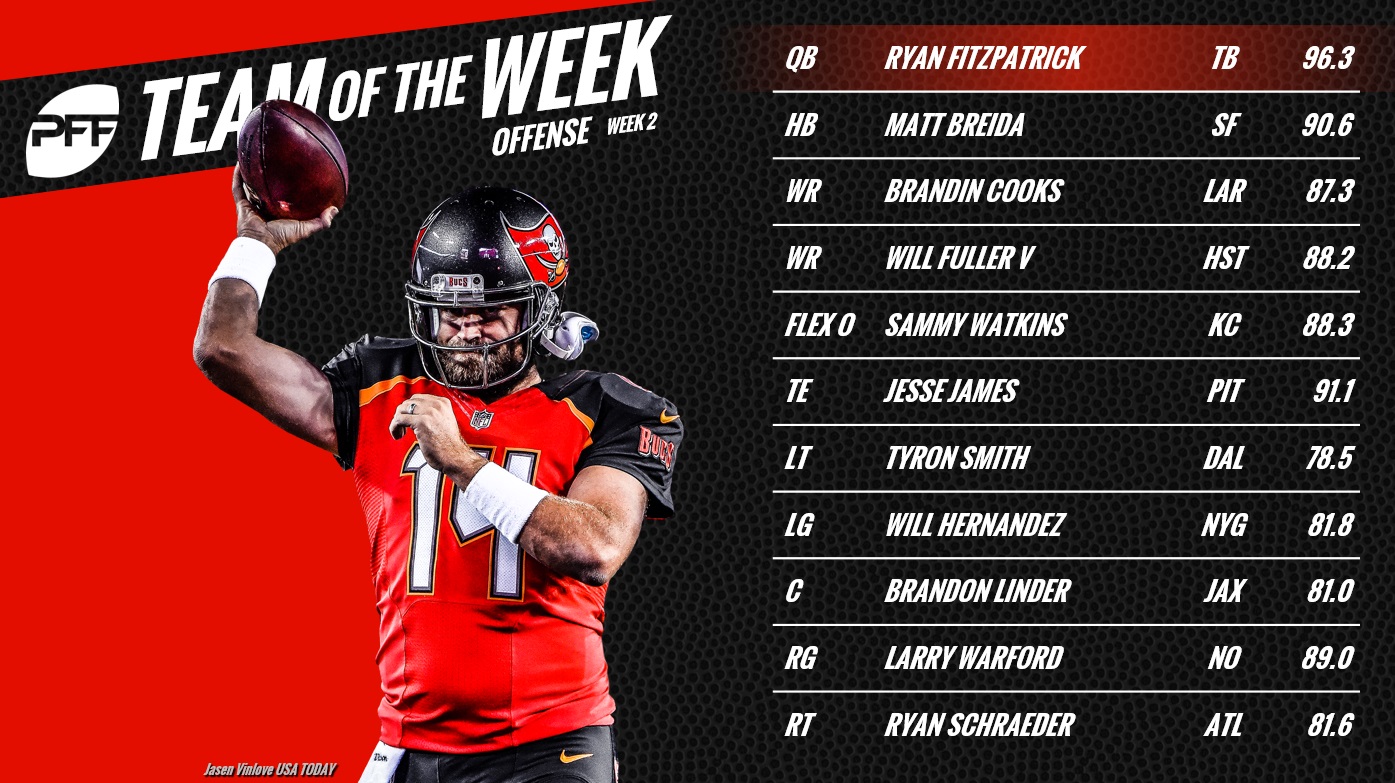 Quarterback
For the second consecutive week, Fitzpatrick makes our Team of the Week, this time on the back of an incredibly solid effort against the defending Super Bowl Champion Philadelphia Eagles. He completed 27-of-33 passes for 402 yards and four touchdowns with four big-time throws to tie for the NFL lead in Week 2. He didn't throw a turnover-worthy pass all game long and after two weeks of play, Fitzpatrick is the NFL's highest-graded quarterback with a 98.8 overall grade.
Running Back
Breida delivered one of the top runs of the day, reading his blocks perfectly on a 66-yard touchdown scamper against the Lions. From 11 carries on the day, he forced two missed tackles and averaged 5.0 yards after contact per carry.
Wide Receiver
Cooks might not have found the end zone but he still had a huge day. He led all wide receivers with an average of 4.68 yards per route run on the afternoon, picking up 159 yards from 34 routes run. From the seven catchable passes thrown his way, he caught every single one.
Wide Receiver
Fuller has had his issues with drops in his career so far but he caught all eight catchable targets thrown his way against the Titans. That included a 39-yard touchdown that highlighted the big-play ability he was drafted for and something the Texans need more of in 2018.
Tight End
The tight end position for our Team of the Week would have to come from the highest-scoring game of the week. James made a huge impact as a receiver, leading all tight ends with an average of 4.93 yards per route run.
Flex Offense
Another player from the Steelers-Chiefs tilt to make our Team of the Week on offense, Watkins made an impact as a receiver and with a long run. He finished the day averaging 3.45 yards per route run, the third most of any wide receiver this week.
Left Tackle
Smith has struggled with injuries over the past two seasons so it's a welcome sight to see him back in the Team of the Week. From 27 pass-blocking snaps, Smith didn't allow a single sack, hit or hurry, locking down the left side of the offensive line.
Left Guard
Hernandez allowed a sack and a hurry in pass protection, but the reason he makes the Team of the Week is that he showed off the dominant run-blocking we saw from him in college at UTEP. Impressive on double teams and moving to the second level, this was the type of performance the Giants were hoping for when they drafted him.
Center
Linder might have allowed a hurry in pass protection but that was the only blemish on his day in that regard. As we've seen from him before, he was impressive at the second level, sealing off Patriots linebacker Elandon Roberts numerous times.
Right Guard
Warford had a big preseason for the Saints and showcased that ability in the comeback win over the Browns this week after struggling in Week 1. From 42 pass-blocking snaps, Warford didn't allow a single sack, hit or hurry.
Right Tackle
Schraeder allowed just one hurry from 33 pass-blocking snaps but didn't allow a single sack or hit. He was dominant as a run-blocker, creating plenty of room for the Falcons running game. On four runs between right guard and right tackle, the Falcons averaged 9.3 yards per carry.
Defense
Edge Defender
Miller missed being on our Team of the Week last week by mere decimal points in our grading, but he earns a spot this week. He racked up a sack and two hurries as a pass-rusher, making his presence felt early and often for Raiders QB Derek Carr.
Interior Defensive Lineman
This was vintage Donald, with the Rams star defender racking up a hit and three hurries as a pass-rusher. He also made an impact against the run, with all four of his tackles resulting in a defensive stop.
Interior Defensive Lineman
Atkins was the star of the show on Thursday Night Football, making life miserable for the Ravens offense all night long. On the night, he racked up two sacks, two hits and five hurries as a pass-rusher, getting up close and personal with quarterback Joe Flacco time and time again.
Edge Defender
Ngakoue had plenty of success against the Patriots, coming away with two pressures and numerous other wins in the passing game. He also made a nuisance of himself against the run, beating his man to take up the lead blocker on one occasion and winning outside into the running lane on another.
Linebacker
Leonard was all over the field for the Colts this week and despite the fact that he allowed 16 receptions, they went for an average of 8.6 yards per catch. He finished the game with 15 tackles, with six of those resulting in a defensive stop.
Linebacker
Transitioning to linebacker with the Chargers, White is clearly taking to the move well, earning a spot in our Team of the Week. Showing off his ability as a playmaker, he had a pass breakup and an interception in coverage.
Cornerback
Targeted five times in coverage, Smith allowed just one reception for a mere two yards against Philadelphia. He also came away with three pass breakups and finished the game having allowed a passer rating of 39.6 on throws into his coverage.
Cornerback
Along with a pick-six that was ultimately the difference in the game, Amukamara enjoyed a stellar night throughout in coverage. From the seven passes thrown his way, he allowed just three receptions for 36 yards, resulting in a passer rating allowed of just 19.6.
Safety
Known more for his physical style of play rather than his ball skills, this was one of the top-graded performances we've ever seen from Swearinger in coverage. While he did allow three receptions for 21 yards, including a touchdown, he also came away with two interceptions, matching his total for the past eight games.
Safety
Evans was a standout in coverage in the Buccaneers win over the Eagles and while he allowed two receptions on throws where he was the primary defender in coverage, he also had two pass breakups. A second-round draft pick in 2017, this was the highest-graded game of his career so far.
Flex Defense
Talib has been everything the Rams expected and more so far, and didn't allow a single reception against the Cardinals. Of the three passes thrown into his coverage, Talib broke up two on his own, and like Smith allowed a passer rating of 39.6 on his targeted passes.
Special Teams
Kicker
On a day to forget for kickers around the NFL, Succop delivered all that the Titans asked of him. He connected on both field goals and both extra points, delivering the kind of consistency some teams around the league sorely lacked.
Punter
The rookie from Alabama had a big day for the Packers, averaging 5.1 seconds of hang-time per punt. With a long of 63 yards, Scott averaged 45.2 net yards per kick and saw three of his punts land inside the Minnesota 20-yard line.
Kick/Punt Returner
The 49ers kick returner took the opening kick of the second half all the way back for a score… with one slight problem. A face-mask penalty by Reed prevented the score, but even taking that into account it was still the longest return of the day.
Special Teamer
It was an eventful week for special teams in the NFL, but while the focus was on kickers who missed, our top player in the third phase was one of the players impacting the stat line for kickers. Barrett made a key contribution to the Broncos win over the Raiders, blocking a PAT.