Oakland Raiders
Pass Game Supporting Cast – Tier 4
Overall Team Supporting Cast – Tier 3
[Editor's note: The Supporting Cast metrics measure performance of players other than the quarterback, utilizing PFF grades and clustering analysis to group them into tiers from best (Tier 1) to worst (Tier 4). Passing Game Supporting Cast is indicative of supporting players contributing more to passing stats while Overall Team Supporting Cast includes other portions of team performance as well. For more information on support cast rankings, listen in weekly to the PFF Forecast podcast.]
A product of falling drastically below expectations, Oakland Raiders owner Mark Davis replaced coach Jack Del Rio, who was just 10 months into a four-year contract extension, with longtime family friend and Super Bowl-winning coach Jon Gruden early this offseason. While the transition doesn't have as many moving parts as a complete roster rehaul, the impact of Gruden's return to Oakland has been profound.
As expected when one receives a 10-year, $100-million contact, Gruden has been handed the keys to the car that is the Raiders' franchise, and Davis isn't setting any speed limits. In addition to hiring all of his own coaches, installing a new offensive playbook and preparing to call its plays, Gruden has had a large influence and likely the final say on all of the team's roster decisions – both in free agency and the 2018 NFL Draft. Such responsibilities were previously split between Del Rio, his coaches and former Executive of the Year Reggie McKenzie, but the power has since shifted significantly in Gruden's direction.
With Gruden pulling all of the strings, little to no love was shown to some of the former organization's then-pending free agents (T.J. Carrie, NaVorro Bowman, Denico Autry) on the Raiders' roster, and as a result, a bevy of outside hires, most of them older veterans, were made to fill the gaps. Oakland signed a total of 18 veterans throughout free agency, including RB Doug Martin, WR Jordy Nelson, CB Rashaan Melvin and LB Tahir Whitehead.
New faces making impacts
Of the 18 new signings, Nelson and Melvin are two new faces expected to take on marquee roles on either side of the ball. Nelson will likely step in as the No. 3 wide receiver in terms of targets behind incumbent Amari Cooper and Martavis Bryant, who Oakland traded a third-round pick for during this year's draft. Melvin will be tasked with repeating his breakout year he had last season in Indianapolis as the defense's outside cornerback opposite of second-year Ohio State product Gareon Conley.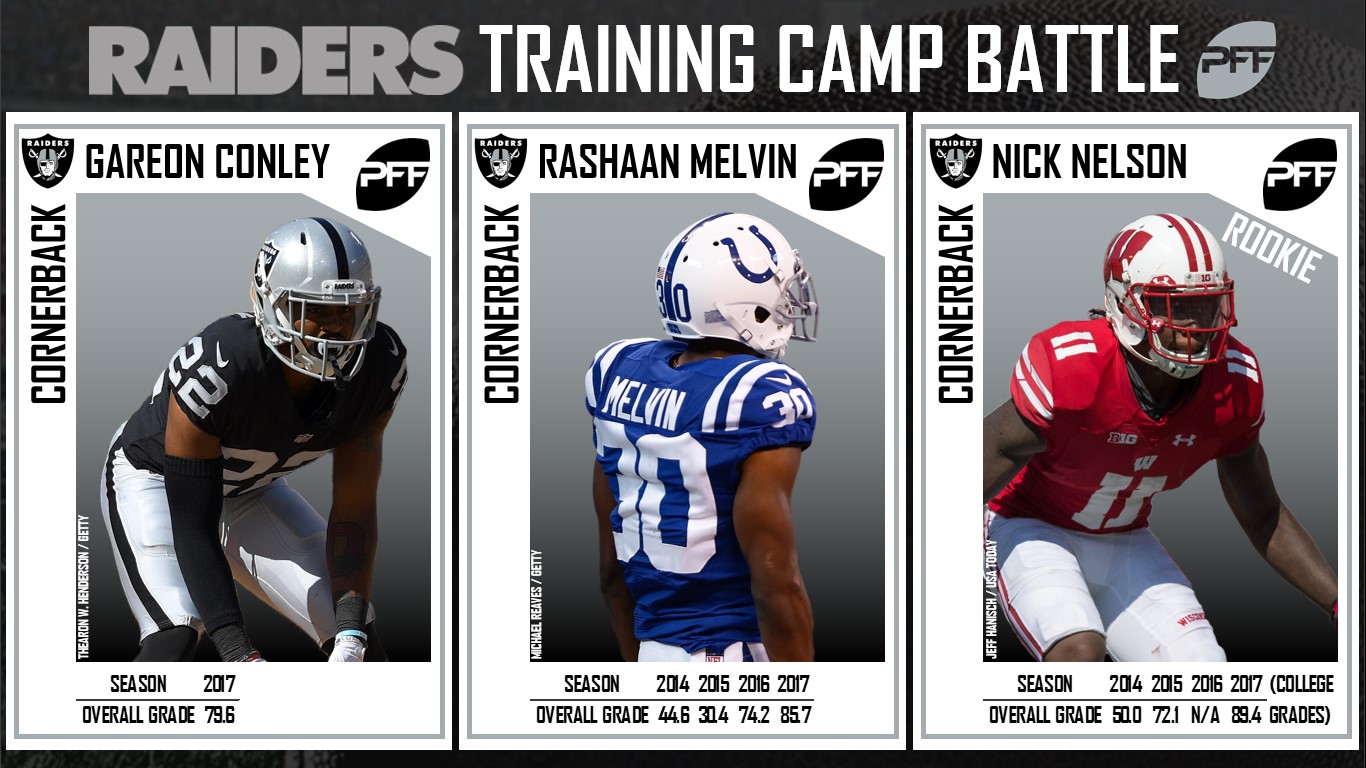 Nelson is coming off a bit of a down year (74.9 overall grade) compared to previous seasons, but at least some of the blame can be shifted to Aaron Rodgers' injury-plagued year and his backup Brett Hundley struggling in Rodgers' absence. The 33-year-old receiver caught 19-of-28 targets for 230 yards and six touchdowns through the first five weeks of the season with a healthy Rodgers at the helm, ranking 14th in passer rating when targeted (117.6) among qualifiers. Nelson however, dropped to 90th in passer rating when targeted (34.2) in Weeks 6-17, hauling in only 34-of-56 targets for 252 yards and no touchdowns while five of his targets were intercepted.
Opposite to Nelson, Melvin put together an outstanding, consistent 2017 campaign with the Colts, leading to career-high marks nearly across the board. He earned an 85.7 overall grade and allowed a passer rating of just 60.3 on the year, logging three interceptions in the process.
High-risk, high-reward acquisitions
Gruden continued to add to the Raiders' roster in the draft, opting for high-risk, high-reward players through nearly all seven rounds of the 2018 NFL Draft.
First- and third-round offensive tackles Kolton Miller and Brandon Parker both step onto the NFL scene with notable flaws in their respective technique, but the duo, both standing at 6-foot-7 or above, have potential, given their overall size and length. Slotted as our No. 7 overall tackle prior to the draft, Miller will have the first shot at a starting spot at right tackle, while Parker will compete behind him and likely fall into a depth role barring any injuries to the rest of the team's offensive tackles. Miller earned an 87.2 overall grade and ranked 17th in the class in pass-block efficiency (97.8) with UCLA last season.
Gruden's gambles late in the third round and early Day 3, perhaps even more so than his earlier picks, have strong chances to contribute positively as rookies in 2018. Former Michigan interior defensive lineman Maurice Hurst (Round 5), Wisconsin cornerback Nick Nelson (Round 4) and LSU edge Arden Key (Round 3) all have significant potential as prospects if they can manage to stay on the field. Hurst (heart) and Nelson (meniscus) both have legitimate injury concerns entering Year 1 of their careers, and Key has a mix of injury history (shoulder) and off-field concerns that kept him off his game at LSU following him to the NFL.
Of the three, Hurst stands out as a Week 1 starter with Pro Bowl potential. Though a bit undersized (6-foot-1, 292 pounds), Hurst earned the highest overall grade (96.3) we've awarded to an interior defensive lineman since we started grading college games in 2014 with the Wolverines in 2017. He also ranked third in pass-rush productivity (12.1) among qualifiers at his position that entered the 2018 NFL Draft.
For more on Hurst and the Raiders 2018 NFL Draft class as well the rest of the class – it's not too late to grab the 2018 Draft Guide with grades, prospect profiles and much more  –

Bottom line
The Raiders' surplus of new additions, including Gruden himself, will surely be determining factors in the team's overall success in 2018, but it will be the core returners that will make or break the season.
Four-year veteran quarterback Derek Carr notably regressed this past season after putting together an MVP-caliber season in 2016, as his overall grade dropped from 87.3 to 77.7 largely due to his play under pressure. Carr recorded a 40.8 passer rating under pressure in 2017, ranking 37th among quarterbacks with at least 62 pressured dropbacks. He will need to pick up Gruden's offense in a hurry and return to his 2016 form to give Oakland a fighting chance at the playoffs.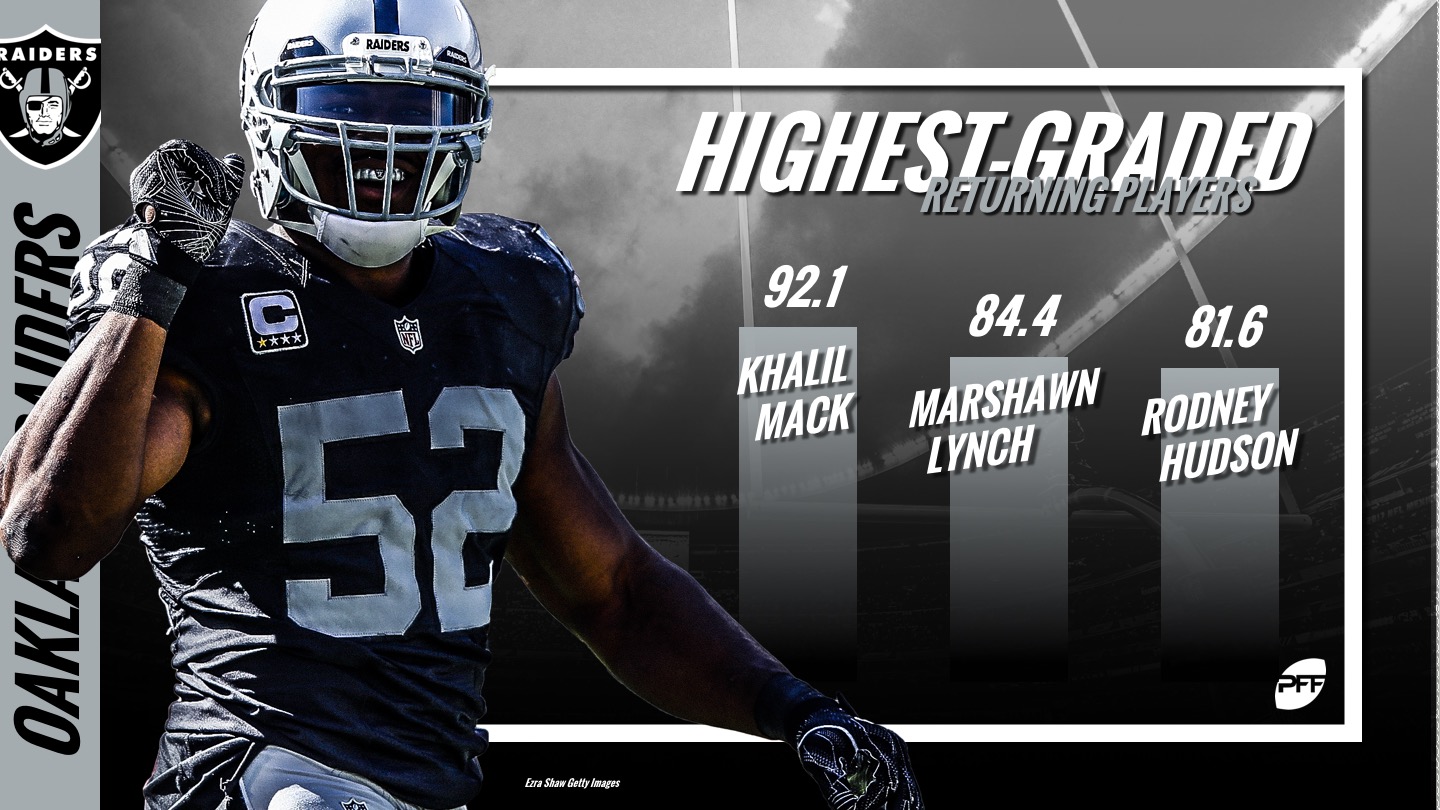 Star edge defender Khalil Mack, easily the Raiders' best-performing player over the past four seasons, needs to be on the field if the defense is going to move in a positive direction, and that starts with signing the former Defensive Player of the Year to a long-term, well-deserved deal. Mack has earned elite overall grades (90.0-plus) in each of the past three seasons, and his statistical production from both a run-defense and pass-rushing perspective is nearly irreplaceable.

POSITION BATTLES TO WATCH
2018 PFF NFL Training Camp Previews
---
Arizona Cardinals | Atlanta Falcons | Baltimore Ravens | Buffalo Bills | Carolina Panthers | Chicago Bears | Cincinnati Bengals | Cleveland Browns | Dallas Cowboys | Denver Broncos | Detroit Lions | Green Bay Packers | Houston Texans | Indianapolis Colts | Jacksonville Jaguars | Kansas City Chiefs | Los Angeles Chargers | Los Angeles Rams | Miami Dolphins | Minnesota Vikings | New England Patriots | New Orleans Saints | New York Giants | New York Jets | Oakland Raiders | Philadelphia Eagles | Pittsburgh Steelers | Seattle Seahawks | San Francisco 49ers | Tampa Bay Buccaneers | Tennessee Titans | Washington Redskins