Denver Broncos
Pass Game Supporting Cast – Tier 4
Overall Team Supporting Cast – Tier 3
[Editor's note: The Supporting Cast metrics measure performance of players other than the quarterback, utilizing PFF grades and clustering analysis to group them into tiers from best (Tier 1) to worst (Tier 4). Passing Game Supporting Cast is indicative of supporting players contributing more to passing stats while Overall Team Supporting Cast includes other portions of team performance as well. For more information on support cast rankings, listen in weekly to the PFF Forecast podcast.]
The last time the Denver Broncos found themselves in the cellar of the AFC West, Philip Rivers, Matt Cassel and Jason Campbell were the quarterbacks they were looking up at in the standings. But with a 5-11 record, that is exactly where the 2017 Broncos ended up once again. The bright side for these 2018 Broncos, is they head into the future not with Kyle Orton nor Tim Tebow at the helm, but with newly–acquired Case Keenum ready to lead.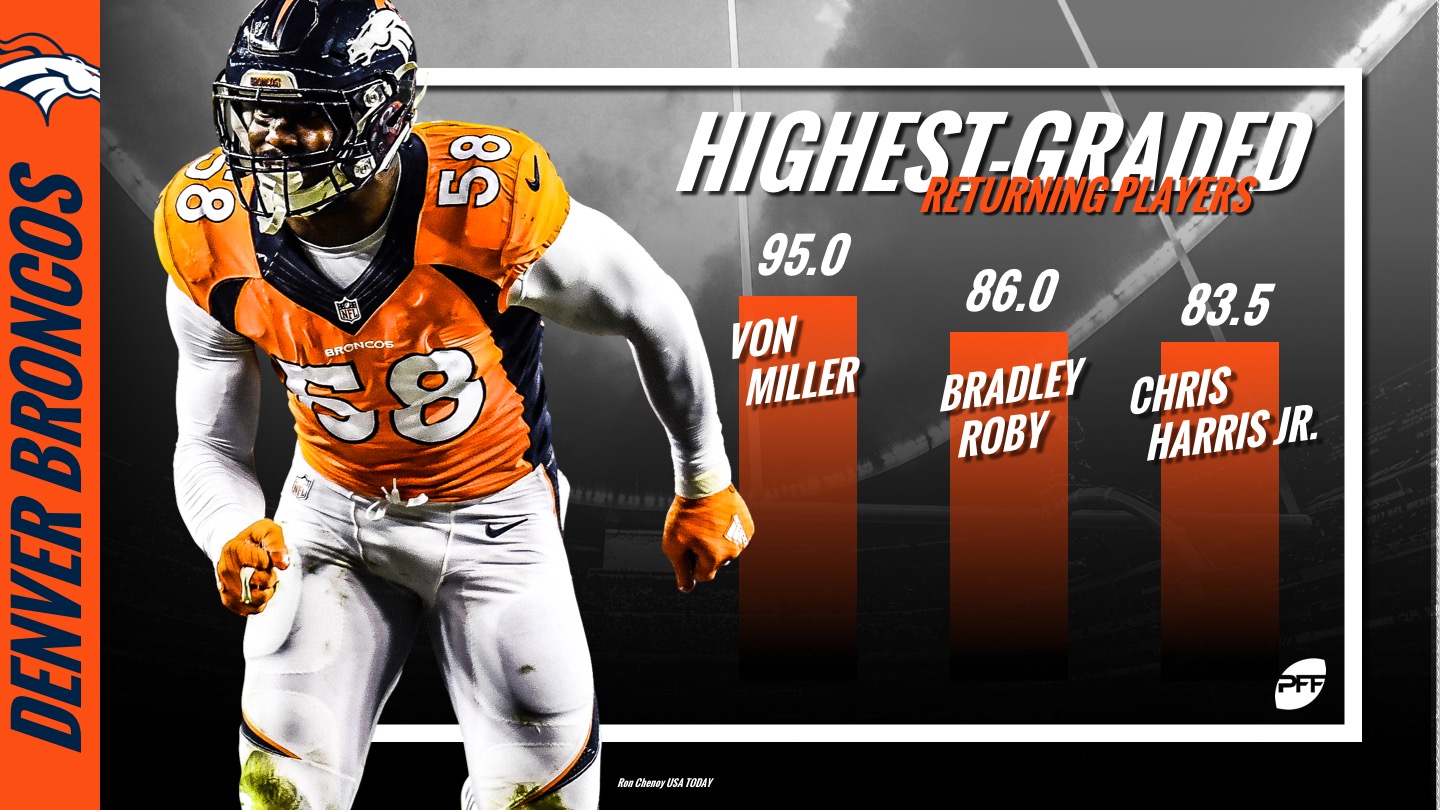 While several key stalwarts remain from their Super Bowl title of three seasons ago, Keenum is the primary cause for optimism in 2018 for the Broncos. Keenum excelled in one of PFF's most stable metrics in 2017: quarterback performance when kept clean. His passer rating from a clean pocket of 109.5 was sixth best among quarterbacks (minimum 150 clean dropbacks) and 22.1 points higher than the 87.4 passer rating that Denver quarterbacks posted as a unit.
Furthermore, Keenum's 2017 numbers against pressure, if repeated, could be an enormous benefit to Denver's suspect offensive line that gave up pressure at the fourth-highest rate (31.6 percent of dropbacks) in 2017. When under pressure, Bronco quarterbacks threw for a collective 41.2 passer rating, second worst in the NFL among quarterback groups (Cleveland – 30.3). Keenum, at a passer rating of 78.5, was seventh best among quarterbacks when under duress. While the Broncos hope to see more consistent play in Year 2 out of first-round draft pick Garett Bolles (71.0 overall – PFF's 22nd-ranked left tackle), Keenum's success under pressure can only help get this team closer to trotting out a formidable offense.
Among the aforementioned holdovers from Denver's Super Bowl run are Keenum's top two targets, wide receivers Demaryius Thomas and Emmanuel Sanders. Since 2014, Thomas and Sanders have each seen their yards per route run steadily decrease, culminating with a 1.74 and 1.35, respectively, in 2017. Joining them will be Courtland Sutton, a 6-foot-3 playmaker out of SMU who Broncos brass deemed worthy of a second-round pick. Between Sutton, third-rounder Royce Freeman and fourth-rounder DaeSean Hamilton, Denver has made a direct effort this offseason to bring a flux of young weapons to mesh with these two veterans on offense. Denver also hopes that Jake Butt, who missed his rookie campaign recovering from a knee injury, can bring some production to a tight end position that ranked seventh lowest among tight end units in 2017 yards per route run (1.13 YPRR).

On the defensive side of the ball, it begins and ends with Von Miller. With little help, Miller finished his seventh (yes, seventh!) straight season earning a PFF Elite overall grade (the only player in PFF's history with more than four straight elite seasons). In 2017, Miller accounted for 33.9 percent of QB pressures generated by the Denver defense – the highest percentage for a lone defensive player in the league. In fifth overall pick Bradley Chubb, the Broncos believe they have a player to shoulder some of the load opposite Miller. Chubb's size and his 89.7 run-defense grade (second among FBS edge defenders) project well to the NFL, but the true question is how his 85.5 pass-rush (fifth) grade will translate at the next level. If healthy, Denver's rotation of Miller, Chubb, Shaquil Barrett and Shane Ray projects as good as any stable of edge rushers in the league.
In the secondary, one of two survivors from the famed "No Fly Zone" is slot stud Chris Harris Jr. Still playing at a high level, Harris Jr. allowed receptions into his coverage while in the slot at the second-lowest rate, allowing one reception per 16.3 snaps played in slot coverage. The departure of Aqib Talib leaves a significant hole to fill. However, with Bradley Roby (84.0 overall) stepping in as the No. 2 corner and promising third-year safety Justin Simmons roaming around the secondary, Denver finds themselves in a decent position to keep their pass defense a strength. A wild card could be the acquisition of versatile defender Su'a Cravens. Before sitting out the 2017 season with lingering concussion issues, Cravens flashed serious potential as a hybrid defender in the middle of the Washington defense. In addition to showing well in the run game and rushing the passer, Cravens allowed a passer rating of just 73.1 when targeted – third lowest among linebackers with a minimum of 25 targets in coverage. Under-the-radar as the move was, its possible that Cravens could be a huge boost to a Bronco team trying to replace one of the game's top cornerbacks of the past five years.
The bottom line
Optimism is always abound this time of year. In Keenum, the Broncos have what they hope is a steady, serviceable hand to lead this core of veterans towards another shot at a playoff run. If he can help mask some of the inefficiencies along the Denver offensive line and bring Thomas and Sanders back to life, this defense is still imposing enough to keep the Broncos in a majority of their games.
POSITION BATTLES TO WATCH
2018 PFF NFL Training Camp Previews
---
Arizona Cardinals | Atlanta Falcons | Baltimore Ravens | Buffalo Bills | Carolina Panthers | Chicago Bears | Cincinnati Bengals | Cleveland Browns | Dallas Cowboys | Denver Broncos | Detroit Lions | Green Bay Packers | Houston Texans | Indianapolis Colts | Jacksonville Jaguars | Kansas City Chiefs | Los Angeles Chargers | Los Angeles Rams | Miami Dolphins | Minnesota Vikings | New England Patriots | New Orleans Saints | New York Giants | New York Jets | Oakland Raiders | Philadelphia Eagles | Pittsburgh Steelers | Seattle Seahawks | San Francisco 49ers | Tampa Bay Buccaneers | Tennessee Titans | Washington Redskins